Coronation Street: Six Autumn storylines REVEALED!
The temperature may be cooling, but we're promised the drama won't be...
Want to know what's in store for Coronation Street in the coming weeks? Here's our round-up of the big plots headed Weatherfield way...
1. Will Maria ditch Ali for Gary?
Maria's on cloud nine in Coronation Street when current beau, Ali, tells her he loves her. But, proving she's the most unlucky-in-love resident in Weatherfield, the couple's relationship is set to hit the skids.
Ali's painkiller addiction is at the root of the rumpus. The dishy doc offers to look after his girlfriend's son, Liam, while she's at work, but ends up falling asleep and leaving the lad in potential danger...
"It makes Maria question him," reveals actress Samia Longchambon. "She's like 'I thought I could trust you to look after my son, and now I can't.'
"She has no idea about his addiction; she just thinks he's working really hard. She wouldn't think for a second that he's taking drugs."
Following her fracas with Ali, Weatherfield villain Gary Windass then moves in from the wings...
Corrie bosses haven't confirmed if the pair will get together, but we know that Gary is definitely getting a new girlfriend, because actor Mikey North, who plays the bad boy, recently confirmed so. Is Maria the unlucky lady?
Says Samia: "Maria thinks Gary is quite stable – she's totally clueless!
"As far as she's aware, there are no downsides to him. If she knew the truth, who knows how she'll react! We'll have to wait and see…"
MORE: Check out the latest EastEnders spoilers
2. Sinead passes away from cancer
Sinead was recently told that her cancer had returned and she had just months to live. But there's more devastating news for the new mum, who will soon be told that her tumour isn't responding to chemotherapy treatment and she actually has just weeks.
Reveals Katie McGlynn, who plays her: "The first diagnosis was a huge shock, but they told her she had months. Weeks is a lot different, and she panics – she thinks 'I've got to make a bucket list, I need to get this done and that done.' She's worrying about getting everything in place, rather than thinking of herself."
As Sinead's condition worsens, tensions are set to rise. Daniel's determined to care for his ailing wife, but his over-protectiveness leaves her feeling smothered.
Meanwhile, Bethany's smitten with Daniel, and reaches out to her struggling colleague when she finds him upset. But they're spotted together, looking close, and all hell breaks loose. Bethany's painted as a manipulative vixen, taking advantage of a vulnerable married man, while Daniel is accused of betraying his dying bride.
Actor Rob Mallard, who plays him, has been spotted filming dramatic scenes in which his character self-destructs and drowns his sorrows by the canal.
Can he make peace with Sinead before she breathes her last?
3. Sarah's troubled by Adam's obsession with Gary
No-one can argue that Sarah isn't in a better place after ditching Gary. But the single mum's new relationship with Adam is far from perfect. The solicitor is sure that Gary is hiding something about the factory disaster, and recently hired a PI to tail the former builder. When she returns from a break in Milan, she's shocked to realise just how obsessed with Gary her lover has become.
"Sarah can understand that Adam wants everything cleared up about the Underworld disaster – he's close to Imran, who obviously lost his sister Rana," says Coronation Street star Tina O' Brien. "But it seems to her that it's almost taken over his life, to the point that he's becoming paranoid. It's a side to him that unsettles her."
Meanwhile, Sarah picks up on the blossoming friendship between Gary and Maria, and becomes increasingly concerned that Maria could end up making a big mistake.
Says Tina: "Although nothing is going on with Gary and Maria at the moment, Sarah sees that they're getting pally, and hanging out together with their kids. But does she keep out of it, or does she warn Maria to stay away? She doesn't really have anything concrete to accuse Gary of, plus she doesn't want to come across like the jealous ex..."
4. Shock arrivals for Shona and David
Shona's had her work cut out with young Max since David went to prison, and things are set to get a lot worse when a visitor comes knocking at number eight. It's Marion Logan – late drug dealer Callum's mum, and Max's grandma. Max, it turns out, has been secretly visiting her. Aware of the problems he's been having at home, she wants custody of the lad.
The gutsy gran won't be talked out of it, and swiftly hires Adam to fight her case. He assures the Platts that Marion doesn't have a leg to stand on. But is he right?
Meanwhile, the Platts will be left reeling when Josh Tucker – the mechanic who drugged and raped David last year – comes back into their lives. Why is he in their orbit again? And how will David react?
Reveals our Coronation Street insider: "David went to hell and back when Josh attacked him, and he'll always have to live with the fact that he never got justice.
"It's safe to say that Josh is going to turn everyone's lives upside down, causing yet more turmoil for the family."
5. Gemma gives birth!
Pregnant Gemma becomes something of a local celebrity when she gets her bump stuck in the turnstile at Weathy County, and a photo of her mortifying moment makes the Gazette's front page. Mum Bernie appoints herself her daughter's PR manager, and before long, number five is besieged by journalists.
The mum-to-be soon tires of the paps' presence, prompting Chesney to whisk her away from it all with a trip to the Welsh seaside town of Llandudno, where he books them a trip on the resort's famous cable cars.
A heavily pregnant woman almost a hundred feet off the ground sounds like the perfect recipe for trouble. Surprise surprise, views of The Great Orme suddenly pale into insignificance when Gemma starts having twinges and realises her quads are on the way.
Will kebab seller Ches be forced to turn his hand to midwifery? And if so, will all four babies be delivered safely?
6. Gail's back from Bangkok
After vanishing to Bangkok back in July, Gail Platt will soon be returning to Coronation Street. What has she been up to in the Thai capital for the last two months?
Well, it turns out she has fallen in love…with the ancient art of yoga. How long till she's putting the Platts off their dinner with her downward dog?
Discovering all the troubles that have beset the family in her absence, she instantly sets out to heal rifts and bring everyone together – but is that easier said than done?
Gail's not the only resident coming back to the cobbles. As Ken Barlow celebrates his 80th birthday, Norris makes the trip from Edinburgh to share his former neighbour's big day, while Emily puts in an appearance on Skype.
Also coming up this Autumn in Coronation Street…
Dev vies to get counselling for Asha after learning she's been using skin lightening cream
Sophie trades in college for travelling, and heads off to Cambodia
Manipulative Geoff sets his sights on buying into Speed Daal
James hurts his ankle whilst out running with Bethany. Could his football career be in jeopardy?
Tracy goes on holiday with Liz – but can the pair get through their break without killing one another?
Main image of Coronation Street: Getty Images
Get the What to Watch Newsletter
The latest updates, reviews and unmissable series to watch and more!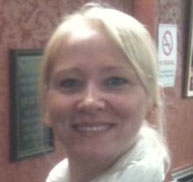 Alison Slade has over 20 years of experience as a TV journalist and has spent the vast majority of that time as Soap Editor of TV Times magazine.
She is passionate about the ability of soaps to change the world by presenting important, issue-based stories about real people in a relatable way.
There are few soap actors that she hasn't interviewed over the years, and her expertise in the genre means she has been called upon as a judge numerous times for The British Soap Awards and the BAFTA TV Awards.
When she is not writing about soaps, watching soaps, or interviewing people who are in soaps, she loves going to the theatre, taking a long walk or pottering about at home, obsessing over Farrow and Ball paint.