Coronation Street star Rob Mallard: 'Daniel has the potential to turn dangerous again'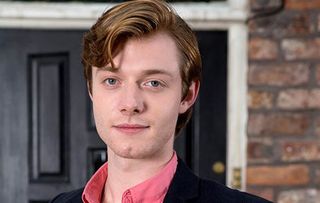 Rob reveals that the truth about Sinead's secret cancer will 'devastate' Daniel…
As Sinead struggles to keep the secret that she could have cervical cancer next week, she's completely in the dark that while she's at the hospital having a biopsy, her fiancé Daniel's back on Coronation Street planning a surprise wedding.
But Daniel isn't the only one hiding something. While he's thinking about wedding vows, Daniel's oblivious to the fact his wife-to-be is covering the fact both her own life, and the life of their unborn baby, could be in jeopardy. But will Sinead reveal all before they tie the knot?
We caught up with Coronation Street star Rob Mallard, who plays romantic Daniel, to find out what the future holds for the pair…
"Daniel will be totally devastated when he finds out about the cancer," Rob tells us. "Everyone in Daniel's life has always left him, and when you don't have the love of one or both of your parents you spend the rest of your life trying to replace that, and Sinead does that for Daniel."
But viewers will know that Daniel hasn't always been the man that he is today… "He has mellowed a lot over the course of their relationship," confesses the actor. "When they first got together he was very guarded, harsh and judgemental, now Sinead has calmed him down.
"But if she is removed from the equation then it will all change. When the relationship was threatened to be taken away from him before he resorted to pushing his own dad down the stairs. Sinead is very precious to him and he knows she is vital to his mental health."
Rob also revealed that viewers won't have too long to wait before the secret of Sinead's cancer is out… "It's about to get complicated and there are things that happen which make it hard to keep something like that a secret."
And when Daniel finds out, it seems things could take a sinister turn according to Rob: "Sinead's cancer will be a trigger for sure. If Sinead is threatened then Daniel becomes dangerous again. Dangerous to himself more than to other people, but yes, there is a lot of anger that he has always had."
Like the rest of us, Rob loves seeing Daniel and Sinead together and is rooting for them to stay together forever. But will that be the case? This is soapland after all… "Yes, I'd love them to stand the test of time, and I know that fans want them to be left alone and for nothing bad to happen to them, but Daniel will be upset that she's kept this from him.
"They made a pact when they first got back together where they promised to be a team and not have any secrets from each other, so Daniel will definitely see this as a huge betrayal."
Coronation Street continues on ITV.
Get the latest updates, reviews and unmissable series to watch and more!
Thank you for signing up to Whattowatch. You will receive a verification email shortly.
There was a problem. Please refresh the page and try again.