Coronation Street's Sally Dynevor on Sally's trial: Duncan brings up Kevin kiss in dastardly plan!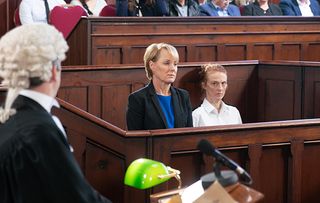 Sally's standing trial for fraud, and she goes to desperate lengths in order to clear her name…
Coronation Street star Sally Dynevor has revealed that conning Duncan will paint Sally Metcalfe as a twisted temptress at her trial next week!
Dastardly Duncan, who framed her for fraud, is a grade-A liar, while Team Metcalfe has a talent for stuffing things up.
As D-day draws near, Tim causes a headache when he answers an SOS call from Gina, who's on the date from hell. He dashes out in the car to rescue her, only to get arrested for drink-driving.
Meanwhile, Paula discovers that the judge recently insulted in Speed Daal by Sophie is presiding over Sal's case. And it's going to take more than a free lamb bhuna to soften him up.
Sal's confident that she'll soon be back on the cobbles, but when she arrives in court, she's upset that Gina and Tim aren't there.
The pair finally arrive as Duncan takes the stand, painting himself as an innocent victim and Sally as a temptress who coerced him into conning the council.
"Duncan makes a passionate speech about how he hadn't had an affair before Sal," says Sally Dynevor, who plays her.
"He brings up Sally's past and her kiss with Kevin the night before she married Tim.
"It's a moment where Sally suddenly realises how bad the situation is looking."
There's hope on the horizon when Duncan claims he and Sally spent her birthday together in a hotel, when in fact she was visiting Jack in hospital. Problem is, getting hold of CCTV footage to expose Duncan's deceit is going to take time, and that's something Sally doesn't have.
Desperate to save her mum's skin, Sophie suggests Sally fake an illness in order to adjourn the court proceedings. Sal's certainly no actress but when she gets a new cellmate in Abi, the pair quickly come up with a plan…
Soon, Sally's in hospital, looking far from well. She deserves an award, but Tim and Gina are shocked by her duplicity. Things get worse when Gina meets Duncan. Gina believes what he tells her about his "affair," and later informs the family that she will be a character witness for her sibling.
Will she betray Sal and send her back to the slammer?
Coronation Street continues on ITV.
Get the latest updates, reviews and unmissable series to watch and more!
Thank you for signing up to Whattowatch. You will receive a verification email shortly.
There was a problem. Please refresh the page and try again.