Don't miss THIS hilarious moment in tonight's Emmerdale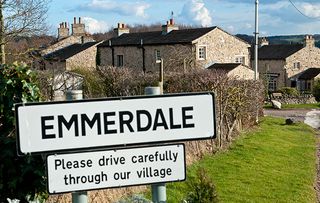 (Image credit: ITV)
Tonight's Emmerdale sees Marlon and Jessie's honeymoon sabotaged... with hilarious consequences!
Emmerdale fans will know that newlyweds Jessie and Marlon Dingle are planning on a honeymoon in Belfast this week... but as they head off for their romantic break tonight, things soon take an unexpected turn.
As the couple excitedly prepare for their trip away, they're both thrown when they're asked by Kerry Wyatt and Paddy Kirk if they can tag along for the journey.
First Chas catches Paddy looking up Bear Wolf online and is shocked when he reveals his dad is on tour in Northern Ireland.
Knowing that Bear Wolf is the only one who can give him the answers he needs about his past, Chas encourages Paddy to go to Ireland and find his dad... giving Paddy the idea that he could tag along on Marlon and Jessie's honeymoon.
But while Marlon struggles to say no to his best friend, Jessie is also caught in an awkward situation when Kerry asks if she too can come along to Belfast.
Not revealing that the reason she wants to come to Ireland is because she is desperate to track down her estranged daughter, Amy, Kerry pretends that she wants to go to Belfast to see an old friend.
But Jessie isn't convinced and gently lets Kerry down, telling her that while she would love to help, she can't come along on their honeymoon.
But when Jessie sees Marlon later, she is gobsmacked when he reveals he's agreed to let Paddy tag along, and Jessie realises that she shouldn't have been so hasty turning Kerry away.
Kerry's thrilled when she gets a text from Jessie telling her that she can come to Belfast, and doesn't waste any time getting packed.
As Marlon and Jessie head off on their longed-for honeymoon, they're both excited and highly amused that their romantic trip has been totally highjacked.
Don't miss the moment they all clamber into the back of Marlon and Jessie's car tonight... how will the new Mr and Mrs Dingle feel once they arrive in Belfast and find their trip for two has turned into a honeymoon for four?
Emmerdale airs weeknights at 7pm on ITV, with an extra episode at 8pm on Thursdays.
Get the latest updates, reviews and unmissable series to watch and more!
Thank you for signing up to Whattowatch. You will receive a verification email shortly.
There was a problem. Please refresh the page and try again.