EastEnders fans solve the mystery of who dies, after that intriguing flash-forward!
EastEnders viewers convinced they know who the victim is - the only trouble is, they don't all agree!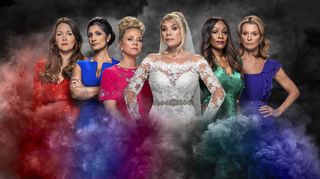 (Image credit: BBC)
EastEnders sent fans wild last night when they aired an episode that ended with a 'flash-forward' to Christmas 2023.
It was the show's 38th anniversary, and as soap anniversaries go, it started out as a quiet one.
The whole episode took place in The Queen Vic, with various characters having a drink, playing darts, and in Sharon's case, having some rather raunchy fun with Keanu in the ladies' toilets!
Linda was upset because she'd spotted her rapist Dean Wicks in a photograph of his mum - and L's mother-in-law, Shirley Carter.
And she was shaken by Nish and Suki offering to buy Janine's share of the pub.
But all the viewers seemed to have a different opinion about who the victim could be.
Denise was drunk after bickering with Jack and being rejected by Ravi.
And as the other characters drifted away, there were six women left - Sharon, Linda, Denise, Suki, Stacey and Kathy.
They drank and chatted and reminisced about 1985 - the year EastEnders was first broadcast.
There were mentions of Sharon's best friend Michelle, and Kathy's first husband, Pete Beale - both original characters.
And they toasted the men in their lives, saying "may they get what they deserve".
From there, the scene jumped forward TEN MONTHS, to Christmas 2023.
We saw a stunned Linda, with a split lip, walking towards a body on the floor. Stacey with blood on her hands, Denise with a broken bottle.
And Sharon IN A WEDDING DRESS. What?!
Shaz, whose dress had blood on it, bent down to the still unseen body, checked his pulse - giving us a glimpse of his fancy cufflinks, and said: "He's dead."
And the viewers were gripped!
Immediately, fans flooded social media with their theories about who is dead - and who killed him.
Some fans thought it was Nish - Suki's husband. Though others dismissed that theory as too obvious.
Others predicted it could be rapist Dean.
After all, the fans pointed out, why else would he have been mentioned in the run-up to the flash forward if he's not involved?
And Kathy had said Linda would have a "wall of friends" to protect her if he ever came back to Walford.
It's a good theory!
But other viewers clocked the broken bottle in Denise's hand and thought she could be the killer - with the victim being her husband, Jack Branning.
And some fans decided it could be a shocking turn of events with show legend Phil Mitchell being the one to cark it on Christmas Day.
One viewer even went full Jessica Fletcher, finding a photograph of Phil wearing very similar cufflinks to the ones worn by the victim.
And one fan simply feared for her fave Keanu, saying if he was the victim "I will sob".
Aww.
One thing's for sure - we're all going to be talking about this mystery from now until Christmas!
EastEnders usually airs on Monday to Thursday at 7.30pm on BBC One. See our TV Guide for more information.
Get the What to Watch Newsletter
The latest updates, reviews and unmissable series to watch and more!
Kerry is a writer, author and editor with a lifelong love of the soaps, a passion for TV drama of all kinds, and an obsessive devotion to Strictly Come Dancing.
She was features editor of All About Soap magazine for more than a decade, covering every bit of excitement from all the UK soaps and the Aussies and still writes about all the juiciest gossip from the Street, the Square and the Dales whenever she can.
Kerry's also an author of historical fiction, and her two jobs collided when she got the chance to write two novels based on Emmerdale, and the Sugden, Tate and Dingle families, during WW2.