EastEnders fans spot something odd in last night's episode - did you see it?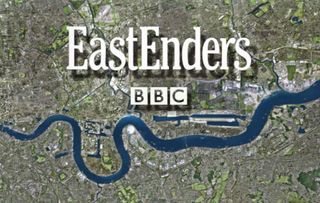 Last night saw Mel and Hunter Owen return to EastEnders, and eagle-eyed viewers couldn't help but spot something wasn't quite right with their comeback...
Last night's EastEnders saw Hunter and Mel return from their mysterious break away from Albert Square - but it wasn't just where the pair have been laying low since Ray's murder that had fans puzzled...
EastEnders viewers were also concerned that the pair have still got their Christmas decorations up - and with it being almost February, that's surely a whole heap of bad luck that those two just don't need.
The last time we saw the mother and son duo, they were struggling to keep it together following the dramatic fall out of Mel's sham wedding to Ray Kelly.
While Mel was rushing around trying to perfect her scorned wife look, Hunter was losing it over the fact he shot his step dad dead in the middle of a forest, before the pair buried him in a shallow grave.
But as they arrived home yesterday, Mel and Hunter's Christmas wreath was still seen on the front door, and inside their tree was still up.
It's fair to say that Mel has probably had more pressing things on her mind than taking a Christmas tree down, but still fans were't impressed...
As they struggled to adjust to live back on the Square - especially in the house that Ray lived in with them - Mel decided to have the house deep cleaned in an attempt to make a fresh start.
But while Hunter was putting on a brave face for his mum, even suggesting he went back to school, it was clear that he wasn't in a good frame of mind at all.
Not only was he carrying the gun he used to kill Ray around with him in his backpack, having found it where he'd left it in the house, but he was also picking fights left, right and centre.
Ian Beale was the first to find himself on the receiving end of Hunter's wrath when he innocently enquired after Mel's wellbeing.
After warning Ian away from his mum, Hunter then turned on Keanu after the mechanic invited him along to Louise's party later that day.
Winding Keanu up about dating Louise, the teenager pushed all the right buttons until Keanu saw red and punched him in the face. But instead of retaliating, he took the punch and was later seen pretending to shoot Keanu in with Ray's gun in the mirror at home.
With Hunter clearly not coping with the guilt of killing Ray how long will it be before he cracks under the pressure?
EastEnders airs Monday and Friday at 8pm and Tuesday and Thursday at 7.30pm on BBC One.
Get the latest updates, reviews and unmissable series to watch and more!
Thank you for signing up to Whattowatch. You will receive a verification email shortly.
There was a problem. Please refresh the page and try again.