EastEnders reveal two new pictures which will STUN fans!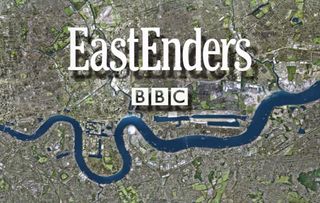 (Image credit: BBC)
Drama in Walford as Keanu gets closer to Hayley - but will he cheat on Sharon? Talk about a complicated love triangle!
If sneaking around with Sharon Mitchell wasn't enough to keep Keanu Taylor on his toes, it looks like things are set to get even more complicated this week when Hayley Slater tries to kiss him, two new EastEnders pictures have revealed.
Hayley isn't in a good place this week, and with the birth of her baby imminent, plus Jean Slater doing her best Miss Marple act to work out who got the mum-to-be pregnant, it's all starting to get too much.
But what is the best way to destress when you're in the family way? A spa trip, or maybe putting your feet up with a good book? Definitely not by necking a bottle of vodka, which is exactly what Hayley does in tonight's visit to Albert Square.
Escaping Jean's million questions about the father of her baby, hungover Hayley escapes to the park and drags an unsuspecting Keanu with her. But when Sharon's toy boy realises that his friend is drinking, he quickly gives her a piece of his mind.
But while he's ranting that Hayley should be thinking about her baby, Keanu realises that Hayley is in need of a friend not a lecture and quickly offers a shoulder to cry on. Unfortunately vulnerable Hayley gets the wrong end of the stick though and tries to kiss him. What would Sharon say?!
Keanu is stunned and quickly puts a stop to their "moment" but has Hayley's advances planted a seed of doubt in his mind? Could the former mechanic be falling for Hayley instead of Sharon?
Risking your life by sneaking around with Phil Mitchell's wife is one thing, but everyone knows there nothing like a woman scorned. We wouldn't like to be in Keanu's shoes if he did cheat on Mrs Mitchell and she found out.
Watch these scenes in EastEnders tonight (Thursday 18th October) at 7.30 on BBC1.
Get the latest updates, reviews and unmissable series to watch and more!
Thank you for signing up to Whattowatch. You will receive a verification email shortly.
There was a problem. Please refresh the page and try again.