Emma Willis backstage at The Voice Battles: 'I love being pampered!'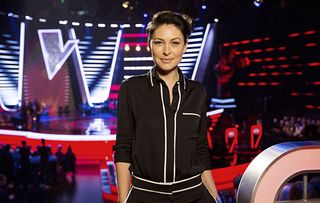 (Image credit: ITV/REX/Shutterstock)
As The Voice UK's battle rounds continue this week, the show's host Emma Willis takes TV Times behind the scenes to show us how she prepares for battle…
Emma Willis reveals what a typical day is like at The Battles as we take a look behind the scenes at The Voice UK...
BATTLE DAY DAWNS…
Emma Willis: "On battle days I don't normally need to be at the studio until about 11am and because we're up in Manchester and I'm child-free for a few days, I try to maximise what I can do – it's like a little holiday! So I get up, go to the gym, have breakfast then get to the studio, where it's straight into hair, make-up and costume."
IN THE MAKE-UP CHAIR…
EW: "I do enjoy being pampered. It's lovely not to have to do your own hair and make-up and decide what you're going to wear. I have a fantastic team; they're three of my closest friends and I love getting to hang out with them. I'm not very good at doing my own hair and they put nice make-up on me, which I'm also quite rubbish at doing myself!"
DRESSED FOR SUCCESS…
EW: "At the start of the series, we'll do a big clothes shop for my outfits and these have to be approved by all departments: lighting, set design, production – I can't clash with the set! Then I'll try everything on and we tend to go with a team majority in terms of what works. Unless I'm 100 per cent sure of something, then I'll say: 'I'm overruling all of you because I'm the one wearing it!'"
BACKSTAGE WITH JAMIE…
EW: "After we've been into hair, make-up and costume, we'll then do some filming for our digital platforms. Our digital reporter is Jamie Miller, who came third in the competition last year, so it's nice to have him on board this year."
FROM SCRIPT TO STAGE…
EW: "After we've chatted to Jamie, we'll then have a look at the scripts for that day's battle rounds and make any tweaks we need to. Then we'll walk the corridors for a bit before it's time to head down to the studio…"
EW: "I always try and have a catch up with as many of the contestants as I can before we start filming just to say hello and see how they're feeling. If it were me, I'd really appreciate somebody coming to ask if I'm OK or if I'm nervous, telling me what's going to happen, and generally putting my mind at ease. I always feel sad for the singers that don't make it through to the next round –but it's important for them to know that, just because you're eliminated at this stage, doesn't mean it's the end of your dream."
THE AUDIENCE GETS WARMED UP…
EW: "There's a real sense of excitement when the audience arrives. Everyone wants to hear some really good singing and just have a great time, so it's almost like going to a party. We have the most amazing warm-up guy called Stuart Holdham. He really knows how to get the audience onside – he tells them jokes, gives them sweets, gets them up dancing and even sits them in those big, red chairs. Then, when Tom, Jen, Will and Olly turn up, the audience goes wild!"
FILMING BEGINS…
EW: "We film four battle sessions over two days, so that's two sessions a day. We'll record the afternoon session, then we'll break for something to eat, then film the evening session, which usually finishes around 9.30-10pm. Each session normally takes about three hours… but if will.i.am is feeling chatty, Jennifer starts doing a vocal tutorial or Tom gets one of his stories going then we could be there for four hours!"
WINDING DOWN…
EW: "Everyone that works on the show stays in the same hotel. So, after a hard day's filming, we'll all go for dinner then either go for a drink in the hotel bar or go to each other's rooms and put beauty face masks on! Also, while I'm away, I always make sure I FaceTime my husband Matt [Willis, from the pop band Busted] and my kids [Isabelle, eight, Ace, five, and one-year-old Trixie Grace] twice a day. While being away is like a holiday, I miss my family so much and can't wait to get home to them."
The Voice UK battle rounds continue on Saturday March 3 at 8.30pm on ITV.
Get the latest updates, reviews and unmissable series to watch and more!
Thank you for signing up to Whattowatch. You will receive a verification email shortly.
There was a problem. Please refresh the page and try again.