Emmerdale boss reveals Emma Barton didn't have to die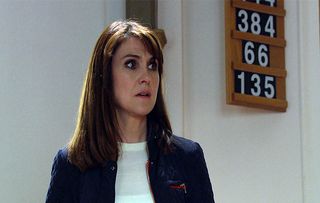 (Image credit: ITV/REX/Shutterstock)
There were other plans in store for Emma until Gillian Kearney revealed she wanted to leave the role
Emmerdale producer Iain MacLeod revealed that his original plan didn't involve killing off the character of Emma Barton, until actress Gillian Kearney revealed she wanted to leave the role.
Emma was killed off in Friday night's episode as her dark storyline finally came to an end, but the show's top boss hinted that she could have potentially stayed in Emmerdale even after killing her husband, James and her son Finn Barton.
"When a character kills, you have to have potential end games in mind. When Gillian started talking about leaving and we knew we had another big week to do in the autumn, that crystallised things for us," Iain said at an Emmerdale press event.
"You've got to have a narrative that keeps them in the show and one if they want to leave. You have a broad idea where it might go, then you improvise along the way. When Joe Gill said he was leaving, that added another layer of it.
"It wasn't in the plan to begin with to write Gillian and Joe out, so those were two big changes in terms of how it progressed. So most of the changes occurred when people said they wanted to leave at the end of their contracts.
"It's sad, but great for us because you can blow stuff up and burn stuff down! We knew the story would be big and there'd be some kind of peak in the autumn."
Iain also revealed that he had Emma falling from the viaduct in mind as soon as Gillian revealed her decision, wanting to mirror the way that she'd killed James one year earlier.
There was just a nice symmetry between James's and Emma's deaths. This week was also designed to be the final chapter in the 'No Return' story from last year, so there is a deliberate parallel to be drawn there.
"So that was pretty much the first thing that popped into my head after 'Oh I'm so sorry to hear that'. It was: 'How am I going to kill you off?!' It was very deliberately an echo of all of that. Emma's death was a bit like James's death but less anguished. She's not screaming in terror in quite the same way he was."
Emmerdale airs weeknights at 7pm on ITV, with an extra episode at 8pm on Thursdays.
Get the What to Watch Newsletter
The latest updates, reviews and unmissable series to watch and more!
Jenni McKnight is a beauty, lifestyle and entertainment journalist, currently US Lifestyle Editor for HELLO! Online. She has also written for HELLO! Magazine, GoodTo, CelebsNow, Daily Mirror and Yahoo! Her first big break came when she interned on the Guilty Pleasures showbiz desk at Metro newspaper. She has since worked on the online lifestyle team at Woman & Home and Woman and was Senior Content Editor at CelebsNow.