Emmerdale fans convinced TWO evil villains are planning fresh reign of terror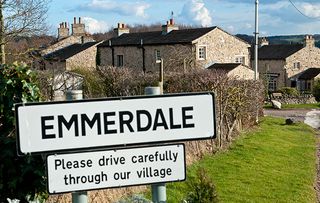 (Image credit: ITV)
Emmerdale fans have been left convinced there is trouble heading for the village after sinister happenings in Boxing Day's episode...
Emmerdale fans are worried that not one, but two shady characters are working together to bring a fresh reign of terror to the village.
Boxing Day's episode saw the Dingles come home to Wishing Well cottage to find the place had been trashed... but surprisingly nothing had been stolen.
So if whoever broke in wasn't after their Christmas presents, it seems their aim was to scare the family, and they certainly managed that.
Belle was beside herself, trying to work out who could have trashed her home at Christmas... and when she picked up a damaged photo frame with a picture of her inside, it seems she could have been the intended target for the attack.
Fans are convinced that this latest twist means serial killer and Belle's former boyfriend, Lachlan White, could be making a dramatic return to the village.
Belle washed her hands of the villain after she discovered that he'd killed his grandad, mum, best friend and also left his aunt with brain damage.
But despite the fact he is currently in jail for his crimes, could he be plotting his revenge on his former flame?
But that's not the only thing that has got fans talking...
Viewers also think that newcomer Billy might have something to do with the cottage break-in as well. After all, his arrival in the village seems to have been perfectly timed with the crime.
Having just got out of jail, Billy arrived in Emmerdale for mum Jessie's wedding to Marlon... and after Wishing Well cottage was broken in to, he was one of the first to be questioned about what happened.
But while Billy is adamant that he didn't have anything to do with the Dingles' house being trashed, fans think that the timing is all too much of a coincidence and perhaps he is in cahoots with Lachlan - even predicting the pair could have been former cellmates....
So if Lachlan does have someone on the outside doing his dirty work, what else could he have planed for Belle?
Billy seems like a very shady character... Belle might have to start watching her back once again.
Emmerdale airs weeknights at 7pm on ITV, with an extra episode at 8pm on Thursdays.
Get the latest updates, reviews and unmissable series to watch and more!
Thank you for signing up to Whattowatch. You will receive a verification email shortly.
There was a problem. Please refresh the page and try again.