Emmerdale fans left baffled after THIS hilarious twist last night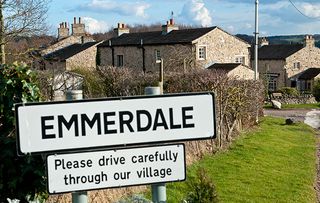 (Image credit: ITV)
Last night's trip to Emmerdale left fans in stitches when a huge secret failed to be unearthed because of how long it took David Metcalfe to make a cup of tea!
Last night's Emmerdale saw Maya Stepney rushed to hospital after falling off a chair while she was fleeing the village, knocking herself out cold in the process.
The sinister teacher had decided to leave Emmerdale after things turned sour with schoolboy Jacob Gallagher, and after leaving a teary voicemail for the teenager she has been grooming for months, she then went to pack her bags, terrified he was about to tell someone about their illegal relationship.
But as Maya went to get her bag from the top of her wardrobe, it had got stuck on a nail, only for her to fall off the chair while trying to tug it down.
After crashing into her bedroom furniture, Maya was knocked unconscious and was rushed to hospital after Leyla Harding found her on the floor with blood coming from a head wound.
David was left shaken when Leyla told him what had happened and rushed to the hospital to be with his girlfriend while she underwent tests to see if she had any long-term damage.
But the moment of the evening that left fans taking to social media in their droves came when Jacob also arrived at the hospital, clearly feeling responsible for Maya's accidents after he ignored all her phone calls.
The teenager was on edge as the doctors checked Maya over, and he was clearly on the verge of telling his dad David everything as the stress became too much.
But when the doctor walked past, David rushed to get an update on his partner... asking if he could go in and see her.
Jacob also went to see if Maya was okay, and with the unresolved tension between them obvious to everyone but David, Maya was forced to ask him to get her a cup of tea so that she could secretly talk to Jacob alone.
Once they had got rid of an unsuspecting David, Maya and Jacob made amends, with Maya manipulating the teen once again with her sinister ways.
Maya's scheming even left Jacob confessing that he loved her... something that David could have well overheard if he hadn't taken so long getting that tea!
Fans were in hysterics over the fact that Emmerdale' biggest secret could have been discovered if David had only been a bit quicker with his tea-making duties...
So with Jacob and Maya's secret still safe thanks to David's go-slow nature, it seems this grooming storyline is set to continue for the time being.
But with the cracks starting to show in their forbidden romance, how much longer can Maya keep her manipulation of Jacob hidden?
Emmerdale airs weeknights at 7pm on ITV, with an extra episode at 8pm on Thursdays.
Picture credits: ITV
Get the latest updates, reviews and unmissable series to watch and more!
Thank you for signing up to Whattowatch. You will receive a verification email shortly.
There was a problem. Please refresh the page and try again.