Gabby to SLAM 'loser' Jacob Gallagher over his cheating in front of Maya in Emmerdale twist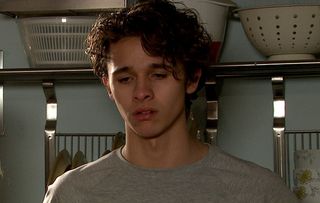 Gabby gives Jacob a few home truths and says she feels pity for anyone who's dating him... as Maya watches on!
Gabby Thomas has harsh words for Jacob Gallagher in Emmerdale tomorrow about him cheating on his now ex girlfriend Liv Flaherty - but little does she know that it's with twisted teacher Maya Stepney!
Of course, Liv does know the shocking truth after recently discovering Maya (Louisa Clein) and Jacob together in an uncompromising situation and is now blackmailing the pair to the tune of £5,000.
In scenes to be shown on Tuesday night, Jacob's blissfully unaware dad David asks Jacob (Joe-Warren Plant) if he'd like to go to Portugal to visit his mum.
A video clip released on the official show site shows an unflustered Maya asking the teenager if he's heard from Liv (Isobel Steele) today?
"No, what are we going to do?" replies a pained looking Jacob. "Try not to panic," says Maya, as the pair remarkably conduct the conversation almost in earshot of David!
David then makes his suggestion that Jacob should head off to Portugal, which Jacob rebuffs by saying that he has revision to do.
To which his dad, points out that a "week in the sun" would be a good place to work and, as he spies Gabby in the background, that Jacob could probably do with keeping a low profile. He has a point there!
David's next remark - that Jacob did a bad thing but that no one died - is like a red rag to a bull to Gabby, who then slams Jacob for his betrayal of Liv.
"Well no, he just two-timed my best mate," says Gabby before adding: "Who was she then? This girl you've been fooling around with?… Well, whoever she is, I pity her, because who wants a loser like you for a boyfriend?".
It's always been clear that Maya will get her comeuppance and it looks like it will be happening sooner rather than later. The only question now is how it will be happen? Will it be through the courts or might someone murder Maya?
Emmerdale continues on ITV.
Get the latest updates, reviews and unmissable series to watch and more!
Thank you for signing up to Whattowatch. You will receive a verification email shortly.
There was a problem. Please refresh the page and try again.