Emmerdale actor James Hooton fears being killed off the soap: 'I'd be gutted'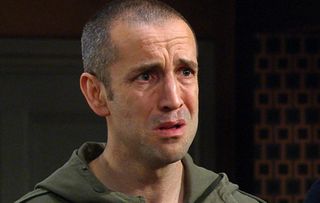 James has been on the soap since 1995
Emmerdale star James Hooton is terrified his character Sam Dingle will be killed off the soap.
The actor admitted losing his job is one of his biggest fears – and that it's quite a concern for many long-standing soap stars.
"Being killed off is always a concern for long-standing soap actors," James said.
"We're on 12 month contracts at a time. I'd be gutted if I wasn't on it any more. I've had a real renaissance.
"This is one of the best jobs in the world. I get a lot of time off with my family. The environment on Emmerdale is better than a film set."
But there was a time when James wasn't sure if he even wanted to stay in Emmerdale as his character failed to get any juicy storylines.
"The character I play went through a very lean period and it got to the stage I started to dislike my job," he told The Mirror. "I didn't have much to do.
"I was young and ambitious and I wanted to do more work.
"I asked if there was a chance to get involved in more stories. To put it bluntly, I was told 'Is there f***.' It left me in no doubt I was not going to be a character who drove stories in the show."
MORE: Emmerdale star Amy Walsh 'absolutely gutted' by Frank Clayton exit
James added: "I hated my job for a while. I had a lot of things to work out in my brain.
"My choice was to search elsewhere for more work and challenges or to find ways of making my working life easier.
"I decided to stay with the show and take work home as little as possible."
Jenni McKnight is a beauty, lifestyle and entertainment journalist, currently US Lifestyle Editor for HELLO! Online. She has also written for HELLO! Magazine, GoodTo, CelebsNow, Daily Mirror and Yahoo! Her first big break came when she interned on the Guilty Pleasures showbiz desk at Metro newspaper. She has since worked on the online lifestyle team at Woman & Home and Woman and was Senior Content Editor at CelebsNow.
Thank you for signing up to Whattowatch. You will receive a verification email shortly.
There was a problem. Please refresh the page and try again.