Emmerdale star Natalie J Robb: Why Moira CHEATS on Cain with Nate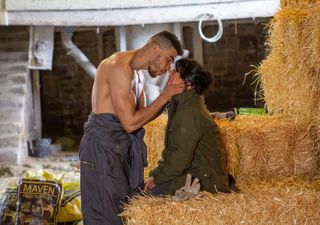 'He disarms her by going in for a kiss, very tenderly...'
Emmerdale star Natalie J Robb reveals that Moira cheats on Cain with Nate next week after feeling "neglected by her husband".
Cain and Moria's marriage has recently hit the rocks and Natalie says Moira's fed up with her man's behaviour.
"A lot of it is down to the fact that she feels neglected," says Natalie. "She has been working at the farm like a Trojan and looking after the kids, and Cain has been neglecting her, emotionally.
"She doesn't necessarily always need the physical side of things, but if she doesn't get the emotional stuff when she's giving everything, that's when she can feel like she needs something else."
MORE: Another SHOCK DISCOVERY tonight about Liam Cavanagh rocks Nicola and Bernice
Cain, who headed off to Scotland recently, decides he might need to get his act together, but he may have left things too late.
That's because Moira is becoming more and more aware of the fact that she's attracted to Nate. And the farmhand even starts teasing her over it, which seriously winds up Moira!
"She says to him, 'Just because you're a good-looking guy and you've got your top off, you think that everyone's going to fall at your feet… Well, I'm not going to be another notch on your bedpost'," says Natalie.
"But then he disarms her by going in for a kiss, very tenderly. He has a way about it that she's just not expecting; it completely catches her off guard.
"There is something about him that she feels connected to. Of course, he's a very attractive man – that is obvious – but there is something else that she can't put her finger on."
We reckon Nate won't be quite as smug if and when Cain finds out!
Emmerdale continues on ITV.
Get the latest updates, reviews and unmissable series to watch and more!
Thank you for signing up to Whattowatch. You will receive a verification email shortly.
There was a problem. Please refresh the page and try again.