Emmerdale star Nicola Wheeler: Nicola King is nervous about conning 'dangerous' Graham!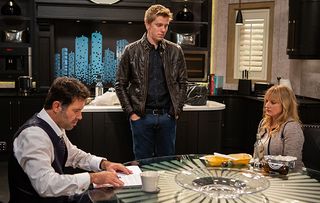 Robert vows to dupe Graham - with a little assistance from Nicola
Emmerdale actress Nicola Wheeler has revealed that Nicola King is worried about Robert Sugden's devious idea to dupe "dangerous" Graham Foster this week.
After months of being a perfect partner and father, Robert returns to the dark side this week. Having previously been forced to give his shares in the haulage firm to Home Farm Estate, he aims to trick Graham into handing them back. And Nicola offers to help.
Robert and Nicola come up with the plan when Jimmy's working away, and Nicola has to hold the fort.
"Graham makes a mistake with an order and Jimmy has to drive off on a week-long job," explains Nicola. "So she takes over the firm. Her kids are ill so she brings them and makes Robert look after them.
"He opens up about the idea of having kids with Aaron, and she points out they're expensive. He then comes up with the idea of getting his haulage share back."
The pair hope to trick Graham into signing the paperwork – easier than it normally would be, given that the man in black is back on the booze and not his usual sharp self. But Nicola's nervous.
"Graham is a dangerous man," adds Nicola. "She knows what he's capable of."
At Home Farm, the duo find Graham drunk on the sofa, and persuade him to put pen to paper. But then Nicola suddenly stops the proceedings. Has she got cold feet?
Meanwhile, in tonight's Emmerdale Clive (Tom Chambers) and Frank Clayton's (Michael Praed) art con is a go situation. As they load art supplies into a room at the B&B they don't realise suspicious Leyla Harding (Roxy Shahidi) is dotting the Is and crossing the Ts… When she bursts in on them, will the con artists come clean?
Emmerdale continues this evening at 7pm.
Get the latest updates, reviews and unmissable series to watch and more!
Thank you for signing up to Whattowatch. You will receive a verification email shortly.
There was a problem. Please refresh the page and try again.