Everything you need to know about BBC2's Family Cooking Showdown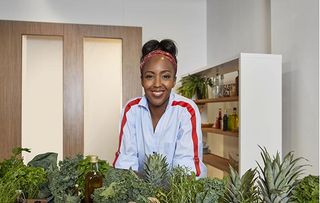 (Image credit: BBC/Voltage TV Productions Limit)
Angellica Bell on teaming up with top chef Tommy Banks for Family Cooking Showdown… written by Natasha Holt.
It's all change when Family Cooking Showdown returns to BBC2 for a second series tonight, with a slight title tweak, a fresh line-up and a format makeover.
Foodies will remember Zoe Ball and Nadiya Hussain hosted the first run last year, with Rosemary Shrager and Giorgio Locatelli as judges. But this time, presenter and Celebrity MasterChef 2017 winner Angellica Bell and Michelin-starred chef Tommy Banks are taking over as both hosts and judges.
Here Angellica Bell tells us everything we need to know about Family Cooking Showdown
Tell us about all the changes…
Angellica Bell: "We've tweaked the show's name, so it's now called Family Cooking Showdown. It's also going to be shown over three weeks, rather than once a week, so the audience can really buy into the families. The challenges have changed, too. We didn't want the families to prepare things they make all the time; we wanted to test their knowledge and how they are under pressure."
Did you have fun?
AB: "It was really good. It was a bit scary at first but I got on really well with the families. They were lovely people who just loved food."
How was presenting with Tommy?
AB: "He knows his stuff and it was really good working with him. Tommy's an incredible chef and we found a good balance together."
Having taken part in Celebrity MasterChef, could you empathise with the contestants?
AB: "I understand how it feels when you are cooking in that controlled environment and people are watching you. It's nerve-racking. But what I appreciated in Celebrity MasterChef was that John Torode and Gregg Wallace were always honest. I still wanted to encourage the families but I had to give an honest opinion."
Tell us about the first contestants…
AB: "The Penmans are a grandmother and granddaughter and their closeness brought me to tears. The granddaughter's boyfriend is her right-hand man, so I would go home to Michael [Angellica's husband, presenter  Michael Underwood] and say to him, 'Gosh, you really could be a bit more like that!' The Abimbola-Younges were hilarious, the Stones were really passionate about their vegan food, and the Whites were lovely. Everyone was so friendly that we had to keep saying, 'Come on, guys, this is a competition!"
What challenges do they face?
AB: "There's the '£10 challenge' again [where the teams must prepare two courses to serve four on a budget], which was quite funny – some of them need to go back and do their maths GCSEs! Then there's the 'favourite with a twist', where they put their own spin on a classic dish."
Are there any culinary disasters?
AB: "Yes, plenty. There's one in episode one that made my heart sink. I'd have cried if that happened to me… "
 How has winning Celebrity MasterChef changed your life?
AB: "Well, I never thought I'd host a cooking programme! I've just written a cookbook, too. The downside, though, is I don't get invited to any of my friends' houses for dinner any more!"
Family Cooking Showdown starts on BBC2 tonight at 7pm (Regions vary).
Get the latest updates, reviews and unmissable series to watch and more!
Thank you for signing up to Whattowatch. You will receive a verification email shortly.
There was a problem. Please refresh the page and try again.