Ex EastEnders star Joe Absolom on getting married twice in a month! First in real life and then in Doc Martin!!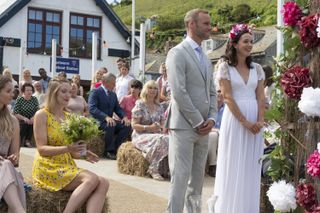 Joe will be seen getting hitched as Al in this week's Doc Martin
Former EastEnders star Joe Absolom has revealed how he got married twice in a month – in real-life to his long-term partner Liz and then filming his Doc Martin character Al Large's wedding.
Pub landlord Al and doctor's receptionist Morwenna (played by Jessica Ransom) will be seen tying the knot in Wednesday's final episode of Doc Martin.
Here ex EastEnders and Doc Martin star Joe Absolom talks about his and Al's big days…
How is Al feeling about the big day?
Joe Absolom: "He's over his cold feet, but he has quite a male attitude to some of the wedding plans. I fell into that a bit when it came to my own wedding because there were some things I didn't have an opinion on, like tablecloths."
You married your long-term partner, Liz, in June, a month before filming the wedding in Doc Martin. Were the two weddings similar in any way?
JA: "One I got paid for and one I had to pay for! Our three kids were obviously at our wedding, and then they were extras for Al's wedding four weeks later. So within four weeks they saw their father get married twice and I kept saying, 'Maybe I'm not the best role model because they'll have these memories of their dad getting married twice in a month!'"
WHAT IS ON TONIGHT? Check out our NEW and improved TV Guide
What's the best thing about being in Doc Martin?
JA: "It's eight miles from my house in Cornwall and it's really nice to get back with everyone again. Martin Clunes, Ian McNeice [who plays Al's dad, Bert] and some of the producers came to my real wedding and we had quite a funny moment. In the middle of the ceremony, the registrar said, 'If there are any producers here today, I would like to put myself forward for a part in Doc Martin as, unlike the actors in the show, I've got a real Cornish accent!'"
The final episode of the current series of Doc Martin is on ITV this Wednesday at 9pm.
Get the latest updates, reviews and unmissable series to watch and more!
Thank you for signing up to Whattowatch. You will receive a verification email shortly.
There was a problem. Please refresh the page and try again.