Gabby gets drunk and is rushed to hospital in Emmerdale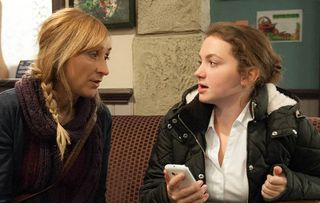 (Image credit: Andrew Boyce)
There's panic when the troubled teen collapses after binge-drinking
When Laurel learns that Gabby's been skipping school because she's so worried about Ashley, she tells the teen she needs to stay positive and have some fun.
However, when Gabby cuts loose and starts drinking with Liv, mayhem ensues. The troubled teen is devastated when Liv posts a clip of her drunken antics on social media and later collapses in a sozzled state.
Laurel's beside herself as Gabby is rushed to hospital. Will Gabby be okay and how will confused dementia-sufferer, Ashley, react to this latest drama in the Thomas household?
A drunken Gabby suddenly collapses at home.
Earlier on Laurel tells Gabby not to take on the burden of her dad's declining health. She needs to go out and have some fun...
However Gabby overdoes it when she gets steaming drunk with Liv at the cricket pavillion.
Liv posts clips of Gabby's wild drunken behaviour on social media, but there's panic when the teen later collpases back at home.
A worried Ashley and Laurel call for an ambulance.
Ashley and Laurel wait anxiously for news.
But the pair soon begin bickering over the tension-filled situation.
As their argument escalates a confused Ashley lashes out and accidentally hits his wife.
A shocked Laurel nurses a split lip.
Meanwhile Ashley has no idea what he's just done but later has a moment of lucidity and feels terrible that he's hurt his wife.
Meanwhile Belle finds an upset Liv hiding and encourages her to delete the video of Gabby.
Will Liv listen?
After she's been discharged from hospital, Bernice comforts Gabby.
But she's fuming about the online video and decides Liv needs to be taught a very strong lesson. Who is Bernice going to call?
Later on Laurel struggles to cope when Ashley steps out infront of Diane's car.
It's clear Ashley's mental state has taken a serious turn for the worse.
With her family urging her to get professional care for Ashley, will Laurel be persuaded?
As she battles to cope not only with her young baby, but her confused husband, everything gets too much for Laurel.
Ashely's near miss with Diane's car is the final straw. What drastic measures will Laurel go to in order to keep her husband safe? Watch Emmerdale on ITV from Monday 5th December.
Get the latest updates, reviews and unmissable series to watch and more!
Thank you for signing up to Whattowatch. You will receive a verification email shortly.
There was a problem. Please refresh the page and try again.