Ghosts come back to haunt THIS Neighbours couple as their romance hits the rocks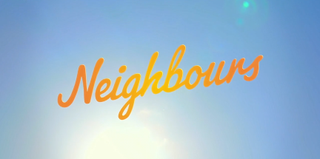 Things are far from rosy between Bea Nilsson and Finn Kelly in today's Neighbours...
Former Neighbours villain Finn Kelly finds his dark past revisited today when an argument between him and girlfriend Bea Nilsson leads to her calling him Patrick by mistake.
The drama comes after Ned Willis finds he has a dislocated shoulder following a hit and run with a motorbike in yesterday's trip to Ramsay Street.
But while sinister Scarlett Brady tightens her grip on and unsuspecting Ned following the 'accident', Bea is becoming more and more convinced that something isn't right with the Ramsay Street newcomer.
But the more time that Bea spends obsessing over Scarlett's intentions for Ned, the more annoyed Finn is getting about his girlfriend's apparent obsession with her ex.
When Bea goes to see Ned in hospital, Scarlett makes sure she stands in her way of seeing Ned, making out that she has got everything covered and that she's taking care of him herself.
She even manages to persuade Ned to move into number 32 with her... something that Terese and Paul are far from happy about.
But as always, manipulative Scarlett gets her own way, and Bea is thrilled when Amy also picks up on the fact Scarlett is obsessing over Ned.
The women get their heads together and stalk Scarlett's social media to try and dig some dirt on her apparently dangerous ex 'Rex'.
But while Bea is doing her detective work, she forgets she is supposed to be helping Finn and Toadie with some work at the foundation.
When Finn finally gets home, he asks Bea why she was avoiding his calls... but she admits that she was caught up in finding out more about Scarlett, leaving Finn seething.
WHAT IS ON TONIGHT? Check out our NEW and improved TV Guide
Eventually the fact that Bea is being so protective over Ned leads to an argument between the pair... and as they're shouting Bea accidentally calls Finn 'Patrick' the name she used to call him back when he was one of Ramsay Street's most dangerous villains.
Finn is clearly heartbroken after being called by the name he has worked so hard to remove himself from... but what caused Bea's slip of the tongue?
And will this pair ever be free of Finn's dark past that continues to haunt them?
Neighbours airs weekdays at 1.45pm and 5.30pm on Channel 5
Get the latest updates, reviews and unmissable series to watch and more!
Thank you for signing up to Whattowatch. You will receive a verification email shortly.
There was a problem. Please refresh the page and try again.