The Great British Bake Off 2017 Winner - The First Interview!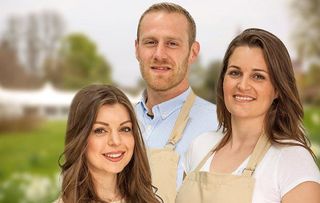 SPOILER ALERT: Don't read on unless you've watched tonight's final of The Great British Bake Off... Meet the Bake Off 2017 Winner
Meet the Bake Off 2017 Winner! After 10 glorious weeks of beautiful bakes and terrific themes, The Great British Bake Off 2017 champion is Sophie Faldo. Here Sophie tells TV Times how it feels to have won…
Congratulations Sophie! How did it feel when judges Paul Hollywood and Prue Leith announced that you were the winner?
Sophie Faldo: "It was very surreal, and I hadn't allowed myself to think that I could win it up to that moment in time when they said my name and then the enormity of it hit me. I rarely got nervous in the tent, but on the second day of the Final, I felt it was a neck and neck race. I also knew everything was riding on my Showstopper, so I knew how important it was that I got it right."
Earlier in the day Prue had let slip that Sophie had won!
What was your favourite bake?
SF: "I was happy with most of my bakes, but my favourite was my Entremet [Ode to the Honey Bee] in the Final, particularly as I hadn't based it on anybody else's recipe, it was all my own. I had researched it and it came from my obsession with honey, I was inspired by the flavours [honey, lemon and lavender] and then based the Entremet around that. My most favourite challenges throughout the series were probably in Patisserie Week, for obvious reasons! I liked the Technicals throughout because you couldn't be nervous as you didn't know what was coming, and you almost had an excuse that you may not have known how it was supposed to turn out like."
Personal highlights?
SF: "My best moment was the Hollywood Handshake in the signature bake [my Fruity Cake] on Week 1, that was my first ever challenge, and then I got really good comments from Paul and Prue for my technical in Patisserie week, for the Les Miserables. The judges said it was one of the most difficult technicals ever set in Bake Off, and to get good judging made me feel great."
Worse moments?
SF: "In Week 4 when my Millionaire Shortbread wouldn't set, and also in Forgotten Bakes week I felt I could be going home, because I didn't get as good judging for my signature and technical. It was the Showstopper of my Savoy Cake which saved me."
Bake Off 2017 Winner: Sophie remained cool under big pressure
You were always as cool as cucumber in the tent, even during the Final…
SF: "I do keep my emotions under control, so there wasn't really a point in the tent that I would burst into tears. It wasn't going to happen at the end of the Final either, because if anything it was a relief. If I hadn't won it I would have been so annoyed at myself that I didn't get it right. I tend in baking to strive for perfection, with a kind of military precision and I want it to all work out perfectly. I like my bakes to look beautiful."
How did you find being judged by Paul and Prue?
SF: "Paul and Prue know their stuff and I wholly trusted their opinion, so obviously you are hoping they are going to like your bakes, and of course you are elated when you get good comments from them. I am also a massive fan of Sandi [Toksvig] and Noel [Fielding], they work so well together and like me, it was their first time in the tent too. They are a perfect fit to the tent, it didn't seem like their first time, and I think they are a fabulous pairing."
Now the show has finished, will you miss seeing the other bakers?
SF: "I bonded with all the bakers, and it was sad to see the group shrinking each week. As the weeks got to the end we became a very tight support system for each other. Socially we see each other and it's lovely we have shared that special experience. It's so good to be part of the big Bake Off family!"
How has the Bake Off experience changed you as a baker?
SF: "Bake Off has broadened my baking expertise, but my biggest love has to be patisserie. It inspired me to go further than just decorating cakes. I don't tend to make the same cake twice as I like to use every opportunity to develop my skills and learn."
What do you hope the future holds?
SF: "I never ever dreamed I would get to the final, let alone winning, so I am not sure where I will go from here. It would be wonderful to write a Patisserie book, but let's see what comes my way. I would like to try travelling the world for inspiration for starters!"
Get the What to Watch Newsletter
The latest updates, reviews and unmissable series to watch and more!