How to watch the 2023 Rose Parade
New Year's means it's time for the Tournament of Roses Parade.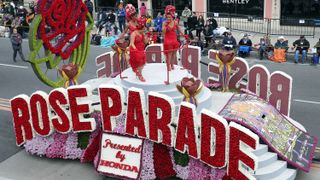 (Image credit: Getty UK)
A New Year's tradition in many households is to watch the annual Rose Parade on television. 134th Pasadena Tournament of Roses Parade is broadcast live from Pasadena, Calif., ahead of the highly anticipated Rose Bowl game, which in 2023 is between Penn State and Utah.
Now in its 134th year, the 2023 Rose Parade theme is "Turning the Corner." Amy Wainscott, president of this year's event, had this to say about the message behind this year's theme:
"The 2023 theme celebrates turning a corner. Whether that corner is actual or figurative like the unlimited potential that each new year brings — we all enjoy the opportunity of a fresh start. Turning a corner means rising above — alone, or with family, friends and community. This year, as we turn the corner together, we share in the hope, beauty and joy of what 2023 will bring."
Here's how you can watch the 2023 Rose Parade.
How to watch the 2023 Rose Parade
The Rose Parade has always had a huge following, so it's no surprise that it's available to watch through several media partners. The parade begins at 8 am PT/11am ET and is broadcast live on the following networks and streaming platforms: ABC, NBC, Univision, KTLA in Los Angeles, the Cowboy Channel, RFD TV and Peacock.
The parade is also available to watch live in several international markets, including Armenia, the Caribbean, Latin America and through the American Armed Forces Network.
ABC and NBC are included in most cable TV packages. If you've cut the cord you can watch live on a number of streaming platforms that include live TV, such as YouTube TV, Fubo TV, Sling TV and Hulu with Live TV. You need a subscription to Peacock if you want to watch the parade there.
Things to know about the 2023 Rose Parade
Why isn't the 2023 Rose Parade on New Year's Day this year?
According to tradition, the Tournament of Roses Parade has always taken place on New Year's Day, making it a big part of the holiday's tradition for families across the country.
However, when the holiday falls on a Sunday, the parade and the Rose Bowl game are moved to Monday, January 2. The tradition goes all the way back to 1893 (opens in new tab) when parade organizers didn't want to disrupt church services. Churches were (and still are) used to tie up horses before the event and so it made sense to move the parade. And since the parade is the gateway to the Rose Bowl game, the game gets moved to Monday as well.
What is the Rose Parade?
Here's a brief history of the Rose Parade (opens in new tab) from the Tournament of Roses:
"In 1890, Valley Hunt Club members, led by Charles Frederick Holder, sponsored the first Tournament of Roses. The abundance of flowers, even in the midst of winter, prompted the club to add a parade before the competition, where entrants would decorate carriages with hundreds of colorful blooms.
"'In New York, people are buried in snow,' announced Professor Charles F. Holder at a Club meeting. 'Here our flowers are blooming and our oranges are about to bear. Let's hold a festival to tell the world about our paradise.'
"More than a century later, the parade floats are a marvel of state of the art technology, all tucked away beneath flowers and other all-natural materials. Every New Year, visitors experience the beauty of the floral floats along with spirited marching bands and high-stepping equestrian units along the 5.5 mile route down Colorado Boulevard."
Are Rose Parade floats really made entirely of flowers?
According to the parade rules, floats are only to be covered in all natural materials. While flowers, leaves and even live plants make up the majority of float decorations, over the years decorators have gotten creative with crushed nut shells, bark and plant seeds to add to their float decor.
In order to bring these incredible floats to life, volunteers gather in the weeks and days ahead of the parade to attach the flowers and other materials, carefully planning which things need to go on first so as to avoid them spoiling before the big day. That old expression that it takes a village really rings true when it comes to getting the floats ready to go.
Get the latest updates, reviews and unmissable series to watch and more!
Editorial Content Producer
Sarabeth joined the Watch to Watch team in May 2022. An avid TV and movie fan, her perennial favorites are The Walking Dead, American Horror Story, true crime documentaries on Netflix and anything from Passionflix. You've Got Mail, Ocean's Eleven and Signs are movies that she can watch all day long.
When she's not working, Sarabeth hosts a podcast dedicated to books and interviews with authors and actors. She's also very close to realizing her lifelong dream of publishing a novel.
Thank you for signing up to Whattowatch. You will receive a verification email shortly.
There was a problem. Please refresh the page and try again.