James Gunn's plans for DC's future: Superman, Batman, Gods and Monsters
The future for DC Studios has Batman and Superman leading the way.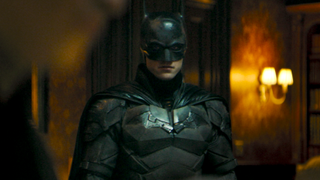 (Image credit: WB Pictures)
It's the dawn of a new era for the DC Universe as James Gunn and Peter Safran announce their vision for the first wave of movies and HBO Max series to launch DC Studios. Dubbed "Chapter 1: Gods and Monsters," the slate includes cornerstone "diamond" characters like Batman and Superman, while also introducing lesser-known characters into the fold.
Gunn and Safran unveiled a slate of 10 projects in the first wave of their vision, with 2025 set to be a key year with Superman: Legacy coming out July 11 and The Batman Part II arriving October 3.
"One of our strategies is to take our diamond properties, which is Batman, Superman, Wonder Woman, and we use them to prop up other characters that people don't know" Gunn said during the announcement.
THR (opens in new tab)reports that Gunn and Safran listed the projects in the order that they hope for them to be released, while Variety (opens in new tab)adds that Chapter 1 should be complete by 2027.
Let's take a look at the 10 projects that fall under Chapter 1: Gods and Monsters.
Creature Commandos
Creature Commandos has Gunn's name all over it. It's an animated series made up of seven episodes that were penned by Gunn. The story is already in production but there is no voice cast attached to it yet; notably, the voice cast will potentially appear in live-action films and shows. It's described as a modern update on a team of monsters that originally fought Nazis.
Waller
Viola Davis will return to the role of Amanda Waller in Waller, a series penned by Christal Henry (Watchmen) and Jeremy Carver (creator of the Doom Patrol series).
Superman: Legacy
Gunn is writing (and possibly directing) Superman: Legacy, which is the movie set to officially launch the new DC Universe.
"It's not an origin story," Safran said. "It focuses on Superman balancing his Kryptonian heritage with his human upbringing. He is the embodiment of truth, justice and the American way. He is kindness in a world that thinks [of] that kindness as old-fashioned."
Lanterns
Previous Green Lantern projects have been tossed in favor of a new "terrestrial-based" series that focuses on Hal Jordan and John Stewart. Safran describes Lanterns as being "in the vein of True Detective."
The Authority
The Authority will be a movie based on a team of planetary protectors created in the 1990s under DC's Wildstorm imprint, headed at the time by DC's current head of publishing, Jim Lee. The superheroes aren't run of the mill good guys. "One of the things of the DCU is that it's not just a story of heroes and villains," Gunn said. "There are white hats, black hats and grey hats."
Paradise Lost
Of all the projects announced, fans were wondering how Wonder Woman could fit into Gunn and Safran's plans and Paradise Lost seems to be the answer — for now. This new series is set on the all-female island of Themyscira, Wonder Woman's home. It's set before the events of the Wonder Woman films and is characterized as being a drama about politics and power, much like HBO's other big hit Game of Thrones.
The Brave and the Bold
The DCU Batman will come to life in The Brave and the Bold, inspired by Grant Morrison's seminal tale of Bruce Wayne and his biological son, Damian. Bruce has no idea he has a son, so when he meets the teen raised by assassins he's in for a big shock. "It's a very strange father-and-son story," Gunn said.
The Batman Part II
The Batman Part II features Robert Pattinson as Batman, with Matt Reeves behind the camera. Coming October 2025, the movie is not set in the Gods and Monsters universe and it's unclear whether this is Pattinson's final turn as the Bat.
Booster Gold
Booster Gold's is coming to HBO Max. It's a series about a man who uses time travel to bring future technology to the present-day so that he can pretend to be a superhero. Gunn called Booster Gold the "imposter syndrome as superhero."
Supergirl: Woman of Tomorrow
Based on Tom King's run on the Supergirl miniseries, Supergirl: Woman of Tomorrow focuses on the difference between Superman and his cousin and how she was raised in tougher circumstances, forced to watch her family and friends die before making the trip to earth.
Swamp Thing
Though DC's failed streaming service had a short-lived Swamp Thing series, Gunn and Safran want to bring Swamp Thing to life on the big screen and plan for the character to cross over into other stories in the future.
More on DC's future
There were lots of little bits of information tossed out at the press conference. We've included some of the big pieces of news below:
Gunn and Safran continue to support the movies coming in 2023 (Shazam! Fury of the Gods, The Flash, Blue Beetle and Aquaman and the Lost Kingdom) and note that the lead actors could return in other DCU projects.
The intent will be that actors cast in TV series can make the jump to the movies. "We don't want the series to feel in any way like step-children or lesser than. It's just another way to tell a story."
A separate segment of projects will be titled "Elseworlds" and will include projects like The Batman Part II, Teen Titans Go and the Todd Phillips Joker sequel.
Hear from James Gunn himself on these plans right here:
Here are just a few of our plans. Up, up, and away! #DCStudios #DCU @DCComics pic.twitter.com/8XNDNLUEPqJanuary 31, 2023
Get the What to Watch Newsletter
The latest updates, reviews and unmissable series to watch and more!
Editorial Content Producer
Sarabeth joined the Watch to Watch team in May 2022. An avid TV and movie fan, her perennial favorites are The Walking Dead, American Horror Story, true crime documentaries on Netflix and anything from Passionflix. You've Got Mail, Ocean's Eleven and Signs are movies that she can watch all day long.
When she's not working, Sarabeth hosts the My Nights Are Booked Podcast (opens in new tab) and blog (opens in new tab) dedicated to books and interviews with authors and actors. She also published her first novel, Once Upon an Interview (opens in new tab), in 2022.