Latest Strictly contestant Ainsley Harriott revealed on The One Show!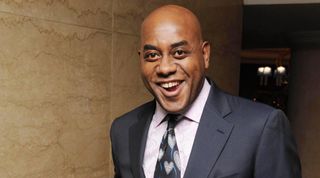 Could the BBC be drawing this out any longer? Having announced Jeremy Vine as the first 2015 Strictly Come Dancing contestant on Chris Evans' Radio 2 Breakfast Show on Monday, tonight saw the baton pass to The One Show.
Which meant a series of clues – each more inane than the last – being revealed between eclectic segments on seagulls, RAF war heroes, and Islamic extremism. All accompanied by excitable babble from Alex Jones and Matt Baker – surely the most wholesome presenting duo on the telly?
A lot of viewers on Twitter were very sure about who it was.
I think the next strictly contestant is Ainsley Harriet #Strictly #oneshow
— Emma Tonkin (@emma_t10) August 11, 2015
Ainsley Harriet totally called as next Strictly contestant @bbcstrictly #strictlycomedancing
— Holly Ellis (@HJEllis93) August 11, 2015
Ainsley Harriott doing #Strictly
— T'Bird (@traces68) August 11, 2015
After a clue from a glittery bag, the poor viewing public – by now on the tenterest of hooks – decided it was going to be a celeb chef.
I've changed my mind, I'm saying chef #OneShow #Strictly
— Penny (@Feltip1) August 11, 2015
John Torode? #strictly #theoneshow
— Chloe Carroll (@ChloRida_) August 11, 2015
IS IT GARY RHODES? #Strictly #oneshow
— Stephen Leng (@steveleng) August 11, 2015
Although there were still other outliers to be considered.
I reckon the next Strictly contestant is… Giles Brandreth? #theoneshow
— Caz (@KookeCaz) August 11, 2015
Rustie Lee is the second contestant signed up for Strictly! #oneshow
— ¯_(ツ)_/¯ (@robotattack) August 11, 2015
Craig Charles! #strictly #theoneshow
— Chloe Carroll (@ChloRida_) August 11, 2015
Alex Jones also had her own predictions.
Did I mishear that or did she really just say of the next Strictly contestant "It's not Michael Jackson, well it could be"? #BBCOneShow
— Grow LIKE Grandad (@GrowLikeGrandad) August 11, 2015
The only person it definitely wasn't was the other guest on the show, Jack Whitehall.
If only it was Jack Whitehall #Strictly #OneShow @jackwhitehall
— Emma Daly (@emmadaly6) August 11, 2015
Come the third feather being fluttered away, Jack erupted with whoops of excitement. We reckon he'd seen the secret person. In the posh comic's own words: "That is the best thing that's happened to Strictly."
So who could that be…?
Is it @flintoff11 ?? "@jackwhitehall: So excited about the next Strictly contestant. Best contestant ever!"
— Paul Harris (@pigslips) August 11, 2015
"The best thing to ever happen to strictly" please nic cage
— Farther moosen (@Steve_Watkin) August 11, 2015
And finally, the third feather was whipped away to reveal… oh, Ainsley Harriott. Were some people online more in the know than they let on?
No matter. People were excited with a capital E.
Have I died and gone to Saturday night heaven? Ainsley Harriot is gonna be on Strictly and this is quite possibly the best thing ever
— Georgina Brightwell (@GeorginaB_93) August 11, 2015
upon learning that Ainsley Harriot is on Strictly this year pic.twitter.com/dnYe9DYrpu
— W////ΛM-zōn (@willuminare) August 11, 2015
Ainsley Harriot on #Strictly is the dogs danglies.
— Karl Bagci (@irutsun) August 11, 2015
Matt and Alex conducted a bit of an interview about whether the Ready Steady Cook supremo and purveyor of fine Caribbean cuisine thought he'd do any better than Jeremy Vine.
"Jeremy's got this wonderful discipline about him. Everything he does is very structured, he really plans it, everything is done in detail. And to be honest with you, that's what's required in dance," the chef replied.
Sounds about as gentlemanly as we'd expect from good ol' Ains.
Not that Jack really cared any more. "Could I just say, I LOVE YOUR COUS COUS!"
Well indeed. But will he want some of Ainsley's spicy salsa with that once the dancing begins?
Get the latest updates, reviews and unmissable series to watch and more!
Thank you for signing up to Whattowatch. You will receive a verification email shortly.
There was a problem. Please refresh the page and try again.