Love Is Blind fans take sides between Natalie, Shayne and Shaina
The After the Altar episodes show there's still a lot of drama between the trio.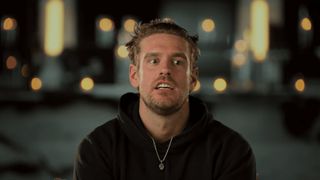 (Image credit: Netflix)
When Love is Blind: After the Altar season 2 was announced, viewers thought the most intriguing thing about the three-episode special was going to be watching what led to Iyanna and Jarrette making the decision to get a divorce (which turns out to be their very different lifestyles and Jarrette's priorities). However, as it turns out, the dynamic between Natalie, Shayne and Shaina stole the show, as raw emotions led to uncomfortable moments and shocking revelations.
As a gentle reminder, let's talk about what happened during the course of the regular Love is Blind season 2 episodes. In the pods, Shayne developed a connection with both Natalie and Shaina, but he ultimately chose to get engaged to the former and Shaina got engaged to Kyle. Things didn't end there as Shaina wasn't shy about telling Shayne her feelings for him while he was engaged. She even expressed her doubt about whether he and Natalie were genuinely meant to be.
Long story short, Natalie didn't appreciate Shaina's remarks. Natalie also faced other hiccups in the relationship with Shayne, with the couple eventually ending things.
Fast forward to After the Altar, where it's revealed that Natalie and Shayne attempted to date after the cameras stopped rolling. Unfortunately, the pair was just not able to get on the same page. Furthermore, Natalie made the surprising allegation that Shayne and Shaina were having flirtatious conversations on social media, which led to her not being able to trust him. Natalie even went as far as to accuse the two of having a "secret affair." What was her proof? Natalie claims to have seen messages and even said Shayne admitted at least to the inappropriate DMs.
As the news of Shayne and Shaina's dynamic made its rounds among the other cast members (Natalie was sure to tell nearly everyone), a picture was being painted that Shaina was a "habitual liar" and shady. However, when Shaina showed up with her fiancé at an 80s party thrown by Nick and Danielle, Natalie was ready to further perpetuate this allegation, she even wanted to share it with Shaina's husband-to-be. Natalie wouldn't get the chance, but she was called out in a confessional interview by Kyle for her desire to start drama and living in the past. Kyle's comments finally made it appear that not everyone was #TeamNatalie.
By the end of the special, Shayne, Shaina and her fiancé share a good laugh about the rumors Natalie has been spreading. Shaina and Shayne are adamant that they've shared no flirtatious messages and accuse Natalie of making up stories to control a narrative and protect her image. Since viewers weren't privy to any photographic proof of the messages, who really knows who's lying?
Love is Blind: After the Altar fans take sides between Natalie, Shayne and Shaina
It seems most fans are actually taking Natalie's side when it comes to this trio. While there are a few holdouts that believe Shayne and Shaina are telling the truth, many viewers think Natalie is the one being honest here. Take a look.
Love is Blind: After the Altar season 2 is currently streaming on Netflix. Additionally, Love is Blind season 3 premieres on October 19.
Terrell Smith has a diverse writing background having penned material for a wide array of clients including the federal government and Bravo television personalities. When he's not writing as Terrell, he's writing under his pseudonym Tavion Scott, creating scripts for his audio drama podcasts. Terrell is a huge fan of great storytelling when it comes to television and film. Some of his favorite shows include The Crown, WandaVision, Abbot Elementary and Godfather of Harlem. And a fun fact is he's completely dialed into the TLC 90 Day Fiancé universe.
Get the latest updates, reviews and unmissable series to watch and more!
Thank you for signing up to Whattowatch. You will receive a verification email shortly.
There was a problem. Please refresh the page and try again.