Marc Baylis on his shock return to Corrie: 'I always want Rob to be on the front foot – and that's exactly where he is!'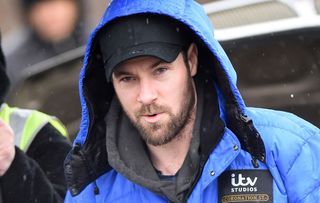 (Image credit: MCPIX/REX/Shutterstock)
As Marc Baylis returns for a surprise stint in Corrie, he reveals what's in store for his shady character – and admits he'd love a permanent comeback
Rob Donovan is back! In tonight's episode of Corrie, viewers discovered that Tracy Barlow's ex-lover has escaped from prison – where'd he'd been doing time for Tina McIntyre's murder – and has been hiding out in Dev Alahan's disused gym.
Actor Marc Baylis gives us the lowdown on what Rob's been up to – and the drama that is set to follow…
How does it feel to be back? "Awesome. It's always great to come back and have a little play, and I love playing Rob. When I got the call from Kate (Oates, the Corrie producer), we had a nice discussion about what was next for the character and that, for me, is important. I don't want to be going round in circles with Rob. I always want him to be on the front foot and that's exactly what this storyline is."
How long are you around for? "I'm still here now, but not permanently. What will develop from this is that Rob is a very different person to the last time we saw him. A lot has occurred over the last 18 months and he was very angry and bitter at that point about the two women that he loved most in his life - one being the sibling; one being the love of his life - being responsible for him being sentenced to prison. So the anger that was underneath that whole storyline in which he threatened to reveal that Johnny was Carla's dad is a very different Rob to what we see now.
"I have to be careful what I say as it's under wraps, but he's a very different man. There are similarities to the time when him and Carla were getting closer and when him and Tracy first got together. There's a bit more tenderness, and a lot more unearthed about his and Tracy's relationship."
How has Rob escaped from prison? "It's not that he has hired a pneumatic drill, gone through the prison walls and sprinted for his life. It wasn't planned. An incident has occurred, which involves the police. There was a crash and he seized an opportunity..."
So could he be a suspect for Ken's attack? "Absolutely!"
We know that Tracy and Amy go on the run with Rob. What can you tell us about that? "All I can say is that they are some of my favourite scenes I've ever filmed on Corrie. In fact, through all of this storyline there is some beautiful material that I really hope gives that other side to this whole set up. Because it's not the easiest of scenarios Rob and Tracy are in, and what we're trying to do is tell the love story.
"It is doomed; it's a horrible scenario. If you're in love as passionately as they are with each other, and it is genuine, the fact you know it can't go anywhere – it's kind of redundant in a way. But the feelings don't stop just because it's redundant, so that's the struggle we've enjoyed playing."
What are Rob's intentions now? "It's a do-or-die situation that he's in. It's very off the cuff , minute to minute. We're trying to tell the story of the sense of urgency that's there, he's changing his mind all the time as to what the right angle is, how long he can stay where, what is the right thing to do. That is a key question that Rob always asks himself. And, as we know, he does often make the wrong decision. But that gives me something great to play."
Could this be your final stint? "Who knows? I can't say whether he'll die. I can't say whether it will be possible for them to stay together. I would consider staying, of course, if that was on the table. I love the character and the show. I would always stay if there was a good story to tell."
How easy has it been, stepping back into Rob's shoes? "Although I've kept up with the show, I didn't know where Rob was at, so it's really interesting for me to pick up the first few scripts and have chats before about the storyline. But until you see the words printed on the page, you don't know where that person's at. I've never found a problem with picking up the character again, but the pressure is 'Can I make it real?' The first scene you walk in and feel the pressure again; there's a bit of trepidation, but within two seconds you're straight back into it, and it's like you've never left."
Have you kept in touch with cast mates? "Yeah, I kept in touch with a fair few, mainly the ones I worked with like Ali King (Carla), Chris Gascoyne (Peter), Kate Ford (Tracy) and Kym Marsh (Michelle), so there's a definite ongoing relationship.
What have you been up to since your last stint in Corrie? "I've just finished co-producing a feature film, Arcadia, with a director friend of mine. That's a project that's taken up the last two and a half years. I starred in it as well. I learnt masses and it's probably the biggest learning curve I've ever had, especially branching into new territory.
"We started developing it as I was playing out the tail end of the Tina story. To be there from concept right through to editing, you can't help but learn masses. We've finally finished that and it's out now. Another film I did, called Redcon-1, is out later this year. So it's been nice to try different stuff."
If it was possible for Rob to come back permanently, would you agree to that? "Absolutely. If that's something that would ever be on the table, then obviously I'd handle that conversation with every other conversation I've had. I love playing the character, I love the show and if the producers and writers feel I have something I can offer to tell good stories on this show I'm 100 percent behind that."
What's Rob s ideal? Would he love the happily ever after with Tracy? "Absolutely. With Rob and Carla's upbringing, there's never really been any form of stability or family unit. Both characters had so much turmoil, which shaped their adulthood. They do desperately want a happy peaceful life, but because of their baggage it will never happen. The two up/two down with Tracy would be the dream."
Get the What to Watch Newsletter
The latest updates, reviews and unmissable series to watch and more!
Alison Slade has over 20 years of experience as a TV journalist and has spent the vast majority of that time as Soap Editor of TV Times magazine.
She is passionate about the ability of soaps to change the world by presenting important, issue-based stories about real people in a relatable way.
There are few soap actors that she hasn't interviewed over the years, and her expertise in the genre means she has been called upon as a judge numerous times for The British Soap Awards and the BAFTA TV Awards.
When she is not writing about soaps, watching soaps, or interviewing people who are in soaps, she loves going to the theatre, taking a long walk or pottering about at home, obsessing over Farrow and Ball paint.