Who is the showstopper? Meet the Great British Bake Off class of 2016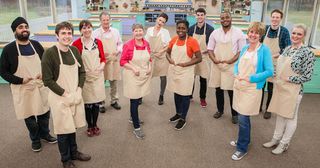 (Image credit: BBC/Love Productions/Mark Bourdi)
The Great British Bake Off premieres on BBC1 on Wednesday at 8pm. Meet the 12 contestants who are aiming to emulate Nadiya Hussain as champion
There's a long way to go with Great British Bake Off and TV Times can't wait to see the bakers' personalities unfold. From a hairdresser to aerospace engineer, nurse to pastor, this year's contestants are the usual likeable bunch of baking addicts, able to whisk up an eclair faster than Mel and Sue can make a gag about it (okay, maybe not).
Want to know more? We thought you might, so here's the low-down on the merry band of bakers hoping to impress Mary Berry and Paul Hollywood and nab 2016's Best Amateur Baker crown…
Michael
Age: 20
Job: Politics and economics student.
Home life: Originally from London, Michael lives in Durham where he's studying.
Baking style: Michael's family are originally from Cyprus and he's been making Greek pastries with his nan since a small boy. A keen college football player, he likes to cook 'big grand cakes' late at night when his student housemates aren't in the way!
Louise
Age: 46
Job: Hairdresser.
Home life: Lives in Cardiff with her fiancé.
Baking style: Louise's passion for baking began 10 years ago when she started making cakes for charity bake sales. Big on experimenting with different flours and flavours whilst bread-making, she also loves decorating cakes with elaborate, fancy designs. Oh, and she likes climbing mountains when not in the kitchen.
Jane
Age: 61
Job: Garden designer.
Home life: The mum-of-two lives in Beckenham with her husband.
Baking style: Jane caught the baking bug from her dad and granddad, who owned a bakery in Hastings. She adores baking classic cakes, biscuits (this week's theme) and pastry, but calls macaroons and ciabatta her 'nemeses'. She's up at 5am most mornings to get her bread in the oven – always wearing her leopard-print apron.
Rav
Age: 28
Job: After studying criminology, he now supports students at London's City University.
Home life: Lives in Erith, Kent, with his parents.
Baking style: Rav, a keen charity worker, was inspired to bake by his sister and enjoys vegan baking and far Eastern cuisine. 'Adventurous and experimental' he often uses unusual ingredients – so expect a few bizarre flavour combinations making their way into the tent.
Val
Age: 66
Job: A former head teacher who now works part-time as a substitute teacher.
Home life: Lives with her husband near Yeovil.
Baking style: With an impressive 60 years experience, Val's a traditionalist who says she can make classics 'with her eyes closed'. Saying that, she enjoys trawling the internet for new recipes and loves inspiring her pupils to bake. She's also exercise-mad and often does aerobics while waiting for her jam to boil.
Selasi
Age: 30
Job: Financial client service associate.
Home life: Originally from Ghana, he moved to the UK 15 years ago and now lives in London with his girlfriend.
Baking style: Despite long working hours and hobbies including basketball, motorbikes, half marathons and treks through Malawi (phew), Selasi enjoys nothing more than baking delicate cupcakes to surprise work colleagues with.
Candice
Age: 31
Job: PE teacher.
Home life: Lives with her boyfriend and pug dog, Dennis, in Bedfordshire.
Baking style: Taught to bake by her beloved Nan, vintage-loving Candice is aiming to emulate her nan's bakes and be 'even half the lady she was'. Partial to baking in her PJ's, she's also been known to break in a new pair of heels while whipping up cakes.
Kate
Age: 37
Job: Nurse.
Home life: She lives in Norfolk with her husband and two daughters.
Baking style: A regular visitor to her parents' farm, Kate's life-long passion for baking focuses on seasonal fruit and produce. Despite a demanding job working on an acute respiratory ward, she'll often work through the night to create flawless sugar craft creations. A perfectionist.
Andrew
Age: 25
Job: Aerospace engineer who designs jet engines.
Home life: Hailing from Northern Ireland, he lives with three friends in Derby.
Baking style: A straight A student who went to Cambridge University, Andrew was taught to bake by his mum and gran and swears by their recipes. His baking is clearly influenced by his job: he's currently designing a baguette Concorde. Expect him to push the design boundaries in the tent.
Lee
Age: 67
Job: Pastor.
Home life: The father-of-two lives in Bolton.
Baking style: This year's oldest contestant began his working life as a builder, before changing career in the mid-1980s and studying theology. He began baking then too, after a back injury forced him to take time off work, and now enjoys baking cherry, hazelnut and chocolate treats for his four proud grandchildren.
Tom
Age: 26
Job: Project engagement manager for The Royal Society of Arts.
Home life: Lives in east London with his wife.
Baking style: Having lost 30 kilos (4 stone 10lb) in weight, Tom's motto is still 'have your cake and eat it' – yet now believes in everything in moderation. As well as making his own cheese and salami, Tom likes to surprise tasters with unexpected ingredients in his bakes.
Benjamina
Age: 23
Job: Teaching assistant.
Home life: Lives with her family in south London.
Baking style: Another seriously smart cookie, (she recently graduated with a 1st in Economics), Benjamina began baking at 14 for fun. Now a passion, she loves classic, simple flavours in modern styles and takes huge pride in her presentation. Cue tears in the tent if her bakes aren't spot on…
Get the latest updates, reviews and unmissable series to watch and more!
Thank you for signing up to Whattowatch. You will receive a verification email shortly.
There was a problem. Please refresh the page and try again.