Leanne's pregnancy prompts Michelle to want another baby, says Corrie's Kym Marsh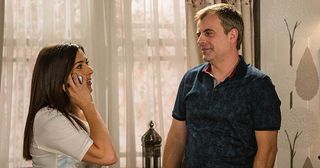 (Image credit: Joseph Scanlon)
Michelle wants a baby of her own when she finds out Leanne is pregnant, reveals Coronation Street star Kym Marsh.
Not so long ago Corrie's Michelle McDonald was so against becoming a mum again, she wanted Steve to have a vasectomy. But the recent crisis in their marriage has seen her have a change of heart, Kym Marsh tells Soaplife.
How does Michelle [Kym] find out Leanne [Jane Danson] is pregnant? "They're chatting in the Street when Leanne starts having pains and confides in Michelle that she's in the early stages of pregnancy. Michelle insists she goes to hospital and gets Tim [Joe Duttine] to give them a lift. It turns out everything's fine and Michelle is excited for Leanne. Michelle's intrigued to know who the father is, but doesn't push it."
And Leanne's pregnancy makes Michelle want a baby of her own? "It's Leanne being pregnant which prompts it, but Michelle realises that at 40 she is getting close to the point where it might no longer be possible, plus there is certainly an element of her thinking it will help her and Steve cement their relationship."
How does Steve react when Michelle tells him she wants him to become a dad again? "He's reluctant and says he needs time to think about it. Michelle's really surprised as Steve was previously so keen that they have a child. Steve finally tells Michelle he's happy to try for a baby with her."
What's the state of their marriage now? "They came very close to splitting, but now they're rebuilding their relationship and finding their way. Michelle knows she hurt Steve, but that's in the past and now she feels they have a great future. She trusts him implicitly."
Do you think Michelle and Steve having a baby is a good idea? "No, if she sees it as a way of mending their marriage. But if she is sure her relationship with Steve is solid then, yes, having their own child may be a good thing."
If Michelle does fall pregnant, could it bring her and Leanne closer together? "I'd like it to – I'm loving working with Jane. With Carla [Alison King] gone, Michelle needs a new buddy so if she and Leanne are both pregnant together it would be perfect…"
Get the latest updates, reviews and unmissable series to watch and more!
Thank you for signing up to Whattowatch. You will receive a verification email shortly.
There was a problem. Please refresh the page and try again.