Coronation Street's Mikey North on the new Gary Windass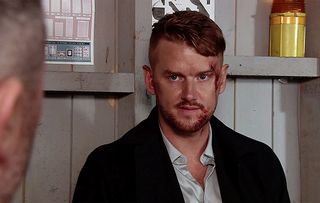 Actor Mikey says there's a whole lot more to come from Gary…
Just three weeks ago, we discovered that Coronation Street's Gary Windass was responsible for Rana's death in the factory collapse. And now he's come out on top in a fight to the death with loan shark Rick.
He might not have intended to kill two people, but how will he deal with the fallout? Actor Mikey North, who plays Gary, has been offering some insight.
'I think it is quite hard for him to take at first,' the Coronation Street star told the Radio Times. 'He thought he was at rock bottom before – after the factory collapse and Rana – but this now makes it even worse. It takes a while to sink in but he starts to feel the guilt more and more as it hits home.
'Even though it was self-defence, intending to actually attack Rick definitely makes the two situations very different.'
So what does the future hold for Gary?
'I can't see how he'll ever get past this,' Mikey admitted. 'He's lost everything and now he's killed two people. But I think it is the start of a new Gary Windass.'
One of Gary's first problems could be shaking off Rick's daughter, who is expected to come looking for her dad next week.
But could he end up becoming the new Rick? Mikey was recently spotted holding a wad of cash during filming, sparking speculation that Gary could step into Rick's shoes as Weatherfield's resident loan shark.
'I don't think Gary has any intention of being caught for a long time yet,' Mikey told Digital Spy. 'And he won't go down without a fight, that's for sure. The stakes are high now for Gary and he's got nothing to lose.'
As for Mikey, he's loving every minute of playing the villain. 'I'll take whatever they can throw at me,' he added.
Coronation Street continues on ITV.
Get the latest updates, reviews and unmissable series to watch and more!
Thank you for signing up to Whattowatch. You will receive a verification email shortly.
There was a problem. Please refresh the page and try again.