New YouTube TV multiview feature arrives for March Madness
YouTube scores a three- (or four-) pointer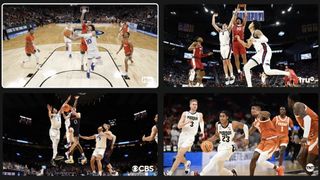 (Image credit: YouTube)
If you've been trying to find the best way to stream March Madness, then you might want to give YouTube TV a try, because the Google-owned service has just become the best live TV streaming service for fans of college basketball.
This is because of a new feature that is currently being rolled out by the cord-cutting platform called "multiview." As the name suggests, multiview lets you view multiple streams at once, letting you follow along with four different channels at the same time.
While this feature is only in early access for now, meaning YouTube TV is testing it and will give it a full release "over the next few months", the platform has confirmed that it'll be letting college basketball fans test out the feature between March 14 and April 3, to stream as much basketball as possible.
With the feature, you can choose which streams you're watching at any time, change which stream is providing your TV's audio (you don't want four streams' commentary at the same time) and also jump in or out of full-screen for any of the channels.
Unfortunately, multiview is initially being trialed for select users, and YouTube TV hasn't specified how it's selected the lucky few, though it says it'll get a wider release soon. However, you can find out if you're one of these guinea pigs by heading to YouTube TV's "Top Picks for You" section, then checking to see if multiview is available.
For now, YouTube is referring to multiview as a sports feature, so it's unlikely that you'll be able to stream from, say, four different news platforms at once, or multiple weather channels simultaneously.
But for busy sports events, like March Madness as well as the Women's Soccer World Cup later in 2023 or the Olympics in 2024, a feature like this will help sports fans catch as many events as possible without having to constantly change channels.
With TBS, TNT, CBS, TruTV and ESPN all channels offered by the streaming service, YouTube TV is already a one-stop shop for college basketball fans wanting to watch the NCAA March Madness (both its Men's and Women's brackets). We've got an entire guide on how to watch March Madness 2023 if you need advice on streaming it in other ways.
Get the What to Watch Newsletter
The latest updates, reviews and unmissable series to watch and more!
Streaming and Ecommerce Writer
Tom is the streaming and ecommerce writer at What to Watch, covering streaming services in the US and UK. His goal is to help you navigate the busy and confusing online video market, to help you find the TV, movies and sports that you're looking for without having to spend too much money.