On the couch with the Gogglebox Malones!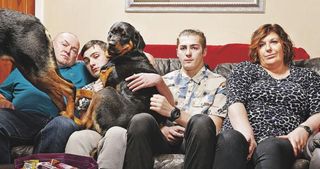 Since joining the show in the fourth series, the Malone family (opens in new tab) from Manchester have become a big hit with Gogglebox (opens in new tab) viewers up and down the country. We caught up with Tom, Julie and their son Tom Jr to talk about the show…
Does watching TV take up a lot of your life now?
Tom: "Yeah."
Julie: "Well, we pretty much watch the same amount as we've always watched. It's much more organised now. They tell us what days they're sending the crew over."
Is it intrusive with the crew and cameras there?
Julie: "It's not intrusive at all. It's like having friends round if anything. It sounds a bit of a cliche, but it is. The cameras are there and all the crew are sat in the kitchen. We have a laugh."
Has the show made you watch shows that you wouldn't normally see?
Tom: "I've had to watch Downton for this programme and I don't like it!"
Assume you'll have to watch the Christmas Downton?
Julie: "We don't know because they only tell us week to week what's coming up. There'll be the X Factor finale I suppose."
Do you like Strictly?
Julie: " Oh yes. I like Peter Andre, he can move, can't he? "
Tom: " He's rubbish! "
Are the dogs becoming more famous than you now?
Julie: " We've got four Rottweilers and a Staffordshire cross who's a rescued dog from the RSPCA. Because we've got so many dogs we don't tend to take them out where the public are because it's quite daunting to see four big Rottweilers and a Staffy. So we hire a field from our local animal charity and take them there. "
They seem very well trained and don't go for your snacks?
Julie: " Bobby does take stuff, but the thing is, none of them will take anything while we're in the room. When we're out of the room he'll grab something, the others don't. "
What's it like watching yourselves on screen?
Julie: "I don't think any of us are image conscious. We don't take ourselves that seriously. We are who we are and that's not going to change just because we're being filmed. I suppose Tom has changed because he has to wear trousers!"
What are you all enjoying at the moment?
Julie: "I'm really enjoying River, about the police detective and the ghost. I also like the other one where the boy has been missing for 30 years, Unforgotten. It's the same actress in both (Nicola Walker)."
Tom: "She's all over the place at the moment, that girl."
Do you like the range of shows they give you to watch?
Julie: " It varies, but we do enjoy it all. "
Tom: " We don't know what they're going to give us until we actually watch it. They won't tell us if it'll be a comedy, or something serious. They want your immediate reaction when you watch it. "
Does it take a lot of time out of your life?
Julie: "Not really because we'd just be sat here watching telly anyway!"
Tom: "The only difference is, a lot of the time, the boys will go upstairs and watch something different to us. So it is nice, yeah. We do a lot of stuff together anyway."
Anything stand out from the last session you filmed?
Tom: "We watched that dating thing (First Dates). That was a bit of a weird one. Everyone likes that stuff, it's taking the mick out of people, isn't it? Some of the wildlife documentaries we watch are really good and we might not have seen them before. Someone's got a good job somewhere, picking out programmes for people to watch!"
Tom Jr: "Sometimes though, I think they show us stuff because they know we're not going to like it."
Julie: "But they are good because anything we don't like or agree with, we don't have to watch. Like there was a show about dog kidnapping Tom got up and walked out because he didn't like it."
Have you always been dog lovers?
Julie: " Oh yes. "
Your dogs are so huge, do they knock you over?
Julie: "Oh yeah, they've knocked Tom over on the show. Bobby came up behind me and knocked me over and I fell behind the couch! But they are dead gentle with everyone who comes in the house."
Do you sit down to watch Gogglebox on Friday night?
Tom: " Sometimes, but often you don't even know if you're going to be on it. With all the families, you don't know if they're going to show the stuff that you've been watching. "
Have you met any of the other families at screenings or events?
Julie: " No, we haven't. When they do screenings it's usually just one family. As it's just about our reactions to TV, we don't socialise together or anything and it's spread all over the country. "
Which Gogglebox families do you like?
Julie: " I like the family with the German dad. They're very funny. I think what's good about it is that everybody's different. That's what makes the show so fun. "
What shows do you hate watching?
Tom: "Just Downton Abbey!"
Julie: "Top Gear is terrible."
Tom Jr: "There's another one coming out, isn't there?"
Yes, with Chris Evans hosting. Did you watch the return of TFI Friday?
Tom: "No and I didn't like TFI at the time. He waffles on a bit too much for me, Chris Evans. It's all about him, bigging it up! To be fair to him, he does a lot for charities with his cars and that."
What are you planning for Christmas – family round the telly?
Julie: "Yes we'll be having a big family Christmas because we've got a new grandson and everyone will come round for Christmas dinner. So there'll be eight of us."
Tom Jr: "I love watching the Royle Family Christmas specials even though they don't make them any more."
Julie: "I think the highlight of Christmas telly is the film, Elf!"
Gogglebox continues on Channel 4 on Friday
Sean has been writing about all things telly for over 10 years and in that time he's been lucky enough to interview stars like Ian McKellen, Tom Hardy and Kate Winslet. His favourite shows are The Great British Bake-Off, People Just Do Nothing and Succession and in his spare time he enjoys drinking tea, doing crosswords and watching football.
Get the latest updates, reviews and unmissable series to watch and more!
Thank you for signing up to Whattowatch. You will receive a verification email shortly.
There was a problem. Please refresh the page and try again.