Paul O'Grady: I nearly died making For the Love of Dogs: India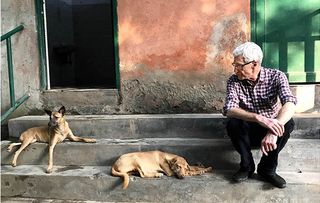 Paul O'Grady fell ill after playing with wounded animals
Paul O'Grady has revealed that he almost died from renal failure while making his new ITV show, For the Love of Dogs: India.
The 62-year-old star, who spoke to us about his festive special of For the Love of Dogs, told The Mirror that he contracted a near-fatal virus after playing with injured street dogs during filming in India.
"Getting ill was my own fault," he said. "They said to me, 'Keep off the streets, it's Delhi.' But I was lying in the gutter with these two gorgeous little puppies.
"I'm feeding them by hand and flicking maggots out of a rat bite, and of course I must have touched my mouth or my face – you forget."
Paul then vomited for hours before a doctor was called, who revealed that he was "heading for renal failure." He recovered after spending a night in hospital.
The star, who has previously suffered three heart attacks, joked that the jockey Frankie Dettori calls him Moggie, "because I've got nine lives."
And he added that the experience hadn't been him off one day returning to India.
"It doesn't faze me at all to back. India is just alive. It's full on, with shocking pollution and noise, but it's unlike anywhere I've ever been before."
The four-part series sees Paul meeting the people who look after Delhi's estimated 400,000 street dogs.
For The Love of Dogs: India will be shown at 8.30pm on ITV on Thursday April 26th.
Get the latest updates, reviews and unmissable series to watch and more!
Thank you for signing up to Whattowatch. You will receive a verification email shortly.
There was a problem. Please refresh the page and try again.