Prue Leith: 'Junior Bake Off will do a lot of good'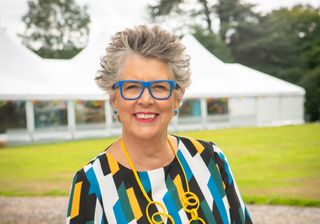 (Image credit: Channel 4)
Prue Leith on why the pint-sized bakers on Junior Bake Off could prove inspirational
Prue Leith has revealed that she hopes the young bakers who are cooking up a storm on Channel 4's Junior Bake Off could spark a food revolution. And she's keeping her fingers crossed that they will encourage other children to make their initial steps into the world of cuisine.
"When I first took the main Bake Off job, I thought, 'I'm going to be criticised because I've spent so much time saying we eat too much sugar, what am I doing being a judge on Bake Off?' But it didn't take long to remember that if everybody learnt to cook, things would be better. When people learn to cook, the first thing they do is bake," she told us in an exclusive interview.
"So children get into cooking through baking. That is why I'm so pleased we're doing Junior Bake Off because children can see other kids doing it. I think it will do a lot of good."
The veteran cook, broadcaster and novelist has previously advocated for improvements in school food and has also worked to revamp hospital meals. She staunchly believes that learning to cook could make a huge difference to our health and even help the stretched NHS.
MORE: Host Harry Hill: 'My kids told me to do it!'
"The more I've got into the politics of hospital food and school food, I've learnt that food makes the world go round. It's the glue that sticks society together but it is also important politically," she said.
"Governments should realise that learning to eat well is every bit as important as learning to read or write. If we ate well, we wouldn't have the obesity problem. We wouldn't have a diabetes problem, we wouldn't have an NHS crisis."
Junior Bake Off continues every weekday at 5pm on Channel 4
Get the latest updates, reviews and unmissable series to watch and more!
Thank you for signing up to Whattowatch. You will receive a verification email shortly.
There was a problem. Please refresh the page and try again.