New game show Babushka will not replace The Chase, insists host Rylan Clark-Neal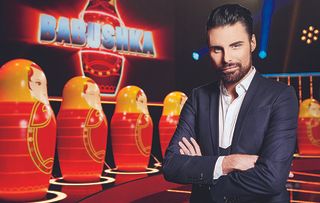 Rylan Clark-Neal has insisted his new show Babushka will not replace The Chase.
TV presenter Rylan Clark-Neal has denied his new game show is replacing The Chase on the TV schedule, saying it is filling the slot during a planned break.
The star of This Morning will front Babushka, a new game show that uses traditional Russian dolls that contain smaller dolls, when The Chase goes on an annual break next month.
He took to Twitter to calm fans' fears that it was a permanent change to the schedules, writing:
FYI @Babushka is NOT replacing @ITVChase . The Chase is having a month break as normal and Babushka is filling that slot. Hope you like it x
The Chase presenter Bradley Walsh retweeted his messages.
Babushka has been commissioned for 20 episodes and the contestants will need knowledge, skills and luck to win cash prizes.
Babushka is a high-stakes game show with a simple objective: find the money hidden inside 10 giant Babushka dolls… and keep it.
One pair of contestants takes part per episode. They must open 8 of the 10 dolls for a chance to win up to £44,000.
Players need to answer a true or false question to open each Babushka. Get a question wrong and that doll, plus any banked cash, is lost. Get it right (and there's a smaller doll inside) they can start banking cash.
Contestants can open each Babushka as many times as they want. But, if they push it too far – and find no smaller doll inside – all banked money is lost.
One Babushka is hiding enough smaller dolls to be worth a whopping £10,000.
However, if the players open an empty Babushka they lose any banked cash.
The players get three 'helps' and can double their winnings at the end of the game by finding the golden Babushka.
But they need to hold their nerve as once the game starts there's no opportunity to cash out early.
Babushka starts on May 1 at 5pm on ITV.
Get the latest updates, reviews and unmissable series to watch and more!
Thank you for signing up to Whattowatch. You will receive a verification email shortly.
There was a problem. Please refresh the page and try again.