Corrie's Shayne Ward: Aidan messes both women around and, ultimately, he'll be a lonely man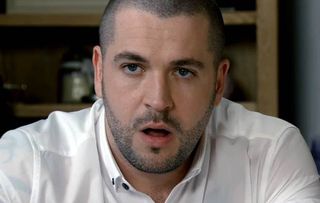 Corrie's Aidan Connor is about to get his comeuppance for trying to have his cake and eat it. Actor Shayne Ward explains how...
Corrie's Aidan Connor is forced into a corner this week when, just as he's about to dump Eva for secret lover Maria, his fiancee secretly finds out about his affair, and then announces she's pregnant.
Actor Shayne Ward talks us through his character's love crisis, and reveals why he thinks Aidan is destined to be lonely...
Is Aidan ready to dump Eva when she tells him she's pregnant? "Yes. It's terrifying for him, because he's been telling Maria that he's definitely going to end things with Eva - and it was genuine, too; it wasn't just about giving himself some time to keep her onside. But Eva finds out about their affair and then finds out she's pregnant. It's a massive spanner in the works for Aidan, and he doesn't know what to do."
Does Eva seem excited when she tells him her pregnancy news? "Excited and also scared, because she knows about Aidan and Maria. Eva has a very good poker face – it's actually quite terrifying! Aidan is completely torn now that there's a baby involved. It's a completely different ball game."
Is he horrified or secretly delighted at the prospect of becoming a dad? "Becoming a dad has never crossed his mind before. For Aidan, it's always been about impressing his own dad – that's what he's driven by. His dad has put him down time after time, but in the kind of way that makes him stronger. He's never had time to think about being a dad, so when it happens, he's like 'Oh my God – really?'"
Could he not consider finishing with Eva, but still being there for the baby? "He could, but come on, this is soap! We don't want that! Seriously, he could do that, but the truth is he's never been in this position before, and hasn't a bloody clue how to handle it! He's scared, and obviously when Maria finds out that Eva is pregnant, all hell's going to break loose."
Eva is obsessed with getting married – is this one of the reasons Aidan is attracted to Maria? "Eva is very materialistic. She wants the wedding, the nice house, the perfect family. She wants this happy ever after, and Aidan finds this quite overpowering. He's like: 'Bloody hell, girl. Slow down!' Maria has her child and she has a job she enjoys – she's quite chilled. There is quite a difference between the women, and that's why Aidan seems to enjoy being with Maria more. With Maria, it's chilled and relaxing. With Eva, it's so full on."
What kind of reaction have you had in the street about this storyline? "Oh, it's all heckles! At least it is from afar. When people come up to me, they're always polite and ask for an autograph. It's great that the viewers get so involved over who they think Aidan should be with. They stay stuff like 'How could you? You shouldn't be with Eva. You should be with the other one' – or vice versa. It's nice that people have invested so much, and it's really going to kick off now and get much deeper."
Who do most people want Aidan to be with? "I think because he started off with Eva, it's probably her. But people will start to see that he does have genuine feelings for Maria – he's fallen in love with her. So you'll see a complete change in the way he is around her to the way he is with Eva. He acts differently with each of them. He's on more of a sharp fuse with Eva, because he feels he can't really engage in a proper conversation with her. It's all 'You all right, babe?' and her fussing over that bloody cat she's got! With Maria, it's a bit more adult."
Do you, as Shayne, feel sorry for Eva and Maria? "Oh God, yeah! Maria's not entirely innocent as she instigated the affair second time around, but no one deserves to be treated like that. I feel a tiny amount of sympathy for Aidan, but not much because he's having his cake and eating it."
Have you enjoyed playing the bad boy and having two women fight over you? "I can't complain! It's great. I've known Cath (Tyldelsey, who plays Eva) and Samia (Longchambon, who plays Maria) for years, and so everything is easy in terms of working together. We make it as fun as possible, and when we do a horrible scene and are shouting at each other, afterwards we're like, 'I'm sorry – I didn't mean it!'
We know Eva is going to have a plan to get revenge on Aidan. What would hurt him the most? "If she did something to the business. He wants to build this enterprise. He's always wanted his dad to see him as the successor of Underworld and to impress Johnny, so, yeah, it would have something to do with the business."
How long is this storyline going to run for? Will it continue through the summer? "Yes. Aidan finds himself in a place where he has messed Maria around so much. There was the affair first time round when he said he wanted to be with her, but he went back to Eva. Then she started the affair again and he decided to be with her, but Eva tells him she's pregnant and so he feels he has to stay with her. That kind of shuts the door on him and Maria…or does it? He's messed both women about, and ultimately he'll be quite a lonely person."
Has this opened your eyes to how far a woman scorned could go? And if so, has it scared you? "Oh, I know a lot of women who've been scorned – not from myself, may I say! I know how lethal they can be. I mean, my mum watches the ITV show, Killer Women. So it's been fun doing this, but God help Aidan going forward!"
Alison Slade has over 20 years of experience as a TV journalist and has spent the vast majority of that time as Soap Editor of TV Times magazine.
She is passionate about the ability of soaps to change the world by presenting important, issue-based stories about real people in a relatable way.
There are few soap actors that she hasn't interviewed over the years, and her expertise in the genre means she has been called upon as a judge numerous times for The British Soap Awards and the BAFTA TV Awards.
When she is not writing about soaps, watching soaps, or interviewing people who are in soaps, she loves going to the theatre, taking a long walk or pottering about at home, obsessing over Farrow and Ball paint.
Get the latest updates, reviews and unmissable series to watch and more!
Thank you for signing up to Whattowatch. You will receive a verification email shortly.
There was a problem. Please refresh the page and try again.