16 soap characters who would be perfect together (if only they were on the same show!)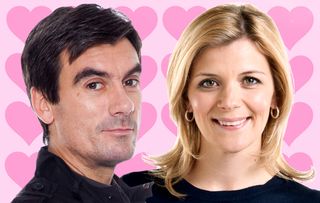 Maybe the lonesome soap characters who struggle to find love need to look further afield than Albert Square, Weatherfield or their village...
After Corrie star Jane Danson suggested that Emmerdale's Cain Dingle was the ideal man for Leanne Battersby, we came up with some other unlucky-in-love soap souls who would be perfect for each other…
Finding 'the one' is never easy – and when you're a soap character, it's doubly difficult. How are you supposed to meet your perfect match when the scriptwriters only let you leave your street/square/village once in a blue moon?
If only these fictional folk could venture further afield, they might just hit the jackpot. Take Corrie's Leanne Battersby.
Jane told us she reckons her character's ideal fella isn't in Weatherfield, but over the Pennines in Emmerdale, in the shape of rufty tufty mechanic, Cain Dingle.
"Leanne needs someone really strong who will look after her, because she's always doing the looking after," said Jane. "Cain's naughty but dead strong, and will give as good as he gets."
As we contemplate their potential, here are a few of our own suggestions for soap characters who could go the distance – if only they weren't in different shows…
EASTENDERS' MAX BRANNING and EMMERDALE'S CHARITY DINGLE
The very thought of these two getting together makes us want to run for cover. But think about it – Max and Charity both need a partner who can give as good as they get and keep them on their toes, and they'd certainly get that in one another. A relationship between these two would probably be a constant cycle of scheming, one-upmanship and blazing rows – followed by equally passionate making up in the bedroom. Somewhere down the line, one of them would probably end up killing the other. But hey, it'd be fun while it lasts.
CORRIE'S MARIA CONNOR and EASTENDERS' STEVEN BEALE
After 17 years on the cobbles, Maria Connor is still no closer to finding her soul mate and latest squeeze, Aidan Connor, certainly isn't going to give her the happy ever after she craves. So how about Walford's Steven Beale? He's desperate to settle down, and wants a woman who, unlike current girlfriend Lauren, isn't going to get some flashy job away from home (in all those years at Audrey's Salon, has Maria ever applied to work at a trendy place in town?) Okay, so Steven's a bit of a mad stalker, but then Maria was the same with Tyrone. See? Made for each other!
EMMERDALE'S RONNIE HALE and EASTENDERS' DEREK HARKINSON
Ronnie Hale may be shacked up with Lawrence White right now, but actor John Bowe, who plays Lawrence, is bowing out of Emmerdale later this year, which means poor Ronnie's going to need a bit of company. Walford amateur dramatics fan Derek would be the ideal new boyfriend. He has the same easy-going personality as Ronnie and, unlike old Larry, doesn't have a big toe still in the closet. Now, if only Ronnie could make a trip to the East End of London and suddenly find himself needing to nip into a grocer's for a tin of beans…
CORONATION STREET'S MARY TAYLOR and EMMERDALE'S JIMMY KING
According to tabloid reports, Corrie's Mary is going to tie the knot later this year with her good friend, Norris Cole. But as much as we love this Weatherfield duo, we can't help worrying that Norris won't be able to satisfy all of Mary's... needs. She is a very passionate woman, after all! Step forward dopey Dales resident, Jimmy King. He might be short on brains and charisma, but his heart's in the right place and he's got stamina by the bucket load. Plus, he could do with a break from nagging wife, Nicola. A couple of weeks of Mary's soothing tones, and it would be 'Nico who?'
EMMERDALE'S ERIC POLLARD and EASTENDERS' CORA CROSS
As the two-year anniversary of wife Val's death approaches, B&B co-owner Pollard looks like he's ready to consider romance again. And, while the Dales' Faith Dingle might be a good match, so, too, could be Albert Square's Cora Cross. There's a combination of steeliness and old-fashioned glamour in Abi and Lauren's gran – both of which Val had – and she'd understand what Pollard has been through, having lost her own soul mate in Stan Carter. A relationship with Cora might not always be easy, but if Pollard can survive seven years married to Valerie, he can survive just about anything.
EASTENDERS' WHITNEY DEAN and CORONATION STREET'S DAVID PLATT
Now that Corrie widower David has ruled out a relationship with Shona Ramsey (give it two months and he'll probably change his mind), he needs to find romance elsewhere. EastEnders' Whitney isn't a million miles away from David's late wife, Kylie – she shares the former nail technician's love of hoopy earrings for starters - and she'd make a brilliant step mum to Max and Lily.
On the downside, Whit did a disappearing act a few months ago, so David would have a job tracking her down. On the plus side, Walfordians often venture to Manchester when they leave Albert Square – so she could be right under David's nose…
CORONATION STREET'S BETHANY PLATT and HOLLYOAKS' ALFIE NIGHTINGALE
Having recently escaped the clutches of paedophile Nathan, Bethany Platt isn't in the right place for a relationship right now. But, as she recovers from her ordeal and the time comes for her to consider a boyfriend, she wouldn't go far wrong with Hollyoaks' poppet, Alfie Nightingale. Sweet-natured and sympathetic, with a maturity that belies his teenage years, he'd be just the ticket for the troubled schoolgirl. And, having suffered the trauma of losing girlfriend, Jade, he'd want to take things slowly – exactly what Bethany needs. We can picture them now, holding hands, looking up at the stars…
CORONATION STREET'S KATE CONNOR and HOLLYOAKS' ESTHER BLOOM
Forget The Rover's – Weatherfield's Kate Connor needs to get herself over to Chester to sample the delights of Esther's Magic Bean. Not only do the muffins look mouth-watering, but the owner's young, single and could be right up Kate's street. Just like Kate, Esther is easy-going and up for fun, but doesn't shy away from a serious relationship. What's more, she can empathise with Kate's experience dating crazy Caz, having had her own possessive partner in now ex wife, Kim Butterfield. In fact, there's an opportunity here. As Kate got together with Est, Caz could cop off with Kim!
Who needs speed-dating at The Dog when you've got us, hey?
Get the What to Watch Newsletter
The latest updates, reviews and unmissable series to watch and more!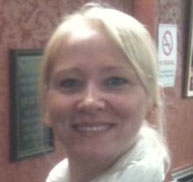 Alison Slade has over 20 years of experience as a TV journalist and has spent the vast majority of that time as Soap Editor of TV Times magazine.
She is passionate about the ability of soaps to change the world by presenting important, issue-based stories about real people in a relatable way.
There are few soap actors that she hasn't interviewed over the years, and her expertise in the genre means she has been called upon as a judge numerous times for The British Soap Awards and the BAFTA TV Awards.
When she is not writing about soaps, watching soaps, or interviewing people who are in soaps, she loves going to the theatre, taking a long walk or pottering about at home, obsessing over Farrow and Ball paint.