Some Sky TV subscribers now get five of the best streaming services bundled for free
Discovery Plus joins the roster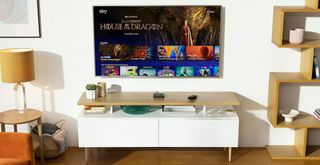 (Image credit: Sky)
If you're a Sky TV subscriber, you're spoiled for choice when it comes to viewing options. As well as all the Sky channels that are part of the base subscription, the TV service now offers another of the best streaming services out there.
While Sky already offered access to Now TV, Netflix, Paramount Plus and a UK version of US streaming service Peacock, a fifth entry has joined the line-up as of Monday 16 January, and that's factual entertainment service Discovery Plus.
Sky TV prices
Sky Entertainment & Netflix
£26 per month
Sky Sports
+£25 per month
Sky Cinema
+£11 per month
Sky Kids
+£6 per month
BT Sport
+£28 per month
Netflix upgrade to Standard or Premium
+£4 / +£8 per month
UHD & Dolby Atmos upgrade
+£6 per month
Ability to skip ads
+£5 per month
Owned by US media company Discovery, Inc., Discovery Plus focuses on non-fiction content: its library includes cooking shows from The Food Network, dating shows like 90 Day Fiance, lots of original travel and adventure shows and thousands of hours of content in the true crime, paranormal and lifestyle categories.
As an added bonus for sports fans, in the UK Discovery Plus includes Eurosport, which used to be its own streaming service but became incorporated with the Discovery-owned one. Eurosport lets you stream loads of sports, with the Australian Open 2023 and Formula E 2023 two of its current highlights, but there's a huge selection available. The Tour De France and 2024 Olympics will also be shown on Discovery Plus.
This is because Sky isn't bundling the £3.99-per-month Entertainment plan, but the £6.99-per-year Entertainment and Sports one, getting you even more for your cash.
If you currently subscribe to Sky Sports as well as Sky TV, the addition of Discovery Plus and Eurosport means there will be few sports you can't watch as part of your monthly subscription.
If you're wondering "didn't Discovery Plus already come with Sky?" you wouldn't be totally wrong, but the deal is even better now. Before, people could sign up for a free year of Discovery Plus, but now the deal isn't just for a year, it's forever (or at least, for the foreseeable future).
Sky has long been popular as a way to get US TV shows via Now TV like House of the Dragon and, new for 2023, The Last of Us, as well as its selection of movies. By default Sky comes with Netflix Basic as well as much of Peacock's library (Peacock is primarily US-first, but some of its shows and movies that aren't licensed to other streaming services in the UK are available via Sky).
In addition, Paramount Plus is available to customers who have the Sky Cinema add-on (the service's videos are available, though you don't find them through the Paramount Plus app, which isn't on Sky devices). So depending on your subscription bundle, with the addition of Discovery Plus you could have five of these services at your disposal (not counting Sky itself), saving you lots of money and all the faff involved in subscribing to all the individual services.
Now, you're only issue is working out how to see everything you want in the scant 24 hours each day.
Get the latest updates, reviews and unmissable series to watch and more!
Streaming and Ecommerce Writer
Tom is the streaming and ecommerce writer at What to Watch, covering streaming services in the US and UK. His goal is to help you navigate the busy and confusing online video market, to help you find the TV, movies and sports that you're looking for without having to spend too much money.
Thank you for signing up to Whattowatch. You will receive a verification email shortly.
There was a problem. Please refresh the page and try again.