Stacey Dooley shocked to meet 13-year-old dealers in BBC3's Kids Selling Drugs Online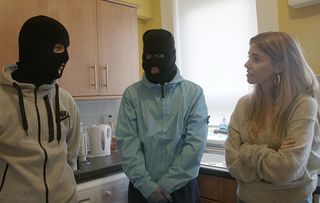 BBC3's latest documentary Stacey Dooley Investigates: Kids Selling Drugs Online, uncovers how easily children access Class A drugs by using social media.
With around 20 per cent of young people regularly taking drugs, the UK's teenagers are among the heaviest drug-users in Europe. And as investigative reporter Stacey Dooley discovers, in her latest BBC3 (opens in new tab) documentary, Kids Selling Drugs Online, the widespread use of social media is only increasing the problem.
"We are all obsessed with social media. I am addicted, and kids even more so," said Stacey. "Now, just by using their phones, teenagers can get their hands on Class A drugs in a matter of minutes. It's so easy."
To investigate this new generation of digital drug dealers, Stacey posed as a 15-year-old schoolgirl and went looking to buy drugs via Snapchat, Instagram and Yello. She was shocked by what she uncovered.
"A lot of it is teenagers selling openly to other teenagers. Some of the dealers are as young as 13," she said. "I was posing as a schoolgirl and nobody had any qualms about selling me drugs. I was offered everything from pills and weed to cocaine and acid."
Using hidden cameras, Stacey arranged to meet two of the young dealers, as well as an older gang in Glasgow which employed teenagers to sell their illegal wares.
"Older dealers rely on youngsters who use mobile apps so they can tap into the youth market, and they bring in a lot of business," she explained. "The benefit for the dealers and the buyers is that the messages disappear so quickly."
After meeting the dealers, Stacey took her evidence to each of the app companies, but was disheartened by their response.
"They have a duty of care to these kids and I find it quite disappointing that they didn't want to sit down and have a conversation," she said. "As adults, it is our responsibility to look after our kids. If you are making a lot of money from these apps, the least you can do is make it as safe a space as possible."
Who is Stacey Dooley?
Stacey is a popular documentary presenter who has tackled some controversial and harrowing topics in the past. She shot to fame in 2007 when she travelled to India to film Blood, Sweat and T-Shirts for BBC3. This programme lifted the lid on the dark truth behind many UK high street fashion stores.
The 30-year-old from Luton has most recently explored the chilling reasons Filipino mothers sell their own children for sex and why Japan's industry for young sex continues to boom.
Stacey Dooley Investigates is a series of documentaries which aim to explore issues faced by young people all over the world.
Stacey Dooley Investigates, Kids Selling Drugs Online is available now on BBC3 via iPlayer
As well as writing on sport and television for What to Watch, Richard McClure has contributed art and travel features for a wide variety of publications, including the Financial Times, The Guardian, and The Observer.
Get the latest updates, reviews and unmissable series to watch and more!
Thank you for signing up to Whattowatch. You will receive a verification email shortly.
There was a problem. Please refresh the page and try again.