The Hound of the Baskervilles (1959) | Hammer's classy Sherlock Holmes adventure heads to Blu-ray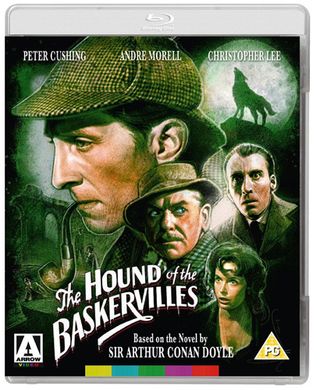 One of the best re-tellings of the Sir Arthur Conan Doyle tale to date, Hammer's 1959 gothic chiller, starring Peter Cushing, Andre Morell and Christopher Lee, gets a European Blu-ray debut from Arrow Video (opens in new tab).
SYNOPSIS When Baker Street sleuth Sherlock Holmes (Peter Cushing) hears the legend of the ghostly hound from hell that brings death to each generation of the Baskerville family, he agrees to protect the new heir, Sir Henry Baskerville (Christopher Lee), and send his right-hand man, Dr Watson (Andre Morell), to gloomy Baskerville Hall, where a series of strange events indicate that there is a plot to kill Sir Henry. Looks like a job for Sherlock, alright!
THE LOWDOWN Hammer horror meets Sir Arthur Conan Doyle. And with Peter Cushing as Sherlock Holmes, the scene is well and truly set for a chilling, colourful film version of the most famous Baker Street mystery of all. READ MORE… (opens in new tab)
THE ARROW VIDEO BLU-RAY This new edition of the Hammer classic from Arrow Video (opens in new tab) comes loaded with a bumper crop of bonus content, including an audio commentary with Hammer experts Marcus Hearn and Jonathan Rigby, alongside a brand new documentary. Also included are the featurettes, André Morell: Best of British, which looks back at the career of the late great actor and the 1986 documentary The Many Faces of Sherlock Holmes, which examines the many incarnations of Conan Doyle's celebrated character, narrated and presented by Christopher Lee. Rounding off the Blu-ray is an archive interview with Christopher Lee, excerpts from The Hound of the Baskervilles read by Lee, the original theatrical trailer, and an extensive image gallery.
****READ MORE ABOUT THE FILM HERE (opens in new tab)****
Get the latest updates, reviews and unmissable series to watch and more!
Thank you for signing up to Whattowatch. You will receive a verification email shortly.
There was a problem. Please refresh the page and try again.