The Masked Singer costume designer reveals the real inspiration behind Ghost
The Masked Singer's spooky sheet prompted confusion from viewers — but there's a good reason the costume was so simple.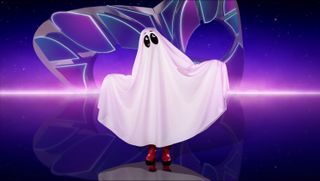 (Image credit: ITV Plc/Bandicoot TV)
The Masked Singer's Tim Simpson has revealed the inspiration behind the current season's much-discussed Ghost costume.
Viewers took to Twitter to express their sympathy for the celebrity inside the Ghost costume — revealed at the end of the season four premiere to be broadcaster and former pro-footballer Chris Kamara — describing the costume as "just a sheet" and suggesting that it was by far the worst costume of the bunch.
However, What To Watch recently caught up with Tim, the creative director of Plunge Creations and character costume designer on The Masked Singer, who revealed that the costume's simplicity was very much a deliberate joke...
"The gag was that it would be funny to have all of these elaborate costumes, because everyone's used to big, crazy costumes on The Masked Singer, and then just pop one in which is clearly the simplest possible costume you could come up with," Tim tells us. "It's really iconic, the simple sheet ghost costume, and we thought it would be funny just to have that. It also gives the performer a lot of immediate references to comedy and pantomime — people understand that a ghost costume is a playful, simple costume already."
The inclusion of a skeleton bodysuit under the main costume — complete with its own separate mask — was also very much part of the gag.
"We had the additional joke of having the a skeleton costume underneath," adds Tim. "Again, a really silly, pretty much off-the-shelf skeleton costume, just as an additional joke so they'd have to take the mask off twice!"
However, Ghost's costume turned out to be much more complicated than its simple appearance might suggest...
"We imagined it would be a simple costume to make, and actually it took ages!" Tim explains. "If we'd just used a normal bedsheet, then the weight of the fabric would have been all wrong. It's actually a material called scuba, which is a fairly heavyweight material with a small amount of stretch. It moves more easily than woven cotton, and it has an ever so slight amount of sheen, which makes the light dance off it a bit more interestingly. And it has to allow the person to sing — so you can't just drape it over their face like you normally would with a ghost costume, you have to have some space in there!"
That wasn't the only complication that the designers faced with their Ghost costume either.
"The other difficulty is keeping it clean!" says Tim. "These things go out on VT, they get used, they go in and out of wardrobe, and actually a pure white costume is a nightmare because it's got to be spotless. It will show all the dirt, and it's not as easy to wash as normal bedsheets!"
Tim and his team also wanted to include a message within the costume, reminding viewers that you don't need a primetime TV budget to make yourself a costume.
"For a lot of kids who might watch the show, it's a really nice reminder that you don't have to make really elaborate, complicated costumes in order to dress up and have fun," says Tim.
"Putting Ghost in there was a way of reminding people that all they need is a sheet and a pair of eyes, and they've got themselves a ghost costume. Apologies to any parents out there who might find holes cut in their sheets!"
The Masked Singer airs on Saturdays at 7pm on ITV1
Get the latest updates, reviews and unmissable series to watch and more!
Staff Writer for TV & Satellite Week, TV Times, What's On TV and whattowatch.com
Steven Perkins is a Staff Writer for TV & Satellite Week, TV Times, What's On TV and whattowatch.com (opens in new tab), who has been writing about TV professionally since 2008. He was previously the TV Editor for Inside Soap before taking up his current role in 2020. He loves everything from gritty dramas to docusoaps about airports and thinks about the Eurovision Song Contest all year round.
Thank you for signing up to Whattowatch. You will receive a verification email shortly.
There was a problem. Please refresh the page and try again.