'It's one of our strongest line-ups so far,' Torvill and Dean rate the celebs on Dancing on Ice 2019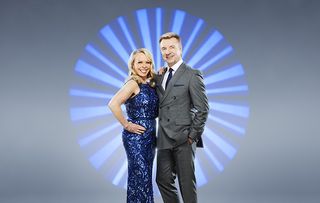 (Image credit: ITV)
Get out your winter warmers... Dancing on Ice is back! Head judges and ice-dancing legends Jayne Torvill and Christopher Dean rate the Class of 2019...
If there's one TV show guaranteed to warm up those cold winter months it's ITV's Dancing on Ice. When the ice-dancing show returned last year after a four-year absence it was like it had never been away – and now 12 courageous celebrities will be getting their skates on as Dancing on Ice is back!
Phillip Schofield and Holly Willoughby will once again be our rink-side hosts, as 'Mr Nasty' Jason Gardiner and Diversity star Ashley Banjo return to the Ice Panel. And back in their rightful place as head judges are ice-dancing legends Jayne Torvill and Christopher Deaan.
Here, Jayne, 61, and Chris, 60, tease what's in store…
What do you make of this year's line-up?
Chris: "I think it's one of our strongest line-ups so far. There are some strong ice-skaters, some great characters and I think there will be some surprises. Back in October, we did a bootcamp-type session with all of them, which we've never done before, to teach them the basic skills that they could then improve on…"
Jayne: "We were quite impressed with the standard. There were one or two who had to skate round then skate towards us and we were like: 'Ooh, wow!' On the first live show, we'll be able to see who's been working on the basics, who needs to work a bit harder and who has the potential to go all the way."
Can you give us any hints?
Chris: "No!" Jayne: "Mmm… Nice try!"
One of Dancing on Ice's longest serving professional skaters, Dan Whiston, is creative director this series…
Chris: "Yeah, Dan will be working on the opening numbers of the show and, at the same time, overseeing choreography. The professionals are still going to choreograph but he'll be giving them guidance. Dan's probably the most successful pro on the show, so he has a great idea of what works." Jayne: "I think we'll also have a bit more involvement than last year in setting some challenges and doing some choreography..." Chris: "It was hard for me not being able to do that last year; it's like a puppy wanting to be where the action is and being told to sit! And I think we may perform a little bit more, too! We've got to do it while we can still can, right?"
Does it feel more of a challenge, the older you get?
Jayne: "It's really just that, if you get an injury, it takes longer to get over it. It happens to everybody but we do try and stay in good shape and keep fit."
Dancing on Ice is certainly a dangerous show…
Chris: "I think people love that though, don't they? It's about the jeopardy of every moment; these celebrities are seconds away from a catastrophe most of the time, so you never know what's going to happen." Jayne: "There have been a few falls. But the celebrities have been taught how to fall… and how to get up!"
How does it feel to know that you have inspired people to take up ice-skating?
Jayne: "It's nice to think we've inspired children with something we grew up with and loved doing." Chris: "I do feel a little responsible for all these seasonal rinks that pop up around the country in the wintertime…" Jayne: "I usually take my kids to one. I do get on the ice with them but I pull my hat right down so as not to draw attention and I try not to push too hard even though I'm desperate to go really fast! But people do recognise me eventually."
Dancing on Ice wouldn't be the same without you. How do you both feel about being regarded as national treasures?
Chris: "We've often been asked: 'How does it feel to be national treasures?' and I've always thought: 'Do they think we should be in a museum, or something?' But now, we do realise we have seen a lot and done a lot. We'd never have believed that nearly 40 years on [from winning gold at the 1984 Winter Olympics] we'd be doing something like Dancing on Ice and still skating together. So now I think it's an endearing sentiment."
'There's rivalry already between James and Brian!'
Torvill and Dean cast their eyes over this year's ice-skating stars…
Gemma Collins, 37, TOWIE star
Chris: "Gemma is very determined. I think she's going to prove everybody wrong."
Richard Blackwood, 46, Ex-EastEnders actor
Jayne: "Richard just seems really cool. He's going to get to the finish line – but he's not going to rush it."
James Jordan, 40, former Strictly Come Dancing pro
Chris: "Because James is a professional dancer, everybody's expectation is that he's clearly going to be the best. But he's found skating really difficult."
Didi Conn, 67, Grease legend
Jayne: "When we did the training session, Didi came on singing. She went all the way round the rink singing her heart out. People will fall in love with her."
Brian McFadden, 38, presenter and former Westlife singer
Chris: "It would seem there's a rivalry already between James and Brian. They're good friends but Brian's like: 'I don't mind where I come, so long as I finish ahead of James!'"
Ryan Sidebottom, 40, England cricketer
Jayne: "Ryan is SO tall. He's 6'4'' and then he's got his skates on as well. When I first saw him I thought: 'Who's going to get lifted above his head? They'll be in the clouds!'"
Jane Danson, 40, Corrie's Leanne Battersby
Chris: "Jane is such a lovely lady – she'll show she's nothing like Leanne Battersby at all!"
Mark Little, 59, presenter and former Neighbours star
Jayne: "Mark's really interested in the science of skating. I told him: 'Your blade melts the ice and that's how you can travel'. He kept asking questions, so I said: 'Mark, you need to go and melt the ice. Practice!'"
Saira Khan, 48, Loose Women panellist
Chris: "Saira will soon find the glide of skating I'm sure. If she were being judged on intensity she'd get top marks!"
Melody Thornton, 34, former Pussycat Doll
Jayne: "Melody is very driven and determined, so should do well."
Saara Aalto, 31, X Factor 2016 finalist
Chris: "For me, Saara was a real surprise. I think she'll really surprise people."
Wes Nelson, 20, star of Love Island 2018
Jayne: "Wes is a lot of fun. I think he's going to charm and entertain people."
Dancing on Ice starts Sunday 6th January 6:00pm on ITV
Get the latest updates, reviews and unmissable series to watch and more!
Thank you for signing up to Whattowatch. You will receive a verification email shortly.
There was a problem. Please refresh the page and try again.