Wallace and Gromit: The Curse of the Were-Rabbit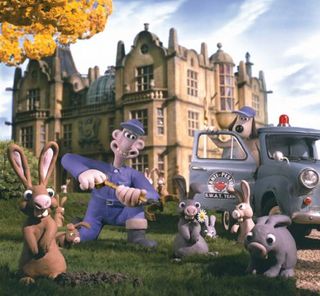 Couch Potato Pickings
On BBC1 today at 4.30pm
I'm not a big fan of animated films but I make an exception for Wallace and Gromit. Christmas wouldn't be Christmas in this country without these much-loved characters.
In The Curse of the Were-Rabbit, nutty northern inventor Wallace and his canine companion Gromit have formed a pest-control outfit, Anti-Pesto, to protect their neighbours' prized gardens from the local rabbit population. Their success attracts the admiration of local aristocrat Lady Tottington, much to the annoyance of her fortune-hunting suitor Victor Quartermaine, but everything goes pear-shaped for the duo when one of Wallace's outlandish inventions inadvertently unleashes a fearsome monster on the town.
I'm a northerner. I love cheese. I grow my own veg. I love clever puns. I enjoy spotting film references in movies. This film pushes all the right buttons for me.
The following films are just some of the many movies wittily referenced in this movie. How many can you spot?
The Matrix, King Kong, Tremors, The Wolf Man, The Curse of the Werewolf, An American Werewolf in London, Watership Down, The Hunchback of Notre Dame, Frankenstein, The Fly, Dracula, Metropolis, Harvey, The Italian Job, The Exorcist, Monty Python and the Holy Grail, Who Framed Roger Rabbit, Jurassic Park, Mighty Joe Young, Austin Powers: The Spy Who Shagged Me, The Lord of the Ring: Fellowship of the Ring, The Wizard of Oz, Strangers on a Train, Spartacus, The Loneliness of the Long Distance Runner.
And while on the subject of film references, Wallace & Gromit: A Matter of Loaf and Death - the wittily titled new Wallace and Gromit short film - also shows today at 8.30pm. I have a feeling that will be the perfect time to get out the cheeseboard and the port.
Get the What to Watch Newsletter
The latest updates, reviews and unmissable series to watch and more!