Why isn't 'Casualty' on tonight and when is the next episode?
By Claire Crick
Casualty fans are going to miss the latest drama from A&E this weekend due to more scheduling changes.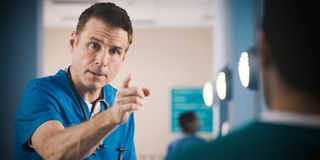 (Image credit: BBC)
Casualty fans are going to be left missing their favourite drama tonight (Saturday 3rd July) as Euro 2020 causes scheduling changes once again.
TV fans are used to their favourite shows being moved around for big sporting events, but Euro 2020 has seen significant changes to when programmes are on across both the BBC and ITV over the past few weeks.
Why isn't Casualty on tonight?
Instead of Casualty airing tonight, there will of course be the highly-anticipated England V Ukraine Euro 2020 football match on BBC1 instead, kicking off at 8pm.
When is the next episode of Casualty on?
We are yet to receive confirmation from the BBC about when the next episode of Casualty is on as it all depends on future football fixtures, however it has been pencilled in for Saturday 10th July at 9.30pm.
What will happen in the next episode of Casualty?
Tina Mollett plays a dangerous game in the next episode of Casualty. She has been quickly accepted into the tight-knit ED team, not least because she's dating senior nurse manager Jacob Masters. Recently, however, Casualty fans have begun questioning the agency nurse's manipulative behaviour.
This week in Casualty doctor Rash Masum is paired with Tina (Adele James) and is shocked by her behaviour. Alarm bells start ringing for Rash (Neet Mohan) when Tina violates a patient's confidentiality by snooping on their social media accounts.
Later, when treating former Holby City CEO Vanessa Lytton (guest star Leslie Ash) Tina suspects Vanessa is the victim of domestic abuse.
In a bid to prove she's right Tina repeatedly oversteps boundaries, leaving Rash playing catch up. As the shift progresses and even more determined to confirm her suspicions Tina then goes on to reveal that she was in an abusive relationship.
At first, Rash is sympathetic until Tina makes a careless confession that leaves him deeply disturbed. Will he report Tina?
Also, Charlie Fairhead finds himself embroiled in a catfishing scandal and Dylan Keogh is summoned for a meeting by the hospital CEO for slacking in his acting clinical lead duties.
What happened in the last episode of Casualty?
The last episode of Casualty ended with some big cliffhangers, leaving viewers desperate to find out how the latest showdowns will play out.
First David Hide's son Ollie was readmitted to the ED suffering from mystery symptoms. But while Ollie's tests came back clear, Rash turned detective and ran some toxicology tests, only to come to an unsettling conclusion.
Rash became convinced someone close to Ollie could be poisoning him, only for David to find out and accuse Rosa of poisoning Ollie's water.
David then ordered Rosa out of the hospital, but is this the last time we have seen her? And more to the point, if Rosa isn't poisoning Ollie then what could really be wrong with him?
Elsewhere, Ethan Hardy was still struggling to hide his Huntington's symptoms from everyone around him, especially after dropping baby Bodhi while looking after him.
Bodhi was completely fine after being checked out at the ED, however worried mum Fenisha wanted answers about what exactly happened that day.
But will Ethan open up about his health worries? Or will he continue to hold Fenisha at arm's length?
Casualty usually airs on Saturday evenings on BBC1 - keep an eye on our TV Guide to find out when the next episode is airing.
Rash Mashm - Neet Mohan
Jacob Masters - Charles Venn
Fenisha Khatri - Olivia D'Lima
Iain Dean - Michael Stevenson
Jan Jenning - Di Botcher
Charlie Fairhead - Derek Thompson
Ethan Hardy - George Rainsford
Dylan Keogh - William Beck
David Hide - Jason Durr
Get the latest updates, reviews and unmissable series to watch and more!
Thank you for signing up to Whattowatch. You will receive a verification email shortly.
There was a problem. Please refresh the page and try again.