EastEnders spoilers: Emma Harding opens up to Lola
Airs at 7:30 pm on Thursday 9 February 2023 on BBC One.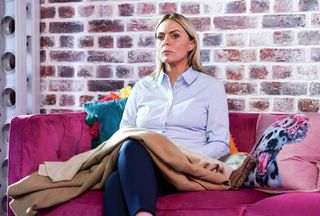 (Image credit: BBC)
Emma Harding is determined to make things right with daughter Lola Pearce-Brown in Tuesday's episode of EastEnders (7:30 pm. see our TV Guide for full listings).
Emma Harding is keen to get to know her daughter now that Lola Pearce-Brown knows she's her long-lost mum!
After Lola's granddad Billy Mitchell tracked her down, she arrived in the Square under an assumed name to suss things out.
Lola had no idea that her most recent client at the salon, 'Nicole', was her mum, while Emma made the shock discovery that Lola has a brain tumour.
With the truth now revealed, Emma arranges to meet Lola for lunch to talk things through.
Although Lola's new hubby Jay Brown knows that Lola needs an insight into her abandoned childhood, he's worried that finding out why Emma left when Lola was a small child might prove too much of a strain.
After Lola realises that Jay has reservations, she asks him to come to the lunch with her, so he can be there to support her.
In the Vic, Emma makes it clear that she wants to make up for lost time with her daughter. But will Lola and her family agree?
Nish Panesar has enlisted son Vinny Panesar's help to wage war on the Mitchells. His wife Suki Panesar has no idea that Nish is about to provoke a dangerous enemy.
When Phil finds out someone has been out to make trouble for him, he storms over to the Panesars' to confront Nish. Realising that Nish is in a precarious position, Suki jumps in to give him an alibi.
Despite Suki's best attempt to put Phil off the scent, it's clear that Nish should NOT have messed with the Mitchells when the Minute Mart is turned over by a mystery intruder.
With Nish and Suki rattled, Eve Unwin steps in to help clean up the mess.
A fuming Suki confronts Nish, wanting to know exactly what he's started with Phil.
When Eve overhears their blazing row, she's worried for Suki. Heading round to the Minute Mart later that day, Eve tries to console Suki.
Will Suki drop her frosty attitude towards her former lover and let Eve give her comfort?
Whitney Dean is in a terrible state after the news about her baby following her scan. With Zack Hudson secretly grappling with his own health worries, Whitney feels like she's been left to cope alone, yet again, as Zack has been edgy around her.
After misplacing her scan photo, a distressed Whitney is in bits and she breaks down on housemate Chelsea Fox.
A worried Chelsea is stunned when Whitney confesses that something very concerning was spotted on her scan.
Having gone through her own heartache and anxiety when Chelsea's son Jordan, was born, she is quick to offer her friend some words of wisdom.
Jordan was born very premature and Chelsea spent weeks in the hospital watching over him until he was deemed healthy enough to come home.
Can Chelsea help Whitney calm down?
Also, Sonia Fowler feels bad about asking lodger Jed to move out and can't find a good moment.
EastEnders continues on BBC One on Friday at 7:30 pm this week, due to football replacing an episode on Tuesday.
Get the What to Watch Newsletter
The latest updates, reviews and unmissable series to watch and more!