EastEnders spoilers: Eve Unwin takes a chance with Suki!
Airs at 7:30 pm on Thursday 23 February 2023 on BBC One.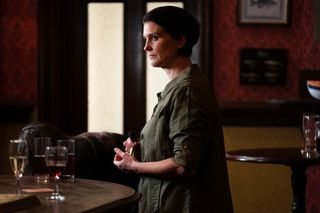 (Image credit: BBC)
Eve Unwin reaches out to a vulnerable Suki Panesar in Thursday's episode of EastEnders (7:30 pm. see our TV Guide for full listings)
Eve Unwin has been struggling ever since Suki Panesar made a public declaration about renewing her vows to husband Nish Panesar.
While Nish was locked up in prison, Suki gave in to her feelings for Eve and the pair had a passionate, if brief, affair.
Unable to come to terms with her sexuality, since Nish's return Suki has steadfastly stood by her husband, freezing out a devastated Eve.
Desperately in love with Suki, Eve has vowed not to give up on her, and has been quietly keeping an eye on her from the wings.
In a bid to stay close to her, the disgraced solicitor has even managed to get in with Nish by offering her legal training to help with his businesses.
But with trouble now brewing for Suki, Eve is feeling alarmed...
Suki has managed to get herself into a huge row with Albert Square residents Karen Taylor and Mitch Baker.
After Karen absentmindedly walked out of the Minute Mart without paying for an item, Suki laid into Karen right in front of everyone on the Square, leaving Karen mortified.
A protective Mitch Baker was shocked by Suki's words, while an offended Karen was infuriated by Suki's insinuations.
Even though Karen explained it was an honest mistake, Suki refused to back down.
Instead of supporting his wife, Nish was fuming with Suki for causing a scene in front of the local residents.
Determined not to lose face with their neighbours, Nish insists that Suki apologise to Karen and Mitch.
As Eve watches the scene play out, she realises that Suki has been left desperately hurt and upset by her husband yet again.
After Suki returns to work at the Minute Mart, Eve is left rattled by what's gone on in the Vic. She heads over to the mini mart to check on Suki.
Eve knows that Suki has a softer side and is vulnerable, but Suki has built up such a wall around her that she finds it almost impossible to open up to anyone, even Eve.
On the edge after yet another cruel blow to her confidence from her controlling husband, will Suki finally confess to Eve about how she's feeling?
Could this be the moment that Suki admits that she's still in love with Eve?
EastEnders continues on BBC One on Monday at 7:30 pm.
Get the What to Watch Newsletter
The latest updates, reviews and unmissable series to watch and more!