EastEnders spoilers: Whitney Dean gets MORE devastating baby news
Airs at 7:30 pm on Monday 27 February 2023 on BBC One.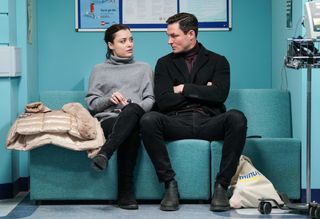 (Image credit: BBC)
Whitney Dean learns the worst possible news in Monday's double episode of EastEnders (7:30 pm. see our TV Guide for full listings).
Whitney Dean is terrified as she heads to the hospital with Zack Hudson. The parents-to-be are set to find out the results of Whitney's CVS test, that will reveal whether their baby has a genetic or chromosomal condition.
After it was discovered that Whitney's baby had an omphalocele, a condition where some of its organs were outside of the body, they were warned that it could be suffering from a chromosomal abnormality.
But despite the enormity of the news they may be about to recieve, Zack is determined to stay positive, insisting to Whitney that they could get the all-clear.
After sitting down with the doctor, Whitney and Zack's world implodes, as they are told their baby does have Edward's Syndrome.
A devastated Zack instinctively withdraws, finding it unbearable to spend time with Whitney.
But after a heart-to-heart with his sister Sharon Watts, Zack feels supported and he goes to the hospital to be by Whitney's side.
Nish Panesar is still keeping close tabs on wife Suki Panesar and he stuns her with the news that he's brought their marriage blessing forward.
After finding out that it's planned for just a few days time, Suki panics, insisting that it's too short notice. Nish, however, refuses to listen to Suki's pleas and goes ahead with the arrangements.
When Suki has a broken tap at home, she asks Mitch Baker to help her out. As a kindly Mitch sorts out the problem, he and Suki confide in each other about the stresses of family life.
A grateful Suki is pleased when Mitch does a good job and she offers him work as a handyman for their tenants.
As Suki waves off Mitch, a jealous Nish watches, grim-faced, from the other side of the Square...
Ploughing ahead with the wedding plans, Nish asks Eve Unwin to pick up Suki's wedding outfit for her. Stacey Slater is frustrated when Eve jumps to Nish's command and downs tools at the Bap van to go on the errand.
Knowing how over-involved Eve is, Stacey is frustrated by this latest incident. She confronts Suki and tells her to start showing Eve some respect, or she'll blow their secret wide open.
When Nish finds out that Suki has employed Mitch to do jobs for their tenants, his jealousy is stoked even more and he puts a call in with Ravi Gulati...
Is Mitch in danger?
Denise Fox is still trying to avoid bumping into Ravi Gulati after their romantic entanglements. After a run in with Ravi at the Minute Mart, Denise's guilt over her desire to cheat on husband Jack Branning with Ravi is stoked.
With Jack working from home, Denise tries to put aside her feelings for Ravi by suggesting to Jack they head to the bedroom.
But she's stopped in her tracks by a shock discovery...
Glancing at Jack's work laptop, she sees a picture of Ravi and she realises that Jack is investigating him for criminal goings on!
The realisation makes her panic, as she's worried that if the police are keeping tabs on Ravi, she and Ravi may have been spotted together.
Will her betrayal be found out?
Also, Howie Danes is bursting with pride when son Denzel Danes is asked to do a chat with the Walford Gazette after hing shortlisted for a writing competition.
But is Denzel hiding a secret?
EastEnders continues on BBC One on Thursday at 7:30 pm due to FA Cup football matches on Tuesday and Wednesday.
Get the What to Watch Newsletter
The latest updates, reviews and unmissable series to watch and more!