1883: plot, recaps, cast and all we know about the Yellowstone prequel series
1883 is a prequel to the popular Paramount TV show Yellowstone.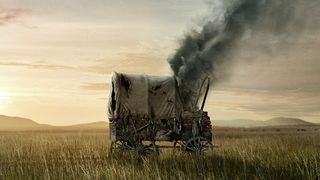 (Image credit: Paramount Plus)
Creator Taylor Sheridan's Yellowstone is like a modern-day western, but with the prequel show 1883 he's going back to the genre's more traditional roots.
1883 is a Paramount Plus original series. Along with Mayor of Kingstown (also created by Sheridan), 1883 is part of the "Yellowstone universe" that Paramount is building across its platforms.
Let's hitch up our wagons and head west. Here's everything you need to know about 1883 season 1. (By the way, the show was recently renewed for a second season).
What is the plot of 1883?
The Dutton family are the central characters in Yellowstone, controlling the largest swath of cattle land in the US from their home base in Montana. But have you been wondering how the Dutton family was able to seize that land and become the power brokers they are? 1883 will answer that.
The prequel series follows the Dutton family in (unsurprisingly) 1883, as they embark on a journey west through the Great Plains toward the last bastion of untamed America. The series is described as a stark retelling of Western expansion. It's also an intense study of one family fleeing poverty to seek a better future in America's promised land, Montana.
Who is in the 1883 cast?
There's a star-packed 1883 cast which includes Sam Elliott (Road House, The Big Lebowski, The Golden Compass), country music singers Tim McGraw and Faith Hill, Isabel May (Young Sheldon) and LaMonica Garrett (Sons of Anarchy, Designated Survivor).
1883 main cast and series regulars:
Sam Elliott - Shea Brennan
Tim McGraw - James Dutton
Faith Hill - Margaret Dutton
Isabel May - Elsa
LaMonica Garrett - Thomas
Audi Rick - John Dutton Sr.
Marc Rissmann - Josef
Eric Nelsen - Ennis
James Landry Hébert - Wade
Additional 1883 cast members:
Dawn Olivieri, Emma Malouff, Alex Fine, Gratiela Brancusi, Nichole Galicia, Stephanie Nuir, Amanda Jaros, Noah Le Gros and Martin Sensmeier.
1883 guest stars:
Tom Hanks appears as Civil War General George Meade, who assumed temporary command of the Union forces during the Battle of Antietam. He appears in a flashback to Antietam — where Tim McGraw's James Dutton fought as a Confederate soldier.
Rita Wilson guest stars, just like husband Tom Hanks, who briefly appeared in episode 2 of 1883. Wilson plays Carolyn, a shopkeeper who connects with Margaret (Faith Hill).
Billy Bob Thornton (Tombstone, Sling Blade, Bad Santa) plays Marshal Jim Courtright, also known as "Longhair Jim", a Sheriff in Fort Worth, Texas.
Oscar-nominee Graham Greene (Dances With Wolves), who previously worked with Taylor Sheridan on the movie Wind River, plays Spotted Eagle, a Crow elder who aides the Duttons on their journey.
Creator, Taylor Sheridan pops up briefly as Charles Goodnight, a rancher who hunts cattle thieves.
Is there a 1883 trailer?
Paramount Plus released an extended-look trailer, which offers more narration from Elsa (Isabel May) about the adventures of the Dutton family on their travels west. Give it a watch below.
1883 episode guide
Here is a breakdown of what happens in each episode of 1883 season 1.
**Note: spoilers**
1883 season 1 episode 1:
The first episode of 1883 brings together our main group of characters, which consists of the Duttons (James, Margaret, Elsa and 5-year-old John), Captain She Brennan and his partner Thomas and a group of German immigrants led by Josef. Brennan is a man beset by tragedy and grief after losing his family to smallpox, but he attempts to carry on by leading a wagon train of the German immigrants to Oregon. The Duttons are also looking for a fresh start, though have no particular destination in mind.
When Brennan discovers that the Germans are wholly unprepared for their trip, he asks for Dutton's help, but Dutton refuses — wanting his family to go it alone. That changes when his daughter Elsa, a free-spirited and optimistic young woman, is assaulted in town and barely escapes. Dutton agrees to join the wagon train.
Elsa, meanwhile, is undaunted by her encounter. In her voiceover narration for the show, she remains full of hope about what this journey could mean for her.
Read What to Watch's in-depth recap of 1883 season 1 episode 1.
1883 season 1 episode 2:
After opening with a flashback to Dutton's experience at the Battle of Antietam during the Civil War, 1883 episode 2 is all about making the final preparations for the wagon train's journey. To ensure the German immigrants have enough food for the trip, Dutton, Brennan, Thomas and Elsa set out to wrangle some wild cattle, recruiting the help of some cowboys along the way. Elsa catches the eye of Ennis, a cowboy who decides to stay on and help the wagon train.
Back at camp, a group of riders arrives and try to intimidate Margaret and the others. Claire screams and throws rocks at them, angering them so much that they kill some of the members of the wagon train including Claire's daughter Mary Abel.
When Dutton and the others return to camp they immediately set out for town to find the men responsible. They team up with the town Marshal, who issues his own brand of justice, killing each of the assailants without hesitation. Though Dutton is willing to use violence to protect his family, he still has a strong distaste for it.
As the wagon train finally readies to depart, Claire decides to stay behind. She tells Dutton that his dream of finding a Garden of Eden will not come true. Claire ultimately decides to kill herself. Dutton and Brennan bury her.
Read What to Watch's in-depth recap of 1883 season 1 episode 2.
1883 season 1 episode 3:
The wagon train is officially underway, but things aren't off to a good start. A number of the German immigrants have died as a result of the dangers of the journey, but they soon come to perhaps their biggest challenge yet, forging a river. The decision of whether to cross or to go around the river leads to a disagreement between Dutton and Shea — Dutton wanting to go west, Shea east.
After camping, the Dutton family divides some duties — Elsa and Margaret agree to help the cowboys watch over the cattle herd, while Dutton and John go hunting. Watching the herd, Elsa continues her flirtation with Ennis, but also sees her mother in a new light, understanding where she gets much of her passion and sense of adventure. For the Dutton men, this is an opportunity for James to teach his son about life and death when they snag a deer, saying that men have to find a balance between their human and animal instincts.
Back at camp, Shea and Thomas help a widowed Gypsy and her children, including stranding a group of men who stole from her. Shea is losing his patience with the travelers and uses violence (and the threat of more) as a way for them to get their act together. Shea decides that it is best for the wagon train to go west, but that opens up plenty of new dangers, including lack of water, more bandits and heading into Comanche country.
Read What to Watch's in-depth recap of 1883 season 1 episode 3.
1883 season 1, episode 4:
The episode starts off with Elsa deciding to trade with a member of the wagon train. She swaps out her dress for a pair of pants to be more like a real cowboy. Probably a good decision as Dutton, Shea, Thomas, Josef and Wade discuss the strategy of crossing the river that lies in front of them — something made all the more difficult when Josef reveals that none of the immigrants know how to swim.
Waiting to cross the next day, we begin to learn a bit about what some of the main characters want and why they chose to embark on this journey to Oregon. Thomas and Noemi dream of a place where no one can tell them what to do. Josef and his wife hope Oregon is the perfect place to raise their family, free from the oppression of where they came from (no one can swim because it was illegal in their homeland).
While Dutton is committed to helping the wagon train cross, he doesn't want to have his family mixed up in all the commotion, opting instead to cross at night. (All but Elsa, whose flirtation with Ennis grows).
After the river rises the next day, Shea tells the travelers they have to lighten their wagons with anything not absolutely necessary, forcing them to leave behind furniture and even a piano. That still does not make the crossing safe. Though most get across, some travelers fall in and, in order to save herself, Margaret is forced to leave one to drown. Elsa and the cowboys trail behind with the herd, but she sees how shaken her mother is from everything.
Read an in-depth recap of 1883 season 1 episode 4.
1883 season 1, episode 5:
Starting right where episode 4 ended — at the river that claimed a number of lives, Elsa notes that they have left one world behind them and entered the land of no mercy. She also learns right away that it isn't just the land that threatens the wagon train. Bandits are also a danger, looking to steal cattle, horses and even people.
That's not the only problem for the wagon train. One of the wagons lost in the river had most of their food. To make matters worse, Josef tells Shea that two members of the wagon train have been stealing. Shea tells Josef that as the leader it is his responsibility to stand up to these men and take charge of the other travelers. He tries, but he is pushed around by the bigger man and eventually, Dutton is forced to step in. Shea kicks the thieves off the wagon train and tells everyone else that they need to follow Josef or elect a new leader.
Elsewhere, Elsa and Ennis continue their romance. Margaret feels that it is time to give her daughter an important lesson in love, saying that she must be sure of how far she takes things with Ennis. Elsa ultimately opts to commit to the cowboy, sleeping with him and then the pair agreeing that they are engaged. While not thrilled, Dutton and Margaret accept the choice.
In the final moments, the wagon train is beset by bandits. Josef ends up serving as a kind of bait to lure the bandits in, while Shea, Dutton, Thomas and Wade ride up and try to ambush them. Unfortunately, as the shootout rages, Ennis is shot and killed by one of the bandits. Elsa is distraught and kills the bandit who shot Ennis.
Read an in-depth recap of 1883 season 1 episode 5.
1883 season 1 episode 6:
Elsa is deep in grief over Ennis, including learning that she is not pregnant with his child. Shea talks to her and tells her that the people they love and lose are still with them and shares with her his reason for going to Oregon — to see the ocean.
As the wagon train comes to a trading post, Margaret attempts to help Elsa out as well by taking her into the town, but Elsa gets into it with some men and threatens to kill them, causing Dutton to step in and calm down the situation. Disappointed, Margaret finds an outlet by drinking with the local shopkeeper (Rita Wilson).
Thomas also heads into town, hiring a cook for the wagon train and then a mirror for Noemi. When he presents this gift to her, she tells Thomas that even though he may be scared of it, what he is doing for her is love and that she loves him back. Shea also adds another member to the company, a new cowboy named Colton, who immediately has an eye for Elsa, though she shuts him down quickly.
Worried about his daughter, Dutton tells her about his first battle in the Civil War and the impact that had on him. He also tells her she shouldn't feel guilt about the bandit she killed because they were going to kill him anyway. He wants her to let him take care of hating the world. It appears to work because after dreaming of Ennis, Elsa wakes with some of her spark back (including some mild flirtation with Colton). Just in time too, as the wagon train readies to cross another dangerous river and then head into the Oklahoma territory.
Read an in-depth recap of 1883 season 1 episode 6.
1883 season 1 episode 7:
As the wagon train moves through the plains, Elsa spots a pair of Comanches on a hill. She is told that they are here to collect a tax for allowing them all to cross their lands. One of the Comanches is immediately drawn to Elsa and challenges her to a horse race, which Elsa wins. He says that he will call her Lightning Yellow Hair and introduces his name as Sam, having taken the name from the man who killed his wife. The two have a clear connection.
The next morning a tornado appears, forcing everyone to take cover. Elsa and the other cowboys are forced to flee until they are saved by Sam. During the storm, the only way that Elsa can stop screaming is to kiss Sam. After, as the two are about to part, Sam tells her that she will always be welcome in his home.
Many wagons and much of the supplies were destroyed by the tornado, and to make matters worse Shea learns that thieves are rounding up their cattle. Shean, Dutton, Thomas and Elsa go to confront the thieves, but soon see they are outnumbered. Sam once again arrives to help, and the bond between him and Elsa grows deeper. Shea, on the other hand, after narrowly escaping a shot to the head, begins to wonder if their luck is running out.
Read an in-depth recap of 1883 season 1 episode 7.
1883 season 1 episode 8:
The wagon train has been held up for three days after the tornado. Even though he invites a tribe of Native Americans to trade with the immigrants so they can get more provisions, Shea tells them that he thinks it would be best to head for Denver rather than Oregon to beat out the winter. Dutton, however, says he plans to push through to Oregon, and anyone wanting to come with him can, but he isn't going to baby them. The immigrants opt to go with Dutton. Though Shea initially considers leaving, he decides to stay and help Dutton, but it will be on him to lead.
Elsa isn't so sure she wants to go with her family to Oregon. Her bond with Sam continues to grow and she ultimately makes the decision to be Sam's wife and stay with him on the plains. Dutton and Margaret worried about this, especially by their daughter's habit of falling in love with men so quickly. Elsa eventually says she will go with them to Oregon so she can know where to find them, but that she is going to be Sam's wife and will return to him.
When it comes time for the wagon train to continue on, Sam and Elsa say their goodbyes and make plans to meet there again the next June. Elsa declares her love for Sam in his language, while he tells her that she is in his heart and that this land is now her home.
Read an in-depth recap of 1883 season 1 episode 8.
1883 season 1episode 9:
The wagon train is greeted with two big problems right away. First, Josef and his wife Risa are in need of medical attention after an incident with a rattlesnake, second, Dutton, Shea and Thomas find a group of Lakota women and children murdered. The three decide to go and hunt the murderers so they can explain things to the Lakota warriors sure to come looking for revenge. Despite being told to stay where they are, at Cookie's insistence the wagon train heads towards a fort for protection.
Before they get to the fort they are beset by the Lakotas. Elsa tries to draw some away from the wagons that have circled up to defend themselves, but she is hit with a club and falls off her horse. She wakes to see the Lakotas killing some of the immigrants. She quickly grabs a gun and kills one of the Lakotas, but is shot with an arrow in the process. Before the rest of the Lakotas can kill her, Elsa speaks the Comanche that Sam taught her. This stops the Lakotas and she is able to explain what happened to their family.
Dutton, Shea and Thomas return to the wagon train having killed the murderers and running into the Lakotas, with both sides filling each other in. Looking over his wounded daughter he is clearly worried. He reveals to Margaret that Elsa will likely get an infection and die. Rather than take her to a doctor — who Dutton doesn't believe will be able to stop it anyway — he suggests they let her live her final days in as much peace as possible, with them settling wherever Elsa passes away.
Read an in-depth recap of 1883 season 1 episode 9 right here.
1883 season 1 episode 10:
The wagon train makes its way to a fort to try and get Elsa some treatment, but the doctor says there is nothing that he can do for her. Worried that the bosses of the men they killed last week will soon be after them, Dutton and Shea agree to make for the Bozeman trail in Montana. When Shea tells the immigrants the plan many of them decide to push on to Oregon on their own. They don't make it. They are robbed and killed after splitting up.
Josef opts to stay with Shea. Still recovering from the snake bite, Thomas tells him that his leg must be amputated to save his life. This works. Sadly, Josef's wife dies of her injuries.
After they enter Montana, the group meets a tribe of Native Americans who offer to try and heal Elsa with a ritual. However, it doesn't work. The elder tells Dutton of a valley that will be a good place to settle. He takes Elsa there and she picks a spot under some trees. In her father's arm, she dies.
A one-year time jump takes place. Josef sets out to build a new home, Thomas and Noemi find a place they want to settle in Oregon and Shea makes it to the ocean, killing himself once he has seen it for his wife.
The last scene is of Elsa — in her version of heaven — where she meets up with Sam and they ride off together.
Read an in-depth recap of 1883 season 1 episode 10 right here.
How to watch 1883
1883 is a Paramount Plus original series, so the drama series is exclusive to the Paramount Plus streaming service. All episodes are available to watch now, in the US. In the UK the whole series is available from June 22.
Michael Balderston is a DC-based entertainment and assistant managing editor for What to Watch, who has previously written about the TV and movies with TV Technology, Awards Circuit and regional publications. Spending most of his time watching new movies at the theater or classics on TCM, some of Michael's favorite movies include Casablanca, Moulin Rouge!, Silence of the Lambs, Children of Men, One Flew Over the Cuckoos Nest and Star Wars. On the TV side he enjoys Peaky Blinders, The Marvelous Mrs. Maisel, Saturday Night Live, Only Murders in the Building and is always up for a Seinfeld rerun.
Get the latest updates, reviews and unmissable series to watch and more!
Thank you for signing up to Whattowatch. You will receive a verification email shortly.
There was a problem. Please refresh the page and try again.