Amanda & Alan's Italian Job — air date, location, episodes, interview, trailer and all we know
Amanda & Alan's Italian Job sees best friends Amanda Holden and Alan Carr attempt to transform an Italian apartment.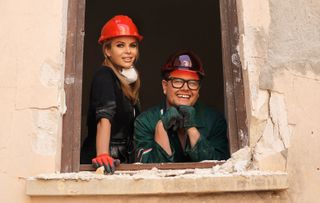 (Image credit: BBC)
Amanda & Alan's Italian Job takes best friends Amanda Holden and Alan Carr very much out of their comfort zones, as they work together on renovating two derelict properties in Italy which they hope to transform into one stylish home.
They purchased the apartments for €1 each through a scheme run by the Italian government which offers up run-down properties in forgotten towns and villages for a bargain price, in the hope of attracting new residents to the area and providing work for local tradespeople.
Amanda is an enthusiastic home renovator, while Alan loves interior design, but this is by far the biggest project either of them has taken on — and they have the added problem of the language barrier and carrying out the work during the scorching hot Mediterranean summer.
Here's everything we know about the series...
Amanda & Alan's Italian Job release date
Amanda & Alan's Italian Job begins on Friday, January 6 on BBC One at 8.30 pm.
All eight episodes will be available at launch on BBC iPlayer.
Amanda & Alan's Italian Job location
The apartments that the pair have bought are in the hilltop town of Salemi on the island of Sicily. Located on the western side of the island, Salemi is known for its steep winding streets and stunning views and was badly impacted by an earthquake in January 1968. The town currently has a population of just over 10,000 people, and is a short drive from the coastal towns of Marsala and Palermo.
Alan & Amanda's Italian Job episode guide
Episode 1 (January 6): In the first episode, Amanda and Alan arrive at the crumbling property for the first time. Seeing the piles of rubbish and abandoned junk, it dawns on them that this is no holiday.
Episode 2 (January 13): Amanda and Alan take on their first major renovation project, designing a traditional Sicilian walled kitchen. Kicking off the demolition in 36-degree heat proves to be a trial for Alan, and he soon realises that taking on a build in a medieval hilltop town comes with its own unique challenges. With the help of project manager Scott, Amanda barters with the locals at a nearby marble factory as she bags a bargain for their feature island and brushes up on her culinary skills in Marsala, learning how to cook Sicily's signature dish.
Episode 3 (January 20): Amanda and Alan divide and conquer as they renovate the bathrooms, but it soon becomes clear they're not on the same page, with two opposing schemes. Amanda's unconvinced about Alan's bidet, and Alan tries to veto Amanda's disco ball installation — but with firm ideas of what they want, neither will back down on their vision.
Episode 4 (January 27): Alan takes charge designing the first bedroom, but doubt soon sets in as Amanda and Scott struggle to get on board with his artistic vision. To nail his 'rustic chic' look, Alan visits interior designer Marie at her 300-year-old palazzo and ropes in Amanda to to help source vintage gems at Palermo's famous flea market, but haggling in Italian isn't their greatest strength.
Episode 5 (February 3): Amanda and Alan turn their attention outside as they aim to transform the scruffy courtyard into a Mediterranean oasis. To brush up on their botany, they visit the magnificent gardens of one of Sicily's biggest wine producers. As a reward for helping out with the grape harvest, they are wined and dined and given a surprise serenade by owner Jose. Keen to create an authentic Sicilian design, Alan explores Sciacca's famous ceramic scene and gets arty painting Moor heads.
Episode 6 (February 10): Amanda aims to bring a slice of Hollywood to Sicily with a banana leaf patterned boudoir design for the master bedroom. Alan is concerned that Amanda's camp theme is on the wrong side of tacky, so she takes him to visit one of Palermo's most prestigious hotels to show how exuberant décor has enticed high-profile guests including composer Richard Wagner. To bring her vision to life, Amanda ropes in her DIY-loving dad to help build a bespoke four-poster bed.
Episode 7 (February 17): Amanda and Alan face their final challenge as they join forces to renovate the last two rooms. Their dream of creating an open-plan living and dining room is dented when they discover the main structural wall dividing the two spaces requires a much smaller arch than they anticipated. For this final space, they agree to put their design differences to one side, but a disagreement over the shape of the arch threatens to divide them.
Episode 8 (February 24): Alan and Amanda are on the home stretch as they take on the interiors for their open-plan living and dining room. Many hands make light work as they invite local friends Fabrizio, Maria Pia and Carlos over for a plastering party, but things soon get out of hand as a spillage nearly ruins their newly-laid terrazzo floor. With Alan's help, Scott designs a sleek marble dining table and gives Alan and Amanda a lesson in making bespoke wall lights out of vintage Sicilian tiles.
Is there a trailer for Amanda & Alan's Italian Job?
There is! You can check it out below:
Amanda Holden and Alan Carr interview
How did this all come about?
Alan: "We were doing [ITV documentary] DNA Stories, and there's a lot of sitting around with that, and we read in the paper...
Amanda: "...that there's this €1 scheme. At the time we were in the middle of lockdown and desperate to get out of the UK, and we were thinking of ways we could do it that involved working. We basically wrote the treatment and gave it to the people that made our DNA Story, because they kept saying 'you should do more together'. They thought the natural place was the BBC, we took it to them and they commissioned it straight away."
What was it like when you arrived?
Alan: "To cut a long story short, it's like a ghost town up here — so many empty houses. We went in, and it was like squatters had been in there. I mean, there was literally [excrement] up the wall."
Amanda: "Shoes and mattresses."
Alan: "Oh my God." [makes retching sound]
Amanda: "I don't know how anyone lived in there, it was like a rat hole — not even rats would live in there. We bought it blind online, we didn't come and see it. I was going, 'I promise you, it looked really good in the black-and-white pictures!'"
Will we see you really getting your hands dirty?
Alan: "I think with Interior Design Masters, somewhere along the line people have thought I'm good at doing interiors, but all I'm good at is being bitchy and slagging things off! But I'm doing everything here, you wouldn't believe — any of these cynical so-and-sos who say 'you celebs, get a proper job', watch this! Plastering, tiling..."
Amanda: "Oh, I love plastering."
Alan: "I hate it!"
Amanda: "I've always wanted to learn how to plaster. I can plaster right-handed and left-handed, I've found out. But we really got into it, and got our hands dirty — it's a passion thing. When the producers first saw our idea, they actually came around to my house because I was so adamant, I was like 'I've done it all, this is my wallpaper, I did this panelling'. I always make the joke, but it's true, I've got more pictures of wallpapers and tiles and finishings on my phone than I have of my own children!"
Will we get to see lots of Sicily in the show?
Alan: "I think it's really interesting as a travelogue, if you're not really interested in doing up houses and stuff. We've gone everywhere with it, and the one thing about Sicily is it's just a mass of contradictions. You've got Marsala where you have kiteboarding and reggae bars and everything, and then you have a bit of LA with these gorgeous white buildings and that lovely beach, and you can have a whole Godfather experience up in these tiny little medieval towns."
Amanda: "We've literally gone everywhere, we've seen olive oil, we've seen wine, we've done lots of wine-tasting as you can imagine! It's career-ending, potentially! It's really interesting for us, because we've followed some traditions — we've kept the decor and stuff to our tastes, but there are certain traditions like we've made some lights how the people out here would make them. We've made a kitchen in an extraordinarily cheap way that everyone at home will go, 'why don't we do it like that?'"
Have you had many disagreements over what you wanted to do?
Amanda: "Only taste-wise."
Alan: "The bidet."
Amanda: "Oh, he wants a bidet, I don't understand bidets."
Alan: "You see, I want mine to be rustic, I want it to be authentic. She's going classier, and I want it rustic. I want a Sicilian person to go in and go, 'wow, a Sicilian has made this!'"
Amanda: [laughing] "I don't think they're going to think that!"
Alan: "They'll think, 'a gay man has made this!'" [laughs]
Get the latest updates, reviews and unmissable series to watch and more!
Staff Writer for TV & Satellite Week, TV Times, What's On TV and whattowatch.com
Steven Perkins is a Staff Writer for TV & Satellite Week, TV Times, What's On TV and whattowatch.com (opens in new tab), who has been writing about TV professionally since 2008. He was previously the TV Editor for Inside Soap before taking up his current role in 2020. He loves everything from gritty dramas to docusoaps about airports and thinks about the Eurovision Song Contest all year round.
Thank you for signing up to Whattowatch. You will receive a verification email shortly.
There was a problem. Please refresh the page and try again.