Black History Month US Programming Guide: what to watch in February 2023
Our round-up of the best picks showcasing Black culture in the US.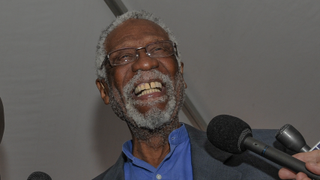 (Image credit: Netflix)
Every February in the US, people take the time to celebrate the rich contributions Black Americans have made to the fabric of the country. What started out as just a week under historian Carter G. Woodson's suggestion in 1926, became a month-long celebration officially cemented by Congress in 1986.
Since then, TV networks and streamers have made a point to highlight Black culture during Black History Month in keeping with this special time of reflection and commemoration. This year is no different, as a number of networks and streamers are airing specials to highlight historical events, legendary game-changers and more. This month also marks the return of a few popular TV series that are widely known for mirroring some Black American experiences.
Here's our round-up of the best programming in the US honoring Black History Month 2023.
By the way, make sure you check out the current list of the Best TV shows featuring Black culture.
The 1619 Project (Hulu)
The 1619 Project is a new documentary based on the award-winning long-form journalism endeavor of the same name launched by Nikole Hannah-Jones and writers from The New York Times and The New York Times Magazine. The docuseries looks to reframe how viewers consider the consequences of slavery in the US while highlighting the contributions of Black Americans to the country's overall history.
The 1619 Project started streaming on January 26 on Hulu and continues to stream new episodes on Thursdays in February.
7 Toughest Days (Disney Plus)
The series follows explorer and adventure seeker Dwayne Fields as he travels to some of the most extreme climates in the world. He'll have seven days in each location and be pushed to use his survival skills to not only help him make it, but his team as well.
7 Toughest Days begins streaming on Disney Plus on February 8.
54th NAACP Image Awards (BET)
The NAACP Image Awards continues to be one of the premier award shows celebrating Black excellence across the entertainment industry. This year in terms of television and film, The Best Man: The Final Chapters, Abbott Elementary, The Woman King and Black Panther: Wakanda Forever are leading nominations.
Tune into the show live to see who emerges as winners on February 25, at 8 pm ET/5 pm PT on BET.
African Queens: Njinga (Netflix)
African Queens is a new docuseries from executive producer Jada Pinkett Smith that explores the lives of prominent and iconic African Queens. The first season focuses on the story of Njinga, a 17th-century warrior queen of Ndongo and Matamba, modern-day Angola.
The series premieres on Netflix on February 15.
America in Black (BET/CBS News/VH1)
BET and CBS News combine forces to bring to viewers America in Black, a monthly one-hour primetime special that focuses on news and features that uniquely impact the Black American community. CBS News' Gayle King, along with Ed Gordon, Marc Lamont Hill, Michelle Miller and more lend their journalism expertise to the various segments of the show.
America in Black debuts on February 19, at 10 pm ET/PT on BET, VH1 and CBS News.
Bel-Air season 2 (Peacock)
After taking the streaming world by storm, the new iteration of the '90s sitcom is back for its highly anticipated season 2. For those that watched season 1, then you know Bel-Air didn't skimp on the drama and ended on a bit of a cliffhanger as for what's next for Will Smith (Jabari Banks).
Start watching the new season of Bel-Air on Peacock beginning on February 23.
Bill Russell: Legend (Netflix)
Directed by Sam Pollard (Citizen Ashe), the documentary highlights the legacy of NBA great, Bill Russell. Given he has five MVP awards, 12 All-Star selections and a whopping 11 championship rings, this documentary may seem long overdue for basketball fanatics. Bill Russell: Legend features his last interview before his passing, and commentary from other NBA greats like Steph Curry, Chris Paul and Magic Johnson.
The film debuts on February 8.
Black Panther: Wakanda Forever (Disney Plus)
The blockbuster sequel to Black Panther makes its streaming debut on Disney Plus. The Marvel film was celebrated among fans and has been a standout among critics for Angela Bassett's portrayal of Queen Ramonda (a role for which she's received an Oscar nomination).
You can see the movie for the first time or rewatch it for a second or third on February 1.
Fight the Power: How Hip Hop Changed the World (PBS)
The buzzed-about docuseries helps to commemorate 50 years of hip hop. The genre has not only revolutionized the music industry, but it has also had a profound impact on culture politically, economically and socially. Highlighting hip hop's significance in the world via the docuseries are graffiti artists, filmmakers, politicians and legendary emcees like Will.i.am, Monie Love, Ice-T, MC Lyte and Public Enemy's Chuck D (who also serves as the host of sorts).
Fight the Power: How Hip Hop Changed the World debuts on January 31, at 9 pm ET/PT on PBS. Episodes air weekly on Tuesdays with the finale airing on February 21.
Harlem season 2 (Prime Video)
The hit series is back on Prime Video this month, which is not a moment too soon for fans. Harlem follows the ups and downs of a group of friends who often find it difficult to navigate their careers, find love and keep it all together in the New York City neighborhood.
Harlem season 2 premieres on February 3.
Lowndes County and the Road to Black Power (Peacock)
The documentary highlights the triumphant story of how a local movement in a small Alabama town led to not only voting rights for Black citizens, but power. The documentary features first-person accounts from those on the ground in this 1960s battle along with poignant archival footage.
Lowndes County and the Road to Black Power premieres on Peacock on February 2.
My Dad the Bounty Hunter season 1 (Netflix)
If you're looking for a family affair type of viewing experience, then My Dad the Bounty Hunter is a good option. The animated show follows a father as an intergalactic bounty hunter and his children who accidentally hitch a ride with him on one of his missions into outer space. Leading the way in terms of voiceover work are actors Laz Alonso Yvonne Orji and Priah Ferguson.
The series premieres on February 9.
The Proud Family: Louder and Prouder season 2 (Disney Plus)
Another family option this Black History month is The Proud Family: Louder and Prouder season 2. The series is a big hit among Disney Plus subscribers, as it continues to tell the comical stories of Penny Proud and her family and friends.
The second season of the reimagined classic starts streaming on February 1.
Snowfall season 6 (FX/Hulu)
Over the past few years, Snowfall has been one of the most riveting shows on FX. Now in the series' final season, fans are eagerly waiting to see how it all ends for Franklin Saint (Damson Idris). If you've been keeping up with the episodes, then you know he's at a crossroads, needing to choose between his business, his family and revenge.
The sixth and final season premieres on February 22, at 10 pm ET/PT on FX (the episode becomes available to stream the next day on Hulu).
Soul of a Nation Presents: Black in Vegas (ABC/Hulu)
The ABC news program is back with an installment titled Soul of a Nation Presents: Black in Vegas. The one-hour primetime special highlights the history of Black entertainers in Las Vegas and the legacy they have left behind on the famous strip. Featured in the show are superstars Usher, Smokey Robinson, Ne-Yo, Luenell and George Wallace.
You can catch the special event on February 1, at 10 pm ET/PT on ABC (the special becomes available to stream the next day on Hulu).
Stand (Showtime)
Another new documentary worth checking out this month is Showtime's Stand. The film follows Abdul-Rauf's journey from high school prodigy to NBA All-Rookie team to national pariah. From Gulfport, Mississippi, he overcame Tourette's Syndrome and poverty to become a premier basketball player. Unfortunately, his dedication to standing up to racism and fighting for social justice created a backlash that took quite a toll.
The documentary premieres on Showtime on February 3, at 9 pm ET/PT. The film also becomes available that day to stream on the Showtime app and Paramount Plus with Showtime.
Toni Morrison: Black Matters (Magellan TV)
The documentary pays homage to the first Black woman awarded the Nobel Prize in Literature, Toni Morrison. Morrison dedicated her life to capturing the Black American experience in words, and has become one of the most well-known writers of her time.
Toni Morrison: Black Matters is streaming all February for free on Magellan TV.
The Upshaws season 3 (Netflix)
Mike Epps, Wanda Sykes and Kim Fields are back for another season of the popular Netflix show. The series continues to follow the good times and hardships of the Upshaw family. With the season 2 finale ending with Bennie (Epps) and Lucretia (Sykes) headed off to jail due to Bennie's shortcuts in business, it stands to reason that his sister-in-law has quite a few comedic insults headed his way.
The Upshaws season 3 starts streaming on February 16.
Wu-Tang: An American Saga season 3 (Hulu)
Another series nearing its end is Wu-Tang: An American Saga. For two seasons, the show has captivated audiences by portraying the rise of one of rap's legendary groups. Now in season 3, fans have to stay tuned to see how it all ends — on screen that is.
The third season of the Hulu original premieres on February 15.
Get the What to Watch Newsletter
The latest updates, reviews and unmissable series to watch and more!
Terrell Smith has a diverse writing background having penned material for a wide array of clients including the federal government and Bravo television personalities. When he's not writing as Terrell, he's writing under his pseudonym Tavion Scott, creating scripts for his audio drama podcasts. Terrell is a huge fan of great storytelling when it comes to television and film. Some of his favorite shows include The Crown, WandaVision, Abbot Elementary and Godfather of Harlem. And a fun fact is he's completely dialed into the TLC 90 Day Fiancé universe.