'Celebrity Big Brother' 2022: recap, eliminations and everything we know about the reality series
Fans are ready for another season of 'Celebrity Big Brother,' coming this February.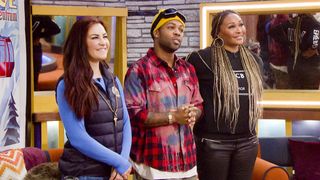 (Image credit: CBS)
CBS is ready to open the doors to the Big Brother house once again, this time for a brand new season for Celebrity Big Brother coming to the network this February.
Essentially, Celebrity Big Brother is the same game as CBS' long-running Big Brother reality series, but this time with a group of celebrities living together with cameras recording them 24 hours a day and competing to send each other home. This will be the third season of Celebrity Big Brother, with previous editions airing in 2018 and 2019.
Who will be the houseguests? When and how can you watch? Here is everything we know about Celebrity Big Brother 2022.
'Celebrity Big Brother' 2022 schedule
CBS is set to debut the latest season of Celebrity Big Brother on Wednesday, Feb. 2, at 8 p.m. ET/PT. But wait, there's more. CBS is set to air Celebrity Big Brother multiple nights a week until its season finale on Wednesday, Feb. 23. Here is the broadcast schedule for Celebrity Big Brother season 3:
Wednesday, Feb. 2, 8 p.m. ET/PT
Thursday, Feb. 3, 9 p.m. ET/PT
Friday, Feb. 4, 8 p.m. ET/PT (two-hour episode)
Sunday, Feb. 6, 8 p.m. ET/PT
Monday, Feb. 7, 9 p.m. ET/PT
Wednesday, Feb. 9, 8 p.m. ET/PT
Friday, Feb. 11, 8 p.m. ET/PT (two-hour episode)
Sunday, Feb. 13, 8 p.m. ET/PT
Monday, Feb. 14, 9 p.m. ET/PT
Wednesday, Feb. 16, 8 p.m. ET/PT
Friday, Feb. 18, 8 p.m. ET/PT (two-hour episode)
Saturday, Feb. 19, 8 p.m. ET/PT
Sunday, Feb. 20, 8 p.m. ET/PT
Wednesday, Feb. 23, 8 p.m. ET/PT
Celebrity Big Brother is one of the few shows from the major four U.S. networks (ABC, CBS, Fox, NBC) that are airing new episodes during the Winter Olympics, which are taking place from Feb. 3-20 and being shown on NBC.
'Celebrity Big Brother' 2022 cast
Meet the Celebrity Big Brother 2022 cast, as CBS revealed the full slate of 11 houseguests on Jan. 26. This season will feature model and The Real Housewives of Atlanta star Cynthia Bailey; Diff'rent Strokes actor Todd Bridges; musician Todrick Hall; former SNL cast member Chris Kattan; original NSYNC member Chris Kirkpatrick; Carson Nation host Carson Kressley; The Real Housewives of Beverly Hills star Teddi Mellencamp; former Miss USA Shanna Moakler; Olympic figure skater Mirai Nagasu; former UFC champion Miesha Tate; and NBA champion Lamar Odom.
The new houseguests introduced themselves to Big Brother fans via Twitter:
No need to guess anymore! Meet your #BBCeleb Houseguests! Which ⭐️ are you most excited to see? pic.twitter.com/BUxTspgeGFJanuary 27, 2022
Fans can also get a sneak peek of the houseguests together, as Entertainment Tonight shared an exclusive video from the first episode of Celebrity Big Brother 2022 that sees all 11 houseguests raising a glass to kick things off, before Todd Bridges says in an interview "let the war begin."
'Celebrity Big Brother' recaps
Episode 1: Celebrity Big Brother season 3 officially gets underway as the houseguests arrive and begin to mingle and in some cases already start to try and form alliances (Carson Kressley in particular was on the lookout for allies). However, it wasn't long before host Julie Chen Moonves arrives and introduces the first Head of Household challenge. An endurance test to see who can remain upright the longest after being hoisted into the air, with former UFC champ Miesha Tate outlasting everyone else. After the competition, Moonves introduces the houseguests to "The Gala Gift," which she says is a "game-changing power." But before she reveals what it is, the episode is over. Good news, you can watch the next episode of Celebrity Big Brother airs on Thursday, Feb. 3.
Episode 2: Alliances are forming, as most of the houseguests try to find their groups to ensure longevity in the game. Todrick Hall has been among the most active, seemingly agreeing to alliances with everyone but Chris Kattan and Todd Bridges. After winning HOH, Miesha Tate gets to reveal what is in the Gala Gift box, which is a Mon Won designed bag hat that must be worn by all houseguests, with one passing to another, but will only protect the last person who wears it, which ended up being Cynthia Bailey.
Tate is eyeing Teddi Mellencamp as her target for first elimination, but as she tries to think of a clever way of ousting the Real Housewives star, her intentions are revealed to Mellencamp by Mirai Nagasu. Mellencamp then told Todrick, whose big takeaway was that Nagasu was sharing info. This backfires on Nagasu after Mellencamp and Tate come to an agreement, as Tate picks Nagasu and Carson Kressley as the two picks for eviction (with Kressley meant to be a "pawn"). That wrapped up episode 2.
Episode 3: Following Mirai Nagasu and Carson Kressley being nominated for eviction, everyone gets ready for the Power of Veto competition, which features Miesha Tate, Cynthia Bailey, Kressley, Lamar Odom, Nagasu and Todrick Hall, with Kressley winning. Still in danger, Nagasu strikes a deal with Tate, promising to try and help push Kressley out if she gets Head of House. Instead, Tate's alliance with Teddi Mellencamp appears to be breaking, as she is the replacement after Kressley removes himself from eviction danger with the Power of Veto.
Before the eviction vote can take place, the curse of Mon Won's hat is revealed. Starting with Bailey, each houseguest will once again wear the hat, but this time whoever has it last will replace either Nagasu or Mellencamp's as being up for eviction. Ultimately, Todd Bridges was last to get the hat and removed Nagasu from eviction.
When it came down to the vote, the results were 5-3, with Mellencamp being the first houseguest to be evicted.
Episode 4: As everyone tries to get their bearings following the first eviction of the season and figure out where they stand with everyone else, it's time for the next Head of Household competition. And the winner is ... Chris Kirkpatrick, who is ready to unleash some potential chaos in the house after Miesha Tate and Todrick Hall have seemingly been in control thus far. One of the highlights of the episode away from all the machinations was Chris Kattan diving into a cake and Carson Kressley made.
Back to the game, Kirkpatrick nominates Mirai Nagasu and Kattan for eviction (because of the cake?), though he shares with viewers that Nagasu is his target.
Episode 5: Following nominations, Chris Kirkpatrick worried if they aren't able to get Mirai Nagasu out this week that Miesha Tate and Todrick Hall will continue to get stronger and prove to be a tougher out. Kirkpatrick and Shanna Moakler opt to discuss some strategy while doing some spa treatment.
With Kirkpatrick hoping to oust Nagasu but Tate and Hall pushing to evict Carson Kressley, the Power of Veto competition is very important. Competing in that challenge this episode are Kirkpatrick, Hall, Shanna Moakler, Cynthia Bailey and two eviction nominees, Nagasu and Chris Kattan, with Moakler ultimately winning and obtaining the Power of Veto. However, she chose not to use it, so Nagasu and Kattan remain up for eviction.
Despite Kattan saying to his housemates before the vote he's not even sure he wants to stay and Nagasu clearly hoping to remain in the game, the seven voting houseguests opted to evict her unanimously.
Episode 6: As the houseguests get ready for the next Head of Household competition, the two rival alliances discuss the importance of being in control this week to stake an advantage in the game. Introducing the HOH game was former Celebrity Big Brother contestant Kate Kaelin, which called for houseguests to go from bundled up on a ski lift to their bathing suits to get into a hot tub the fastest, all while trying to hold down a trio of buttons. In the end, it is Miesha Tate who wins Head of Household again.
This is exactly what Caron Kressley and Cynthia Bailey were worried about, as they believe they are going to be Tate's primary targets for eviction this week. Despite some moves from Todrick and others to possibly convice her otherwise, Tate confirmed those fears when she officially nominated Kressley and Bailey for eviction. Can either be saved with the Power of Veto? Who is going home in the next episode?
Episode 7: While much of the house was focusing on the upcoming Power of Veto challenge and its implications, a shocking development occurred as Chris Kattan pulled himself out of the game. Kattan, who said early in the episode he wasn't feeling great, left a very sweet video message. But even though a houseguest has been removed that doesn't change the fact that Carson Kressley and Cynthia Bailey are still up for eviction.
Miesha Tate, Kressley, Bailey, Lamar Odom, Shanna Moakler and Todrick Hall are the houseguests that end up competing in the POV competition, where they have to stack the most snowflakes before their time runs out. Moakler wins the challenge and ultimately decides to remove Kressley from the block. For Kressley's replacement Tate goes for Chris Kirkpatrick, who Tate has begun to worry about as a potential threat. So now it is Kirkpatrick and Bailey up for eviction. Even though he's in danger of leaving, Kirkpatrick sees it as a victory as he believes everyone is ready to turn on Tate and Hall, who have seemingly been in control the whole game.
While everyone discusses who they may vote out, the most interesting conversation became between Todd Bridges and Bailey. Bridges is still upset that Bailey voted to evict him in the first week and he may very well return the favor for her this week. The two get in a shouting match before Bailey eventually says, "now it's personal." However, when the votes came in it was unanimous, Kirkpatrick was evicted.
Episode 8: Things pick up with the next Head of Household competition, with the house's two competing alliances looking to control this latest part of the game. Needing to hang on to a wall as long as they can. It came down to Todrick Hall and Carson Kressley, with Hall asking for assurance that he not be put up for eviction to drop, which Kressley agreed to, making Kressley the HOH.
With Hall's deal proposal, Kressley sees an opportunity to bring Hall into his alliance with Cynthia Bailey and Shanna Moakler to ensure they could take down Miesha Tate. Hall, however, stayed loyal with Tate, and the two agreed to try and set their sights on Moakler. This includes attempting to sway both Kressley and Bailey that Moakler has been playing both sides and should be up for eviction. This eventually leads to Bailey shouting at Moakler.
When it came time for the nomination ceremony, Kressley put up Tate and Todd Bridges. However, with the Power of Veto competition up next, will Moakler be swapped in for either player?
Episode 9: Though Carson Kressley nominated Miesha Tate and Todd Bridges for elimination, he reaffirmed that the plan was to try and backdoor Shanna Moakler and get her out of the house, as his and Cynthia Bailey no longer trust her. Instead, Kressley met with Tate to try and ensure if they work to get Moakler out Tate won't move to evict Kressley or Bailey at the next eviction. They agree (though expectations may be different for each).
The only chance for Moakler to ensure her safety this week would be to win the Power of Veto competition. However, she was the only one of houseguests not chosen to compete in it, meaning her fate was up to the others. Todrick Hall won the competition and opted to remove Todd Bridges from the threat of eviction, not his long time alliance partner Tate; Tate seem unfazed by it though. Unsurprisingly, Kressley chose to replace Bridges spot on the eviction block with Moakler.
When it came time to vote, Moakler was unanimously chosen for eviction. Before she left, she told Hall that she is going to get the jury to vote against him when it comes time to crown a winner.
Episode 10: Cynthia Bailey, Todrick Hall, Carson Kressley and Miesha Tate confirmed the deal they made in the previous episode of a truce for one week should any of them win Head of House. However, Lamar Odom has a new fire in his belly to try and seize control this week so he can potentially line up Tate for eviction. However, in the taste test challenge, Todd Bridges proved too tough to beat and won Head of Household.
Bridges' two main targets immediately appeared to be Kressley and Bailey, though he said he planned on only nominating Kressley and then having a decoy filling the other spot. All the players discussed strategy, though it was quite difficult for Hall and Odom, after they were selected by Bridges to serve as "mascots" and were attached to each other for 24 hours while wearing a mojito and lime costume.
When it came time to reveal his nominations, Bridges stuck with his plan and revealed Kressley and Odom as his picks. Can either be saved with the Power of Veto?
Episode 11: Todd Bridges nominations of Carson Kressley and Lamar Odom left Kressley and Cynthia Bailey a bit confused as they weren't nominated together, but Bridges shared to viewers that he left Bailey off in the hope he could ask for a favor in the future.
In the Power of Veto challenge, with all six competing, it was Miesha Tate who ended winning, ultimately opting not to use it an keep Kressley and Odom up for eviction. While initially Kressley and Bailey worried that Kressley would definitely be evicted, overhearing Tate complain about Odom encourages them to try and drive that narrative. They do the same with Todrick Hall, trying to make a deal that will keep Kressley around in exchange for support should Hall make it to the finals.
When it came to vote, Tate voted for Kressley, Bailey voted for Odom and Hall cast the deciding vote for Kressley, evicting Carson Kressley from the Big Brother house and leaving Bailey, Bridges, Hall, Odom and Tate as the final five, who Julie Chen revealed will all be eligible to win $25,000 as America's Favorite Houseguest with the audience voting.
Episode 12: Fans got to see some never before seen footage from this season of Celebrity Big Brother in clip show format.
Episode 13: Following the eviction of Carson Kressley, there are five houseguests left (Cynthia Bailey, Todd Bridges, Todrick Hall, Lamar Odom, Miesha Tate), but things are pretty divided between Hall & Tate and the rest of the houseguests. Hall particularly is irking the houseguests (and many fans, if you check out social media). When it came time for the Head of Household competition, though, it was Hall who won, preserving his spot in the final four.
When it was time for the eviction nomination ceremony, Hall did not miss an opportunity to make a statement. He came in singing while wearing a robe (with a long train attached), jewelry, pink high heel crocs and a headpiece. After this big entrance, Hall nominated Bridges and Odom for eviction.
Episode 14: The finale episode before the Celebrity Big Brother finale wound up being a double elimination night. Things pick up following Todrick Hall's nomination of Todd Bridges and Lamar Odom for eviction.
The Power of Veto competition saw the houseguests competing in a luge style competition, with Bridges ultimately winning and earning the right to Veto, which he of course used to take himself of the block (Cynthia Bailey was put up in his place). In a later conversation with Hall, Bridges also was upfront saying that he and Miesha Tate were going to be his targets if we wins the next Head of Household competition.
When it came time for eviction, it was Odom who was ultimately voted out. There was no time to bask in reaching the final four, however, as things moved right into another round of competition to get it down the the final three. Starting with the Head of Household competition, it was Tate who took the win, assuring her spot in the finale. She then nominated Bridges and Bailey for eviction. Any hope that either of them could be saved with the Power of Veto was wiped out when Tate won that as well and chose to keep things status quo.
Hall was the only person to vote in the second eviction of the night, and he decided to evict Bridges. This means that the final three houseguests on Celebrity Big Brother are Cynthia Bailey, Todrick Hall and Miesha Tate.
Episode 15: The season finale for Celebrity Big Brother 2022 saw Cynthia Bailey, Todrick Hall and Miesha Tate as the final three, but even as the game whittled down all parties were still trying to play the angles to set themselves up for the win. The first thing they needed to do though was win the last Head of Household competition.
The final competition brought back most of the eliminated houseguests in videos that the remaining trio had to answer. In the end, Tate came out on top and secured her spot in the final two. As for who would be joining her, she stuck with her long-time ally, Hall.
After making their final cases to the jury of the former houseguests, they voted Tate the winner by a margin of 7-1.
There was one final vote however, as Julie Chen Moonves announced the top three vote getters for America's Favorite Houseguest, with the picks being Lamar Odom, Shanna Moakler and Carson Kressley, with Kressley coming out on top.
'Celebrity Big Brother' 2022 host
While we're waiting on the cast for this season of Celebrity Big Brother, we do know who will be hosting — Big Brother franchise staple Julie Chen Moonves.
Moonves has hosted both previous seasons of Celebrity Big Brother while also being the host for Big Brother since it premiered in 2000.
She is getting fans ready for the new season of Celebrity Big Brother:
Looking for something New? have just the thing for you 💁🏻‍♀️ a New Season of #BBCeleb Premieres February 2 at 8/7! New Year. New Houseguests. New Game. 🤗 Are you ready? 👀 pic.twitter.com/gDWcTaqowhJanuary 20, 2022
This also included speaking recently with Entertainment Weekly, where she shared some of her thoughts on the upcoming season, including who could struggle the most and her pick for a winner.
'Celebrity Big Brother' premise
If you have not watched Celebrity Big Brother, or the original Big Brother reality series, here are the basics rules of the show that you need to know.
A group of "houseguests" will live in the Big Brother house (a closed set) under constant surveillance (94 cameras and 113 microphones running 24 hours a day) and cut off from the outside world. The goal is to be the last person in the house, which will net the winner $250,000.
While players do have the option to quit and leave at any time, the traditional way for someone to exit the Big Brother house is through an "eviction." At the start of every round the guests compete for a "Head of Household" title, which gives them immunity, special privileges and allows them to nominate two houseguests for eviction. Those two nominated houseguests, the Head of Household and three other houseguests selected at random then compete for veto power, which allows them to save one of the nominated houseguests. Finally, all houseguests except the Head of Household and the two nominated houseguests, vote on who should be evicted.
However, when a houseguest is evicted, they're not done. Evicted houseguests form the jury that ultimately votes on the winner of the series when it comes down to the final two houseguests.
We'll have to wait and see during the season if any twists to the format are put into place.
'Celebrity Big Brother' 2022 trailer
A quick promo for Celebrity Big Brother 2022 has started to be shown on CBS, though an official version has not made its way to the internet (it's a little light on anything save from Julie Chen saying "We're back!" anyway). We'll update if/when a trailer for the latest season of Celebrity Big Brother is released.
'Celebrity Big Brother' past contestants and winners
While we're still waiting to hear who will be taking part in the latest edition of Celebrity Big Brother, here's a look back at who has already been a guest at the Big Brother house and who managed to win their respective seasons. Winners in bold.
Celebrity Big Brother season 1 contestants: Shannon Elizabeth (actress), Brandi Glanville (reality TV star), Ariadna Gutiérrez (Miss Universe contestant), Chuck Liddell (UFC fighter), James Maslow (singer), Ross Matthews (TV host), Mark McGrath (singer), Omarosa (reality star), Keisha Knight Pulliam (actress), Metta World Peace (NBA player), Marissa Jaret Winokur (Broadway actress)
Celebrity Big Brother season 2 contestants: Tamar Braxton (singer), Jonathan Bennett (actor), Kandi Burruss (singer), Tom Green (comedian), Lolo Jones (Olympic track and bobsled athlete), Kato Kaelin (actor), Joey Lawrence (actor), Ryan Lochte (Olympic swimmer), Dina Lohan (manager), Natalie Eva Marie (WWE wrestler), Anthony Scaramucci (former White House communications director), Ricky Williams (NFL player)
Get the What to Watch Newsletter
The latest updates, reviews and unmissable series to watch and more!
Michael Balderston is a DC-based entertainment and assistant managing editor for What to Watch, who has previously written about the TV and movies with TV Technology, Awards Circuit and regional publications. Spending most of his time watching new movies at the theater or classics on TCM, some of Michael's favorite movies include Casablanca, Moulin Rouge!, Silence of the Lambs, Children of Men, One Flew Over the Cuckoos Nest and Star Wars. On the TV side he enjoys Peaky Blinders, The Marvelous Mrs. Maisel, Saturday Night Live, Only Murders in the Building and is always up for a Seinfeld rerun. Follow on Letterboxd.