'Dalgliesh' — release date, cast, trailer and all you need to know
'Dalgliesh' is based on the famous mystery novels by P.D. James.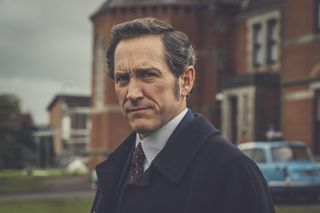 (Image credit: Channel 5)
Dalgliesh has returned to our screens in a brand new adaptation for Channel 5 and Acorn TV. The six-part series is based on the detective series of novels by P. D. James (opens in new tab) and sees Bertie Carvel in the title role as the enigmatic detective Adam Dalgliesh.
The fictional detective has appeared on TV many times before, most famously portrayed by Roy Marsden in a string of stories for ITV.
Talking about the appeal of the show, Bertie tells us: "I hadn't read the books before the project so I came to it fresh. I had a good feeling about it. It's a period drama, but also a character study. What he's going through in his life, he's processing through the lens of his police work and his poetry."
He adds: "PD James describes him as having a 'splinter of ice' in his heart. I think of him like a hawk. There's a ruthless detachment, a determination to come to the truth in him and a commitment to justice. As an observer of human nature, Dalgliesh is also someone with deep emotional intelligence, sensitivity and a well of compassion."
Here's everything we know about Dalgliesh...
Dalgliesh release date
Dalgliesh airs in the US on Acorn TV, while it is being shown on C5 in the UK. The whole series is now available to watch on My5.
What is the plot of Dalgliesh?
Dalgliesh is being adapted from the novels Shroud For A Nightingale, The Black Tower, and A Taste For Death. Set in the 1970s, the series follows Adam Dalgliesh, who is still grieving his wife's death as he solves unusual murders and reveals buried secrets.
The first story Shroud For A Nightingale follows the young women of Nightingale House, where they're taught how to care for the sick. But when a student is killed, it's up to Dalgliesh to find out what happened and bring the killer to justice.
Meanwhile, the The Black Tower is a dark investigation into a care home for disabled people, where its revealed the "caring" community are hiding dark secrets. Finally, A Taste For Death sees two bodies at St. Matthews Church Paddington, one a homeless pensioner and the other a Minister of the Crown, which forces Dalgliesh to uncover dark and dangerous family secrets.
Who stars in the series?
Bertie Carvel stars as Dalgliesh with Jeremy Irvine playing his sidekick DS Charles Masterson. Talking about their relationship, Bertie tells us: "Masterson is everything Dalgliesh is not, he's hot-headed where Dalgliesh is cool. He's judgemental where Dalgliesh is reserved, he's bigoted where Dalgliesh is liberal and he's young where Dalgliesh is older – and he's fabulously good looking!
"He's a good foil for Dalgliesh because he stirs the pot, which is not Dalgliesh's style. But Dalgliesh has chosen this man to be on his team although he has so many attributes that he dislikes. What they have in common is intelligence and good instincts. But will Masterson go too far?"
What happens in episode one?
The first episode of Channel 5's Dalgliesh begins with a shocking death, when a young medical student at Nightingale House named Nurse Pearce is killed during a demonstration involving a esophageal tube.It begins like any normal demonstration, but when she begins screaming and clutching her stomach, it's clear someone has sabotaged it. However, by the time help arrives, it's too late.
Detective Inspector Adam Dalgliesh is brought in to get to the bottom of what happened, as he heads to the school and meets up with Charles Masterson, who is scolded by Dalgliesh for not securing the scene of the crime earlier. As they enter the school, the now deceased nurse is found lying there, and her chest has been opened in a desperate attempt to save her life.
The cause of death is identified as a corrosive substance which had been mixed into the feeding tube, and it is also discovered that a disinfectant was missing from the toilet which could have been involved in the poisoning. The disinfectant is later found outside underneath the student nurse's bedroom windows.
Dalgliesh then proceeds to interview those who were present in the room at the time of the grisly death. He finds out that Nurse Pearce was deeply religious, and in her Bible there is a pamphlet about rehabilitating female prisoners. She was also a quiet woman with some of the other nurses claiming she didn't talk to them much. Another nurse named Nurse Goodall even claimed that "no one particularly liked Nurse Pearce."
Josephine Fallon is a major player in the first episode, as she knows about Dalgliesh and his poetry, and confirms to him that she left early that morning and had a virus. Josephine reveals she has been discharged and tells Dalgliesh that she came back to Nightingale House because she left some personal letters on her bed. At the end of the episode Josephine is found dead in her bed after being offered water, so it was possible someone wanted to harm her too. Is it linked to Nurse Pearce? We'll find out in episode 2!
What happens in episode two?

They investigate the death of Josephine and are conflicted as to whether she was murdered or had committed suicide. Sister Brumfett tells Dalgliesh that she had seen Josephine's light on at around 2am.
Dalgliesh and Masterson interview the Nurses about Josephine's death and Dalgliesh discovers some information about Nurse Pearce from Nurse Goodale. Nurse Goodale reveals to Dalgliesh that she had seen Nurse Pearce reading a book- something she never did, apart from reading The Bible and she had hid the book under her covers from Nurse Goodale.
Dalgliesh reads a letter sent to Nurse Pearce from her grandmother. It was clear that Nurse Pearce had told her that she was very upset about a patient's death called Mr Dettinger, who had Crohn's disease. But, when Dalgliesh asks Masterson to go to London and contact Mr Dettinger's mother, he's frustrated and doesn't want to go as he's adamant that Nurse Dakers is responsible for Nurse Pearce's death.
At the library, Dalgliesh finds out that Josephine had asked for an account of the Nazi war trials and that she had returned it yesterday, leaving it on a pile of children's books. But, the woman who returned it wasn't Josephine — it was Nurse Pearce.
Masterson and Nurse Pardoe sneak off together, while Dalgliesh looks at the returned Nazi war trials book rented by Josephine. He makes a grisly discovery, which leads him to find a bottle of Nicotine Sulphate inside a bucket of sand. The medical examiner tells Dalgliesh that all the symptoms of her death point to nicotine poisoning. He also reveals another shocking secret, that Josephine was pregnant and could have been a reason why she took her own life. But, Dalgliesh is certain that she didn't take her own life.
Sister Mavis Gearing reveals that the nicotine sulphate is her rose spray and gets worried that she's being suspected of murder as she is the only one who knew the location of the spray as she keeps it hidden. Gearing also tells Dalgliesh that the cleaning girl Morag Smith knew of the location of the spray too.
Masterson questions Mr Dettinger's mother, Louise at her home, while Dalgliesh asks Matron about Josephine and Dr. Courtney-Briggs. Matron tells Dalgliesh that there was a rumour going around about a relationship between the two. While Dalgliesh goes to find Morag, he's hit over the head.
Courtney-Briggs examines Dalgliesh's wound and says he needs anaesthetic so it can be stitched, but Dalgliesh refuses. Louise tells Masterson that her son, Mr Dettinger, served in the Army and had been sent to Germany, Felsenheim for the Nazi war trials.
Dalgliesh questions Courtney-Briggs about his relationship with Josephine while he tends to his head wound and finds out that Courtney-Briggs didn't know that Jospehine was pregnant. Masterson breaks the news that Dettinger recognised Sister Brumfett from the Nazi war trials and Louise got a discount on her son's stay after telling Courtney-Briggs, who told her not to mention it to anyone.
Masterson reads an account from the book, and find that Sister Brumfett (whose real name was Irmgard Grobel) was sent to prison for murdering 122 Polish prisoners. However, Dalgliesh points out that Dettinger never said Brumfett's name specifically.
While they search for Brumfett, Sister Gearing screams that there's a fire at the gardener's hut and they find a body amongst the wreckage. Matron and Dalgliesh find a note on Brumfett's bed admitting to the murder of Nurse Pearce and Josephine for discovering "a dark secret" and it also turns out Matron knew of her secret too, but had forgotten about it and had accepted that she had done her time in prison.
Dalgliesh tells her that she in fact didn't serve her whole sentence and had absconded with a British soldier who had been guarding her and is a wanted woman. But, in a shocking turn of events, it turns out that it was Matron who Dettinger had recognised and Brumfett was obsessed with her. The 'secret' written in Brumfett's note was in fact the secret that Pearce and Josephine had discovered that it was Matron who was Irmgard Grobel and she was terrified that Matron would leave her, so she murdered the two women. Due to Brumfett's obsession with her, Matron murdered her and she's then arrested for her crimes.
What happens in episode three?
A shocking death occurs when a man named Victor Holroyd is pushed off a cliff while in his wheelchair.
Dalgliesh is summoned to Devon by his friend Father Michael, but he's stunned to discover that he's died. Maggie Hewson talks about a small care home called the Grange (which Father Michael was chaplain of), and tells Dalgliesh that no new residents have been placed there since Victor's death. She hints that she believes his death wasn't an accident like everyone else believes.
Dalgliesh reads a note written to him from Father Michael dated before his death, asking for his help with a disturbing situation at the Grange. Dalgliesh goes to the Grange to investigate and meets Wilfred Anstey, who says that Father Michael had insisted on staying in the cottage, instead of the care home when he was released from hospital. He also reveals that there was a mistake the night Father Michael died when one of the residents, Grace Willison visited him at the cottage in the evening. Nurse Helen was supposed to pop in later, but there was some kind of mix-up.
He decides to spend the weekend in the cottage just as he planned, and Helen gives him some bedding. He takes the opportunity to ask her about the mix-up with Father Michael and she explains that she was asked to by Eric, but she was busy with the residents and suggested that he should ask Dennis or Maggie to check on him instead. But, Maggie refused and Eric couldn't find Dennis, so he assumed Helen would go as asked.
While out on a walk, Dalgliesh stumbles across The Black Tower, a place which Wilfred explains he uses for meditation and private prayer and was restored by his great grandfather. He also tells him why he started the Grange, saying "I'd faced something and been saved."
Dalgliesh finds a poison pen letter and goes to speak to Grace, who says that Victor was quite forceful and would bully Dennis into wheeling him up to the cliffs. She also tells him that she paid Father Michael a visit for confession and he had taken his stole off, which Maggie had said he was still wearing when he died.
Dalgliesh is given a tour of the Grange by Julius Marsh, an old friend of Wilfred's who does the accounts sometimes. He reveals what truly had happened to Wilfred, saying that he had become ill a few years ago and could barely walk, but the hospital couldn't help him. He went to Lourdes and came back miraculously cured.
Dalgliesh asks Grace if she knew anything about the poison pen letter he found and she admits that she had received one a week or so before Victor died. Dalgliesh speaks to another resident, Ursula Hollis, who says that Victor was very cruel and hated the staff. She also thinks that he killed himself.
Later, Maggie tells Dalgliesh that she had seen Michael and Dennis arguing on the beach and Dennis pushed Michael onto the rocks. Dalgliesh pays a visit to the local police station and they too think Victor took his own life after he demanded that Dennis wheel him up to the cliffs and leave him alone. But when Dennis looked back to check on him, Victor was gone.
While Dalgliesh confronts Dennis, Dennis spots that the tower is on fire and they save Wilfred. Meanwhile, Dalgliesh has recruited DS Kate Miskin to do some digging on the case without her DI's knowledge. She finds that Dennis' mum lives in a fancy private nursing home called Meadowlands, which he pays for. She also reveals that he was offered a job there for more money but he turned it down.
Maggie's husband, Dr. Eric Hewson lets out that he received a poison pen letter from Victor at Julius' party, but Maggie bats it off as Victor's sense of humour. But, one of the residents, Henry, also got a horrible letter after he fell in love with a resident named Peter. Victor told Wilfred about their relationship and Peter was sent away to a different home and died of pneumonia.
At the end of the episode, another shocking murder happens as Grace is killed while in her bed. Is her death linked to Victor's? We'll soon find out in episode four...
What happens in episode four?
Maggie calls Dalgliesh for help and he inspects the crime scene. Wilfred makes the announcement of Grace's death to the residents and makes the decision to invite the Ridgewell Trust to take over the running over Toynton Grange. He also reveals that he will be holding a vote on whether he will carry on as spiritual adviser.
Maggie is excluded from the vote, due to not being a staff or resident and she's furious. She interrupts Eric and Helen having a private romantic moment and Eric supports Wilfred's decision. Maggie rages and points out that she knows about his affair with Helen and won't put up with his bullying or control anymore.
Dalgliesh makes a terrifying discovery in the Black Tower as he finds Maggie has hung herself and left a suicide note. Miskin inspects Maggie's bag left at Julius's and Dalgliesh finds his pen amongst her belongings.
Dalgliesh and Miskin question the residents and Henry tells them that Victor and Maggie were very close, meanwhile Dalgliesh has a hunch as to who wrote the poison pen letters — one of the residents, Jennie, and he gets her to confess.
The coroner says that Grace wasn't murdered and had undiagnosed cancer. Later on, the residents of the Grove hold a funeral for the lives that had been lost.
Back at Father Michael's cottage, Dalgliesh sees a letter addressed to him from Maggie. Maggie admits in the letter that she was the one who set the Black Tower on fire to scare Wilfred, calling him "a bully and a fraud." The letter goes on to reveal that Victor found out from the doctor that examined Wilfred, that there wasn't anything wrong with him and it was all in his head.
The residents prepare for their pilgrimage to Lourdes, but Dalgliesh interrupts the preparations to have a word with Wilfred, who laughs at his claims. As they embark on their trip, Dalgliesh looks around the Grange and Miskin finds out some interesting information that she's desperate to tell Dalgliesh. She calls the Grange hoping to speak to Dalgliesh, but Julius answers instead.
Miskin runs out of the police station, panicking and drives to the Grange. Dalgliesh bumps into Julius in the office of the care home and he's tortured as to why anyone would kill Grace, when she was just a lady who was in charge of the newsletters and mail outs.
Dalgliesh begins to suspect that there's something wrong with the mail outs, as they're scheduled for after the Lourdes trips both times on the planner. When Dalgliesh looks closer at the map for the trip to Lourdes, he notices that they stop in Marseilles, a major centre for drug smuggling and suspects that Dennis is using the residents to smuggle drugs- but he's not doing it on his own.
Dalgliesh soon rumbles Julius' involvement in helping Dennis smuggle drugs and things turn sinister when Julius pulls a gun on Dalgliesh. He spills that Maggie told him about Victor knowing Wilfred's secret and Dennis killed him, after Victor threatened to expose it which could have destroyed the whole drug smuggling operation.
He also told how he got Maggie drunk, convinced her to write a note and walk up to the tower with him where he killed her. When Dalgliesh questioned him about Father Michael, he admitted that Dennis felt guilty about Victor and started asking Father Michael about confession. Father Michael began to suspect something and argued with Dennis, telling him to go to the police, but Julius couldn't take the risk and murdered him too.
As a gun-toting Julius forces Dalgliesh to walk to the edge of the cliff, he blames Grace's death on Dalgliesh, saying "You just wouldn't go away, so I had to get rid of the list. That meant getting rid of Grace, too."
Julius and Dalgliesh fight and a wounded and bloodied Dalgliesh relives the memories of his wife as he lies dangerously close to the edge. But, when the police and Miskin arrive just in time, Julius decides to have a different fate and jumps off the cliff before he can be arrested.
What happens in episode five?
Churchwarden Miss Wharton and eight-year-old Darren are distraught when they find two dead bodies in the vestry of St Matthew's Church, Paddington. Dalgliesh and Masterson tend to the crime scene and find the bodies have had their throats slashed. One of the victims is a former MP called Sir Paul Berowne and Dalgliesh recognises him from a policing committee he once addressed. The other victim is Harry Mack, a homeless man. At the scene, they find Paul's overnight bag, a burnt diary and Paul holding a razor.
Dalgliesh and DS Miskin question the priest, Father Barnes, Miss Wharton and Darren and discover that Miss Wharton doesn't know anything about Darren, he just started following and waiting for her everyday. They both go to talk to Paul's family to discover more about him and his whereabouts. Paul's mother, Lady Lavinia Berowne, reveals that the reason he resigned as an MP was because of differences with the party leadership. But she begins to act strangely when Dalgliesh suggests the stories about Paul being linked to a woman called Jeannie Travers, who died at his wife Lady Barbara Berowne's birthday party and was a cleaner for the household. She drowned and was pregnant, but rumours spread around that the baby belonged to Paul.
The family are startled when Dalgliesh shows them Paul's burnt appointment diary, something that he would only keep in the study. Meanwhile, Masterson tries to get information out of Darren, when he takes him home.
Lavinia hinted at another death in the Berowne family and they discover it was Sir Hugo Berowne, Paul's brother, a major in the Coldstream Guards who was shot in Northern Ireland a week after Bloody Sunday. Paul's first wife, also died that same year in a car crash. They also find a negligence case against Stephen Lampart, the cousin of Lady Barbara, at his maternity clinic.
Dalgliesh and Masterson then question Gordon Halliwell, a driver who works for Lavinia. Eagle-eyed Dalgliesh spotted his Coldstream Guards pin and he says that he worked for Hugo and got out a month after he died. He was also good friends with Jeannie.
The coroner confirms that they were both murdered from behind by a right handed assailant. Dalgliesh believes that Paul knew the murderer and they staged it as a suicide. Each member of the family now becomes under suspicion and Masterson uncovers an important detail about the housekeeper, Miss Matlock from Dominic Swayne, Barbara's brother. Paul was a barrister before he became an MP and her father was up for a murder charge. Paul mucked up the defense and her father ended up killing himself in prison.
After discovering that a car similar to Gordon's was parked outside the church and that he was at The Black Swan the night Jeannie had drowned, the team decide to track his next movements. Gordon attacks Henry Yates, the doorman of The Black Swan for telling the information earlier to Dalgliesh.
Gordon makes a shocking admittance, as he reveals that Barbara was Hugo's girlfriend, then Paul's wife suddenly died in a car crash and after, Paul married Barbara. But the secrets don't stop there as Gordon admits that Paul was there the night Jeannie died and he was soaking wet.
Soon, another horrendous incident occurs, as Father Barnes is brutally attacked at the church. Could it be something to do with Paul? And did Paul murder his first wife and Jeannie? Let's find out in the final episode.
What happens in episode six?
Dalgliesh and the team investigate Father Barnes' murder and Dalgliesh claims that the murderer must have come back for something. Dalgliesh and Masterson question Stephen and he admits that he and Barbara are in love, while Dominc claims that Paul wasn't there the night Jeannie drowned.
Barbara is brought in for questioning and Dalgliesh tells them both that he reckons Paul knew about their affair and that contributed to his state of mind before his death. They also both have motive to have wanted to kill Paul for his money, for Barbara it was because she may have been threatened with divorce, and Stephen because of the negligence case that cost him thousands.
They look into Dominic's, Barbara's and Stephen's alibis and they do some digging to find out if any of them drive a black car, which could be the vehicle that was at the scene of the crime.
Dalgliesh takes an interest in Norman Hurrell, Paul's constituency agent who he was visiting in hospital the first time he went to the church. He pays a visit to Norman's wife, who tells him that she tried to call Paul on the night that he had died to inform him of funeral arrangements for Norman. Lavinia answered the phone and checked Paul's diary, which shows that Lavinia lied about not having seen it.
Lavinia and Barbara have an argument about her affair with Stephen and accuses her of having a motive to kill Paul. Gordon gives a letter to Dalgliesh, a witness statement from Harry for a will. More evidence is uncovered as it's revealed that Lavinia had lied and she was in fact at the church. Paul had called her after she received the call from Mrs Hurrell and asked her to come to St Matthew's. Gordon then drove her to the church and Paul told Lavinia that Barbara had confessed to him about the affair and that he wanted a divorce. Which is then that he made a new will and left everything to Lavinia.
Barbara drops a bombshell that she's pregnant with Paul's child, but Lavinia knows it's a lie and that it's Stephen's child. Later on, at the inquest, Darren and Dominic seem to recognise each other and Miskin talks to Theresa Nolan, who works at Stephen's clinic. She explains that she attended to Lavinia after she had had a fall and needed constant care. While working at Campden Hill House, she tells Miskin a a horrifying secret that she was sexually assaulted by Dominic. Theresa confided in Paul about it and he was furious and wanted to confront Dominic.
Dominic denies the allegation, branding it as lies. Meanwhile, Masterson looks around Dominic's house for any further evidence and uncovers a range of disguises. Dominic is enraged when Dalgliesh accuses him of murder.
Miskin tries to persuade Theresa to press charges, but she refuses and Dalgliesh asks Miss Wharton if she recognised Dominic at the congregation the night Father Barnes was attacked. She doesn't, until she sees a different picture of him wearing a jacket and notices the buttons. She recognises that it's the same button she found locked in one of the church boxes and gives it to Dalgliesh.
Dominic goes to talk to Darren and asks for his help in finding the lost button from his jacket. But, even though Darren says he doesn't know where it is, Dominic is adamant that he does and pressures Darren into telling him. Darren runs off and Dominic gives chase, grabbing him.
Miss Wharton tells Masterson that she's worried about Darren as he was meant to turn up to the church an hour ago but he still hasn't arrived. Masterson brushes it off that he's just forgotten, and Dalgliesh calls with news that Dominic is on the run and they have enough evidence to charge him. Masterson sends Miskin off to search for Darren, while he goes to Campden Hill House.
Lavinia tells Dalgliesh that Miss Matlock has disappeared with Dominic and they frantically search for them. Miskin turns up at the church and hears Dominic and Miss Wharton arguing as he demands to know where his button is. Dominic is holding Darren hostage with a knife and threatens to hurt him when Miskin interrupts. Miskin offers herself as his hostage instead of Darren, but as he accepts the offer and she edges forward towards him, he punches her and runs off with Darren.
As Dominic tries to make his escape, Dalgliesh shows up and talks to him about what happened. Dominic admitted that, "Paul knew how to die. Yeah. Just looked at me. Turned his back. It was...It was like I was doing him a favour." Dalgliesh says that Paul was depressed, but he would have wanted life again after it had passed. Dominic went on to say how he killed Harry and Jeannie, Harry was easy because he was drunk and Dominic had drowned Jeannie out of anger for laughing at him by the river while Paul confronted him about the sexual assault.
Dalgliesh talks him down, opening up to him about his own life and the loss of his wife and child. At the end of the episode, Dalgliesh boxes up the baby room and looks out of the window onto the Thames as the rain pours down.
Is there a trailer?
Yes, one has now landed...
Get the latest updates, reviews and unmissable series to watch and more!
Thank you for signing up to Whattowatch. You will receive a verification email shortly.
There was a problem. Please refresh the page and try again.